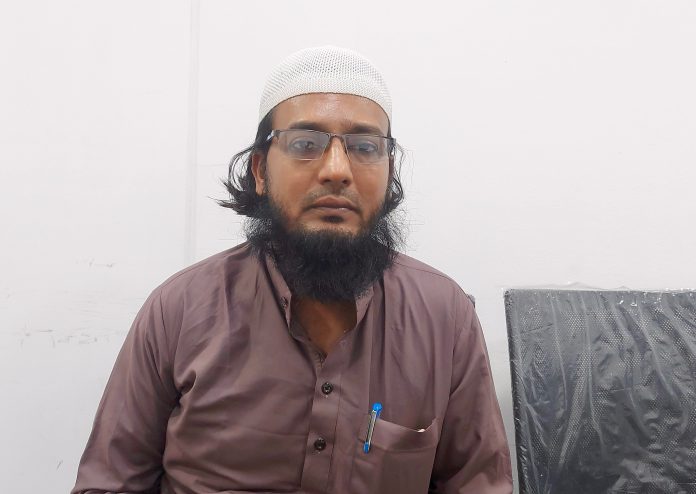 A 37-year-old Muslim man Habeeb Miyan from northeastern Indian state of Tripura was released in June 2021 after 4 years of wrongful imprisonment under the dreaded Unlawful Activities Prevention Act (UAPA). He was falsely accused in the case of attack on the Indian Institute of Science (IISC) campus Bangalore that took place in December 2005. Back at his home in Agartala, Habeeb is still traumatized by his wrongful imprisonment and questions "who will return the four previous years of his life."
Musheera Ashraf | TwoCircles.net 
---
Support TwoCircles
---
TRIPURA – It was another Friday in March 2017 for Habeeb Miyan, a 37-year-old auto-rickshaw driver and a resident of Agartala, Tripura. While he was getting ready for work, he got a call from the local police station to report at the police station with his identity card. Worried by the call, Habeeb decided to go to the police station and afterwards offer the obligatory Friday prayers.
Little did Habeeb know that he would return after more than 4 years.
Habeeb was arrested in the case of an attack on the Indian Institute of Science (IISC) campus Bangalore that took place on December 28, 2005. He was arrested 12 years after the incident and the case went on for 16 years before he was acquitted of all charges.
Habeeb was booked under sections 120B (criminal conspiracy), 121 (waging or attempting to wage a war of abetting waging of war against Government of India), 121A (conspiracy to commit offences under section 121), 122 (collecting arms etc with intention of waging war), 123 (concealing with intent to facilitate design to wage war), 307 (attempt to murder) and 302 (murder) of the Indian Penal Code, along with provisions of the Indian Arms Act, Explosive Substances Act and Unlawful Activities (Prevention) Act.
After languishing in jail at Bengaluru's Parappana Agrahara jail for over 4 years, the National Investigation Agency (NIA) special court acquitted Habeen Miyan of all the charges in June 2021. The NIA court concluded that the case suffers from a lack of evidence against the accused, leading to Habeeb Miyan's release.
At the time of his arrest in 2007, Habeeb had left behind his wife, parents and 4-year-old son. As per his family, Habeeb's ailing father passed away in depression while waiting to see his son.
Habeeb was informed about the demise of his father by his lawyer. "I felt helpless on hearing the news. I couldn't do anything except crying and praying for him," Habeeb told TwoCircles.net.
The family said that in his four years of incarceration, the family could not meet Habeeb in jail "due to their bad economic situation". Habeeb was imprisoned at a jail in Bangalore over three thousand kilometers away from his home.
Keeping faith in innocence
Talking to TwoCircles.net, Habeeb's brother-in-law Idris said that, "Habeeb's family were put in a dire situation due to Habeeb's imprisonment."
"However, we knew he was innocent and we never lost faith," Idris said.
Talking about his release, Idris said that they are relieved by his release but "he feels worried about his future and is still traumatized."
After reuniting with his family Habeeb is still not able to process that he is a free man. "If I recall anything, it hurts me," Habeeb said.
Advocate Taher, a Bengaluru based lawyer who was fighting Habeeb's case told TwoCircles.net that, "This is the first high stake case in the history of India where the accused was discharged because no allegations were found in police documents against Habeeb."
Advocate Taher said that this is not the only case where the accused had to spend time in jail because of the delay in trials. "There are many such cases," he said.
Advocate Taher said he has filed a Public Interest Litigation (PIL), in which the court has given the directions to the NIA special court that in such cases the day to day hearing should be held under Section 309.
Trauma of loss
Habeeb doesn't want to talk or think about what he has gone through. "I don't want to remember these 4 years of my life. It makes me feel sick," Habeeb said.
Habeeb was a daily wage worker who claims to know nothing about the case that he was implicated in. According to Habeeb, he was always told that his trial was going on. "Precious four years of my life have been destroyed," he said in anger, adding, "I have been left with no work."
Habeeb recalls the time when he was being taken to a jail in Bangalore. "I kept on asking them why are you taking me, but I couldn't do anything," he said.
Sharing his concerns, Habeeb said, "I have to earn a living for my family. My son's studies have suffered. My house is in a bad condition. Who will return my wasted time?".
Habeeb is also worried about his ailing mother and wants to work so that he can take care of her.
Complaining about his health Habeeb said, "My health has suffered. I was punished for something I haven't done".
Following his release, Habeeb's only concern is to find work and provide a better life to his family. "My child's heart is broken. He doesn't say anything to me," Habeeb said.
Habeeb said that he never wanted to come out on bail and wanted to come out of jail only after being proved innocent. "I never lost faith. I always knew I would be free one day," he said.
Habeeb said that the mental trauma that he and his family faced due to his imprisonment could not be described in words.
Talking about cases of Indian Muslims falsely booked under terror charges, the President of Jamiat Ulema e Hind Maulana Arshad Madani said that the "media's biased attitude towards Muslims is worrisome."
"The news about their arrests are being propagated everywhere whereas the news of their acquittal has no space in the media," Maulana Madani said.
SUPPORT TWOCIRCLES
HELP SUPPORT INDEPENDENT AND NON-PROFIT MEDIA. DONATE HERE