Assam's tea estates contribute to more than fifty percent of the total tea production in India. However, the workers working at these estates have long complained of low wages and housing woes, which in turn has caused migration. A TCN Ground Report, second in the TCN series on the eve of International Labour Day 2021, looks at the lives of these workers, the conditions they live in and their hopes of having decent homes. The first story in the series can be read here.
Mahibul Hoque, TwoCircles.net
---
Support TwoCircles
---
Assam: Fifty-eight-year-old Bharati Murmu is a tea garden worker at Chikonmati Tea Estate in the Darrang district of Assam. After working for four decades she sounds content for her permanent worker status that entitles her with Rs 167 as daily wages and other benefits including 3.2 kg of rice and wheat per week (alternately) per head, a monthly 2-litre kerosene which she has to procure at Rs 40 per litre. Despite the facilities, she doesn't want future generations to do the work she does. 
Her quivering voice urged me to ask if she was well, on which she replied she was suffering from fever for a week. In the same breath, she said, "It is almost over for me so there is no point in leaving the bagan and I also want my son who has gone away with his family to come back and stay with me." Tea gardens in Assam are commonly referred as bagan.
Though her permanent worker status provides her free accommodation, ration and healthcare but that is not enough."The medicines given in the bagan do not work and we have to buy medicines from outside that are expensive. That way, the compensation is not sufficient," she said explaining the cost of living at the bagan. "I hope that they do some other work instead of the tedious labour," she says about her two sons.
One of Bharati's son, Amir Murmu, has migrated to Kerela with his family works as a meat seller. Her other son stays at the tea estate.
In the tea plantations, the companies owning the garden employ two categories of workers— permanent workers and non-permanent workers. Workers with permanent status are given in-kind benefits such as accommodation, ration, medical facilities, free electricity etc. at the estates registered under the Plantation Labour Act 1951— the act which governs the plantation industry. But the casual workers, who form the majority, do not get these benefits.
Just like Bharati, 48-year-old Shanti Munda from Borgora tea estate of the district feels her sons do not become plantation labourers. She said there is no adequate housing facility, washroom, and neither good working conditions. 
Shanti is the eldest women in the 10-member family and looks after the younger men—her two sons, three of her deceased brother-in-law's sons, another brother-in-law who is a drunkard, and the other two women. "I wish we could start a shop and afford a house for ourselves," she said adding, "For that, my son and his cousins may have to go outside".
The hope of owning a good house persists among many other women workers from the bagans. "Who would want to live in a house with holes in the roof? It has been six years, repairing my roof has not been done. Despite our several complaints, nobody listens," 28-year-old Rijina Kandulna lamented.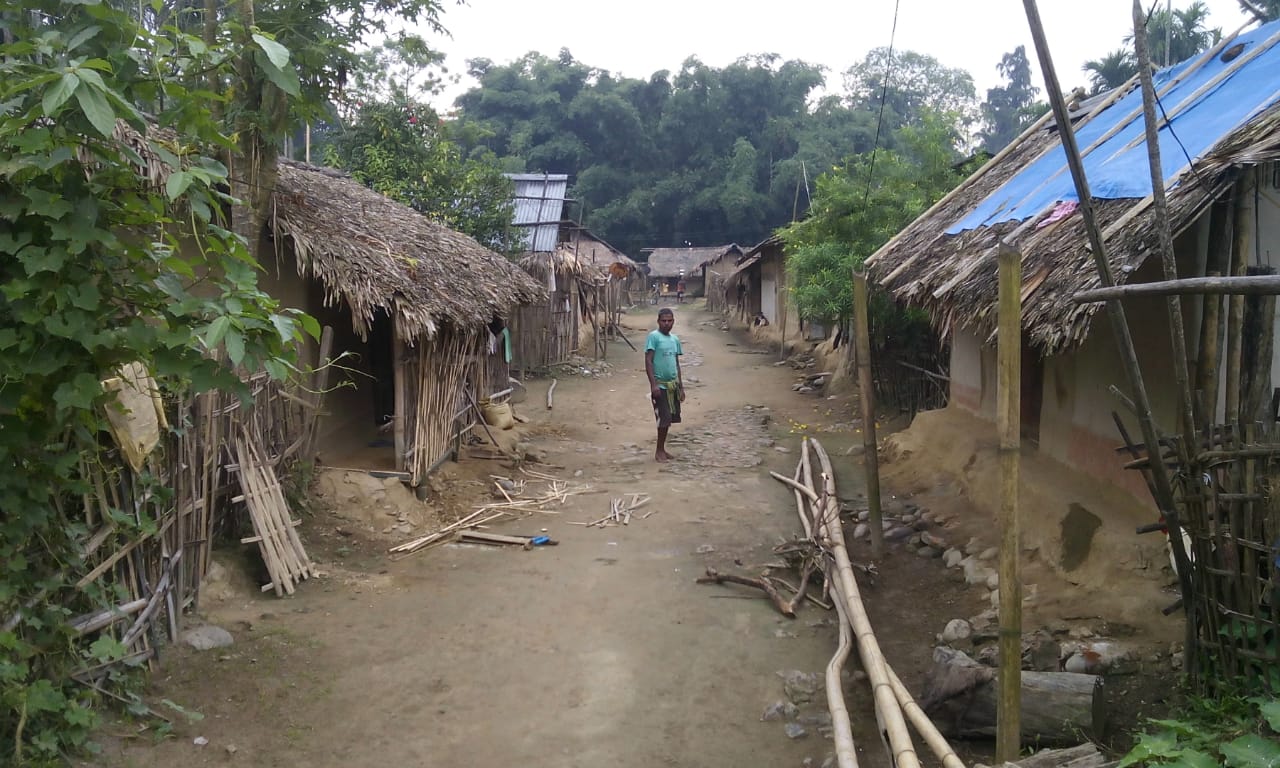 Despite the persistent grim condition of tea garden workers and their will to go out of the estates 'there is no option for them'. 
"If I do not work in the bagan, I will not get a house to stay. How can I then provide shelter to my family? Working here is a compulsion for us," Rijina continued.
In the tea estates of Assam, around 7,00,000 permanent workers are employed and even a greater number of people are engaged as non-permanent workers. Women workers form the majority of the workforce and they are preferred as their 'nimble fingers are considered better for plucking the best leaves'. The Indian Tea Association (ITA), the oldest trade association of tea producers, holds the male population working "outside" from the gardens as one of the reasons for the higher number of women workers in tea estates.
Why 'tea tribes' migrate?
While staying in the tea estates is a compulsion for Rijina, many of her male counterparts have already taken up migration as their only means to own a house.
Three years ago, 23-year-old Bandhan Tanti left Chikonmati Tea Estate for Maharashtra because of the low wages. "I can never afford to build a house with the earnings that are given in tea gardens. It is so difficult to make a day's living with that earning, especially if anyone falls ill. So going out to earn more money to build a house for my family is the main objective behind my migration."
Gabriel Kandulna from Lodhaibari village near Borgora tea estate, who is in his mid-20s, also went to Karnataka for work. "If I want to build a decent house, the money I get by working at the bagan is not going to help me at all. So I prefer working outside," he said.
In three nearby tea estates—Chikonmati, Borgora and Kopati tea estates—of Darrang district approximately 13,000 people from the tea tribe community live. 18-year-old Prince Munda is one of them who is waiting to become a casual worker at Chikonmati tea estate despite his reluctance.
"I would pick up any work outside the bagan, as long as it pays me well. The pay here in bagan is way too low than the daily wages of Rs 350 paid in the whole area. I have no intention of working in the bagan," he said.
30-year-old Badal, who did not want to mention the name of his bagan, said, "See, there's no space to live in the quarters provided by the company. The numbers of quarters have not increased compared to the increase of population in the tea gardens. In one labour quarter, sometimes, two families are accommodated. Without basic hygienic facilities, it becomes difficult for them to stay in the house also."
He said that without permanent work status tea tribe families do not get all the medical support and as illness grips the estates more frequently medical expenses become a cause of worry which also leads to migration.
Badal said that in his bagan, the vacancies for permanent workers have not been filled for at least the last three years.
Significance of Tea-Tribe of Assam
The plantation workers were brought into Assam by the British in 1821 from Odisha, Bihar, Madhya Pradesh, Andhra Pradesh, Jharkhand and West Bengal who now constitute 17 per cent of the state's population. As the ancestors of these people were tribals, the plantation community came to be known as the tea tribe in Assam.
Presently, the tea industry in Assam produces more than 700 million kilograms of tea, which is around 53 per cent of the total tea production of India. According to ITA, the turnover of the Indian tea industry is around Rs 20,000 crores of which the Assam tea industry's contribution is more than Rs 11,000 crores.
The tea tribe plays the deciding factor in at least 40 state assembly seats that's why political parties try to woo the voters from tea gardens.
However, among a myriad of problems ranging from rights violation, poor working conditions, dismal health and sanitation facilities, low wages has been a focal point of conflict for the workers of tea estates in Assam. 
The Rs 167 paid as daily wage in the estates is much lower than the fixed wages under India's employment generation act, Mahatma Gandhi National Rural Employment Guarantee Act (MGNREGA) 2005. At present, the stipulated wages fixed under the MGNERGA act is Rs 224 for Assam.
'No way out of Bagan'
While the hope of owning a house has been driving people from tea gardens to migrate, for 48-year-old Sajen Majhi, who works as a peon in Chikonmati tea estate and was a former president of Assam Chah Mazdoor Sangh' (ACMS) Dhekijulia chapter, the union of tea garden workers, that is "nothing but temporary escape from the bagan".
He says, "the hope of more money leads many to get trafficked and those who get other work in other states generally do not earn much."
Angshuman Sharma, a PhD candidate at Jawaharlal Nehru University who has been researching for more than five years on tea gardens in Assam corroborates Sajen's assessment. "Though people migrate, that does not mean they get better work. Eventually, they come back to the estates," he said.
Angshuman summarizes, "Casualisation, meaning reducing the tea tribes to daily wagers, or contract workers instead of giving permanency, and surge in small gardens (which supply around 50 per cent of raw tea leaves) along with high population growth have massively contributed to migration."
Arijit Raha, secretary-general of ITA holds the tea tribe responsible for the high population growth in the estates, absenteeism (allegedly 30 per cent) and migration (to some extent) for the labour shortage. "…migration of workers or workers staying on the estate work outside on contractual engagements in infrastructure projects under the MNREGA like roads, etc. 
The problem adversely impacts production and productivity."
Even so, the migration has not severely impacted production, but Raha appeared apprehensive that the issue could become a serious one in the near future. 
Despite ITA's emphasis on taking care of the well being of the plantation population, the 'aspiring youths', the likes of Bhandhan, Prince, Gabriel migrate from the tea estates of Assam, to return to the bagans with the hope of "building their own homes".
And for Bharati Murmu, her son Amir is also coming back with his family to settle down at the estate—a reverse migration that may potentially make him a casual labourer at the tea estate. Amir has decided to come back home as the second wave of the Coronavirus outbreak is ravaging the country.
SUPPORT TWOCIRCLES
HELP SUPPORT INDEPENDENT AND NON-PROFIT MEDIA. DONATE HERE