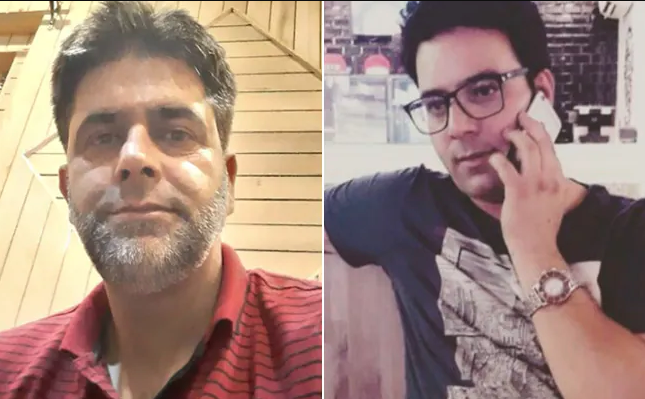 Following the killing of two civilians in an encounter at the Hyderpora area of Srinagar, the family members of the slain duo have rubbished police claims that their slain kin were involved in militancy. The families are demanding bodies of the slain as Jammu Kashmir Police has constituted an enquiry to probe the controversial shootout.
Auqib Javeed | TwoCircles.net
---
Support TwoCircles
---
SRINAGAR – A massive outrage has erupted in Kashmir valley after the family members of two "civilians" who were killed in an "encounter" contested the police claims that the slain were working with militants.
On November 15, the Jammu and Kashmir police said that an encounter broke out between militants and security forces in the Hyderpora area of Srinagar city. The encounter ended with the killing of four persons, including the owner of the house and his tenant. The other two slain were alleged militants.
The slain militants were identified as Bilal Bhai, apparently from Pakistan and the other is a local militant from Ramban Gool, according to J&K police.
The owner of the house was identified as Muhammad Altaf Bhat and his tenant Mudasir Gul, a dentist turned businessman. Both, according to J&K police, were killed in the operation.
The Police said that Mudasir Gul was a militant associate and was involved in militancy, while Altaf was a house owner and both were killed in "cross-firing" during the encounter.
However, the families of both the persons contested the police claims and said that the duo were killed in "cold-blooded murder" and were used as "human shields."
"You killed my innocent uncle Mohammad Altaf Bhat in cold-blooded murder. In Hyderpora, you used him as a human shield and now you are saying he was "OGW". Return us his body," tweeted a journalist Saima Bhat.
You killed my innocent uncle Mohammad Altaf Bhat in cold blooded murder In Hyderpora, you used him as human shield and now saying he was "OGW". return us his body @JmuKmrPolice @SrinagarPolice @IGP

— saimabhat (@saimabhat) November 15, 2021
As the news spread out on Tuesday morning, the family of both the persons demanded the bodies of the duo and urged Lieutenant Governor Manoj Sinha to hold an impartial enquiry into the killings.
"Just hand our body to us," Abdul Majeed, brother of Altaf Ahmad Dar, told reporters at his home. Altaf is survived by his wife and three kids.
While narrating the incident, Dar said, "At 5 p.m. security forces came and there was cordon. The shops were asked to be closed," he said, adding, "Then around 30-40 persons were confined in Honda shops. Then there was a burst (firing). Then my brother was taken out and was told that the search was to be carried. After some time, they again confined our children in the shop. Later they brought a drone etc. and they took my brother again, saying that a fresh search is to be carried. After some time, he was again kept with these persons. The third time, they again asked him to come out for searches. This time he was killed," he said.
The families of both the civilians held a protest at press enclave Srinagar and demanded that the bodies of their loved ones be returned for a proper burial, who as per the police were buried in Handwara keeping in view the law and order situation.
Family of Dr. Mudasir Gul who was killed during an encounter at Hyderpora Srinagar demand return of his body, reiterating that he had no links with militants pic.twitter.com/kGjyAyHxM8

— Basit Zargar (باسط) (@basiitzargar) November 16, 2021
"Police should return the body of our son," said the wailing mother of slain Mudasir, adding that her son was innocent. She also appealed to LG Manoj Sinha to direct the police to return the body of Mudasir to their family so that they can see him one last time.
Other family members and relatives of slain Mudasir out rightly rejected police claims that the slain was an OGW stating that "Mudasir had no militant links and was innocent."
Regret killing of house owner: Police
Shortly after the outrage, Inspector General of Police, Vijay Kumar called a press conference in Srinagar and told reporters that police received information that there are militants present near Hyderpora on the Jammu-Srinagar highway. "A cordon was laid and a search operation was started," he said.
"There were three rooms in the top storey (atop shops run by owner Altaf Ahmad Dar). The location was not known. The owner (of the house) Alfaf Ahmad Dar and one doing business there, Mudasir Gull. They both knocked and militants did not open the door. Again they were given the opportunity; then again the door was knocked. The militants started firing and in self-defence our troops opened fire and an encounter started," he said, adding, "We then stopped the encounter and tried to rescue both of them and the place where they got trapped, it was hard to rescue them. Both were killed and in the ensuing encounter, two militants were also killed."
The IG said police approached Altaf's and Mudasir's families to participate in the funeral. "Since we apprehended the law and order situation, we did not give bodies to families. Bodies were taken to Handwara (in north Kashmir's Kupwara district) where this morning they were buried," he said.
The IGP said "I want to share that Altaf Ahmad Dar had given rooms on rent to Mudasir Gull who was a contractor by profession and was running an unauthorized call centre. Six cabins and in one room there was a militant hideout where a lot of things were found."
"I want to share that two pistols were found from the encounter site and six phones from militants and 4 phones were recovered from the room. Six computers and six CPUs were there. Warm clothes were found. Also, injections used by (militants) during injury were recovered," he said, adding, "I want to share with you that there was firing on police party in downtown (Nawa Kadal) in which one of our policemen sustained the injury in the neck. The same militant was involved. Mudasir had ferried him in his own vehicle to this building. Also, Mudasir was running this in the garb of business. He was ferrying militants from south to north and then keeping them in his house and militants used to carry activities."
Regarding the owner, he said, "Since militants were in his house, we will include him in harbouring and we will include him among OGW. Since his death took place in cross-firing, we regret the same. We tried to save him but it was difficult as firing was going from both sides. Mudasir was top-ranked OGW and was involved in militancy."
On asking why the Police were including Altaf for harbouring militants when he had rented out the premises, the IGP said, "See if you are giving premises on rent, it is your responsibility. We were not given any information who was given (the premises) in rent."
He said a Special Investigation Team (SIT) headed by Deputy Inspector General (DIG) of Police has been constituted to probe "hi-tech hideout".
Asked that the family claimed that Altaf has been killed in "cold-blooded murder" and demanded body, "I, myself, said that Altaf's death occurred in cross-firing."
"When an encounter takes place, nobody knows whose bullet hit and caused death. If there is pistol fire, 100 per cent death is due to militant fire and it will be revealed in postmortem," he said.
Meanwhile, the political parties in Kashmir have questioned the encounter and police claims and demanded a probe into the sequence of events that led to the killing of the duo.
The Jammu and Kashmir Peoples Conference (JKPC) while demanding a thorough and impartial investigation into the Hyderpora encounter urged the LG administration to immediately hand over the dead bodies of civilians to their respective families for the funeral rites.
According to the JKPC spokesperson, the party has urged the LG administration to probe the claims of the family members of the slain civilians, who have contested the official version and refuted the allegations made by the police.
Former Chief Minister Mehbooba Mufti hit out at the government of India over the 'use of civilians as human shields during gunfights.'
Using innocent civilians as human shields, getting them killed in cross firing & then conveniently labelling them as OGWs is part of GOIs rulebook now. Imperative that a credible judicial enquiry is done to bring out the truth & put an end to this rampant culture of impunity. https://t.co/QOJonQ0kyS

— Mehbooba Mufti (@MehboobaMufti) November 16, 2021
The PDP president made the comments after the niece of one of the slain persons tweeted that: "You killed my innocent uncle Mohammad Altaf Bhat in cold-blooded murder In Hyderpora, you used him as a human shield and now saying he was "OGW". return us his body."
Auqib Javeed is a journalist based in Kashmir. He tweets at @AuqibJaveed.
SUPPORT TWOCIRCLES
HELP SUPPORT INDEPENDENT AND NON-PROFIT MEDIA. DONATE HERE