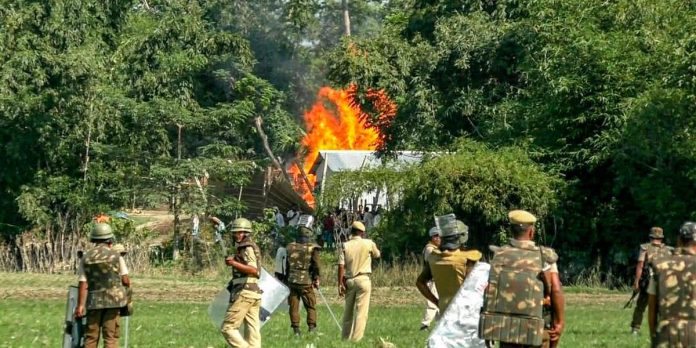 Assam Police on September 29 arrested Sarifudin from Guwahati Medical College and Hospital (GMCH), where he was undergoing medical treatment after sustaining bullet injuries during the eviction drive on September 23.
Mahibul Hoque | TwoCircles.net 
---
Support TwoCircles
---
ASSAM – Assam police arrested one more person from Guwahati Medical College and Hospital (GMCH) on Wednesday evening on charges of criminal conspiracy and rioting. Identified as Sarifudin of No 1 Dhoplur, he had sustained bullet injury on September 23 in police firing during the eviction drive carried out by the district administration of Darrang. The firing had left two persons dead. 
As per his family, Sarifuddin was brought to Sipajhar police station from GMCH where he was undergoing treatment. 
According to Sarifuddin's relative, he had sustained a bullet injury when he was rushing back home from his in-law's house. "He had gone to his in-law's house to help them move as the government had announced evictions would be carried out," the relative told TwoCircles.net.
"When the shooting started he said he would go back home. When he was running back home he was caught in the fire," the relative said.
Along with Sarifuddin, 13-year-old Asraful Hoque was also brought to Sipajhar police station for questioning and he was let go the next day. Asraful had sustained a bullet injury on his right shoulder on the day of police firing.
"After the doctors said he was getting better and could go home, the police brought us to the police station and let us go the next day saying we are required to visit the police station on October 6," said Moinul Hoque, the father of the juvenile.
Asraful told his father that when he was carrying their belongings the bullet hit him on the shoulder and he fell. "He was taken to Mangaldai Civil hospital from where he was referred to GMCH for treatment," the father said. 
Earlier on September 28, the police had also arrested two individuals, Asmat Ali Ahmed and Chand Mamud from Kirakara and No 3 Dholpur respectively on charges of instigating violence. 
Meanwhile, the Assam Human Rights Commission has said that there was a prima facie violation of human rights in the eviction drive and asked the state government whether a commission has been set up to inquire into the incident that took place at Dholpur on September 23.
Following the evictions which turned violent, Assam chief minister Himanta Biswa Sarma hinted that the Popular Front of India (PFI) may be involved in instigating the protests. PFI, a Muslim outfit under the government's scanner, had denied its involvement.
The eviction of Muslim farmers from No 1 and No 3 Dholpur was carried out following the government's plan to start an agriculture project in the 77,000 bighas of land in the area to provide employment to "indigenous" people where around 55,000 Muslims have been dwelling for more than four decades.
SUPPORT TWOCIRCLES
HELP SUPPORT INDEPENDENT AND NON-PROFIT MEDIA. DONATE HERE