The two-day tribal fair held at Morhabadi ground in Ranchi saw boisterous music, mouth-watering cuisines, tribal artworks and discussions on tribal history and affairs. 
Sami Ahmad | TwoCircles.net 
---
Support TwoCircles
---
RANCHI (JHARKHAND) — A two-day tribal fair Jharkhand Janjatiya Mahotsav, showcasing unique tribal works, tradition and culture, will conclude today in the state capital Ranchi. 
Held on the occasion of World Tribal Day, celebrated every year on August 9 to acknowledge the contributions tribal communities make towards world issues, the two-day tribal fair held at Morhabadi ground in Ranchi saw boisterous music, mouth-watering cuisines, tribal artworks and discussions on tribal history and affairs. 
Julita Thithio, who works with the Jharkhand Tribal Development Society as Manager, Convergence, is facilitating different stall owners to set up their wares. "This fair has given a chance to all tribal groups to explore the market while preserving their cultural heritage," she said. 
The former three-time chief minister of Jharkhand Shibu Soren was the main political attraction and inaugurated the fair. Current chief minister Hemant Soren addressed a packed house. Stressing that his "most important identity is his tribal roots," he said though the constitution has provided many facilities for the tribals, the indifference of later policymakers has pushed the tribal community into poverty, illiteracy, displacement and exploitation.
A young woman Ashamani Tudu is trained in Sohari painting, a unique tribal-style painting offered by Jharcraft, a state-government-run initiative. She has travelled 90 kilometres from Behara, Hazaribagh to attend this fair and make quick money.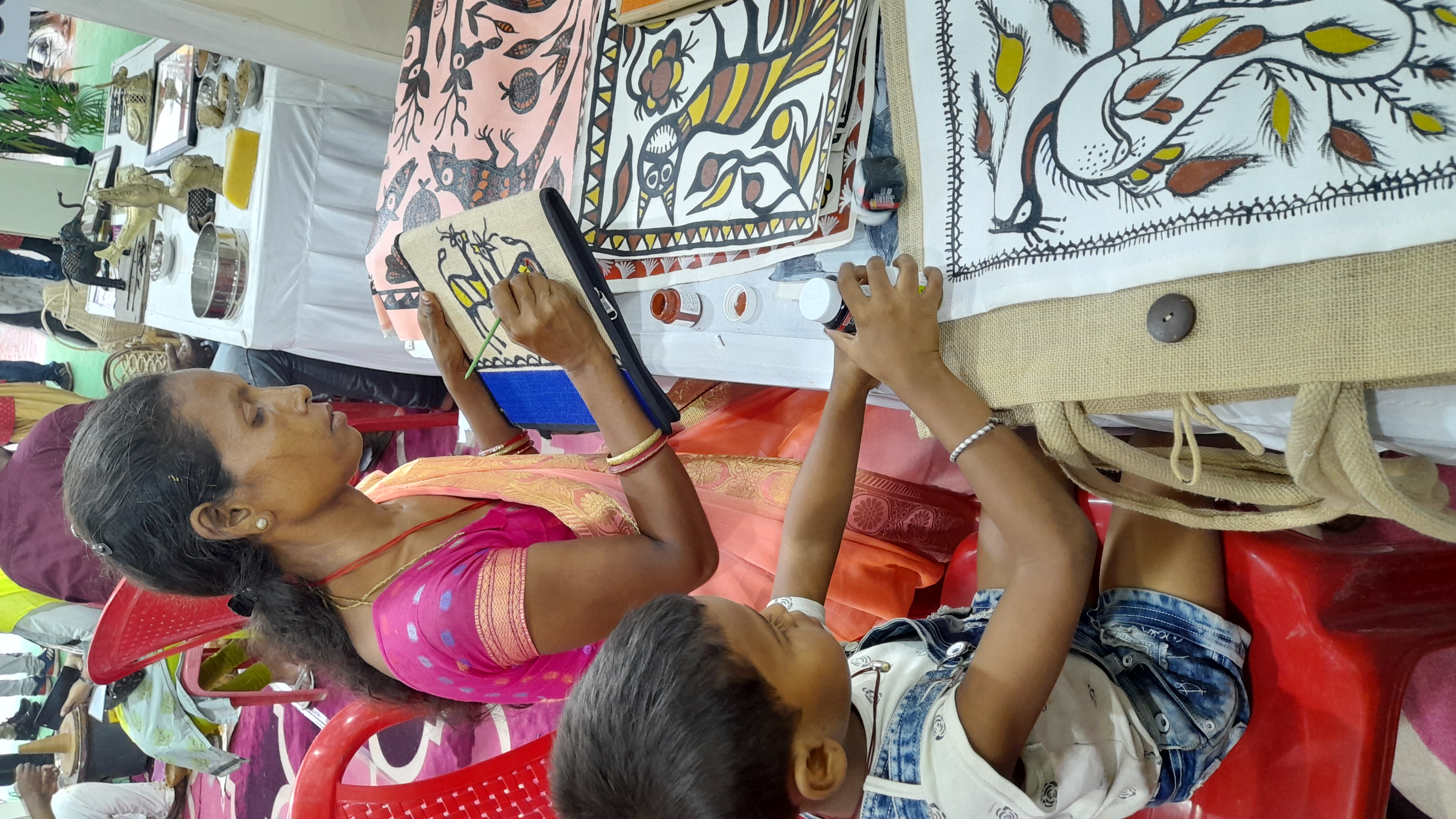 She told TwoCircles.net that the fair gives her an opportunity to present her craft and make money. "We used to learn this art form in our families but the training by Jharcraft helped me a lot. I use to earn around 8 to 10,000 Rupees a month but such fairs allow us to earn more in lesser time," she said. 
Another artist Alin Jaduptia travelled 300 kilometres from Dumka, the eastern part of Jharkhand, to show and sell his Dhokra art at the tribal fair. Alin makes show-pieces and other artwork as demanded by the customers. "This fair gives me a good opportunity to showcase my work and earn money too," Alin said. 
A woman Sarojni Purti is selling natural medicines, which she said are "based on tribal traditions." She is from Khunti, which falls adjacent to Ranchi. She told TwoCircles.net that although the sale of her medicines in her home town is good "these fairs provide an occasion to sell a good amount in just two days, which would usually take one month to sell." 
"People who are not getting any cure from allopathic medicines use our pain killer oil. For gynaecological needs, our medicines are very popular," Sarojini said.
Arvind Kachhap, in his mid-twenties, works as a cinematographer. He is here for a clothing brand called Johargram. He loves music and has adored his stall with tribal musical instruments like Dhol. "These occasions help in bringing the Adivasi culture into focus. It also provides an occasion to revive the dying Adivasi traditions."
Professor Tom Thomas is from Kerala and teaches at the Institute of Hotel Management (IHM) Ranchi. He is attending the fair to showcase the 26 exquisite delicacies of Jharkhand. "This part of tribal culture gets very little attention even on occasions focused on tribal affairs. It is my first experience telling people that the traditional Adivasi cuisines are so healthy at this age. Less use of oil is an important thing in Adivasi foods," he told TwoCirlces.net.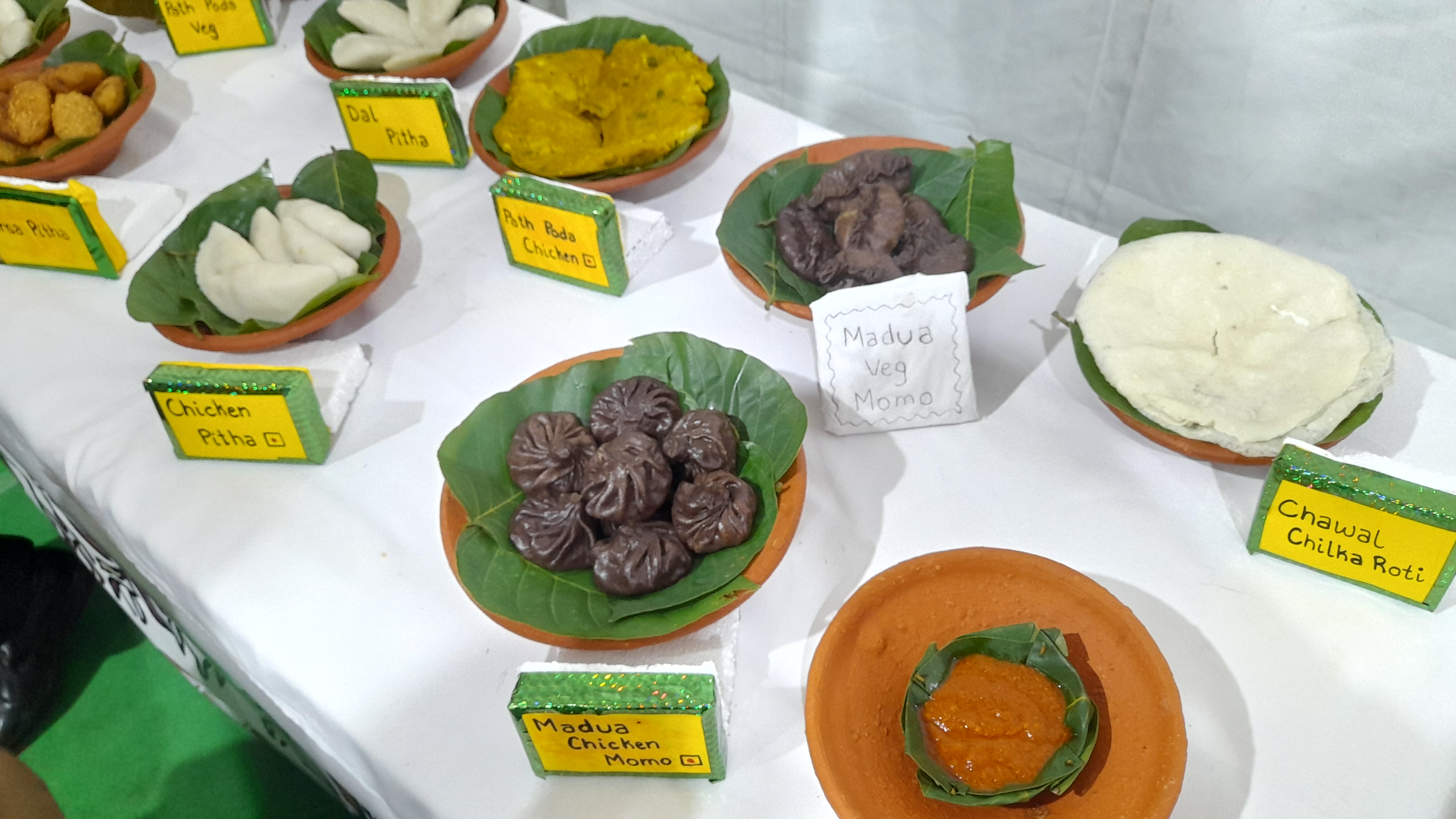 Apart from stalls showcasing tribal culture and traditions, a seminar on tribal literature was also held which highlighted "the inseparable connection of Adivasis with hills, rivers and forests." Another seminar on tribal anthropology discussed the role of tribal communities in the development of the human race.
Sami Ahmad is a journalist based in Patna, Bihar. He tweets at @samipkb
SUPPORT TWOCIRCLES
HELP SUPPORT INDEPENDENT AND NON-PROFIT MEDIA. DONATE HERE