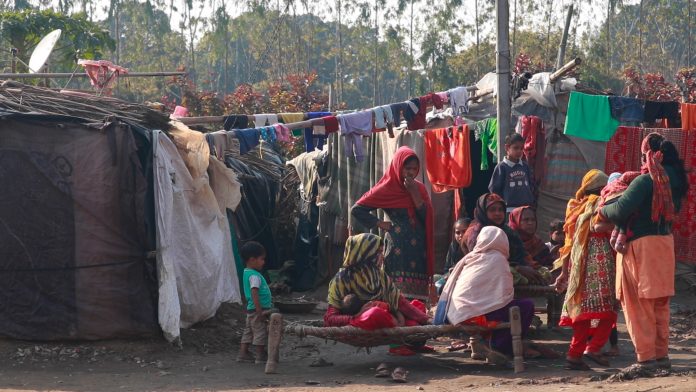 Nearly a decade after scores of Muslim families were displaced by the Muzaffarnagar riots in 2013, they still live amid poor living conditions and are neglected by political parties. 
Sazid Ali | TwoCircles.net
---
Support TwoCircles
---
UTTAR PRADESH — Just three kilometers away from Kairana city of Uttar Pradesh are the colonies of Muslims who migrated here following the 2013 Muzaffarnagar riots. More than 60 people were killed and between 50-70,000 Muslims had to migrate to nearby Muslim populated areas. Munawwar Hasan Colony in Kairana in Shamli district is one of those areas where the Muslim victims escaped. At present, there are nearly 250 families in the colony. The majority of the victims who escaped the violence and settled in this colony work as labourers at farms, brick kilns, and construction sites and also as street vendors. 
Poor living conditions at the colony
These displaced people live in poor living conditions. Most of the houses are damaged. The roads are not macadamized. With no sewerage system in place, the water flows into the streets.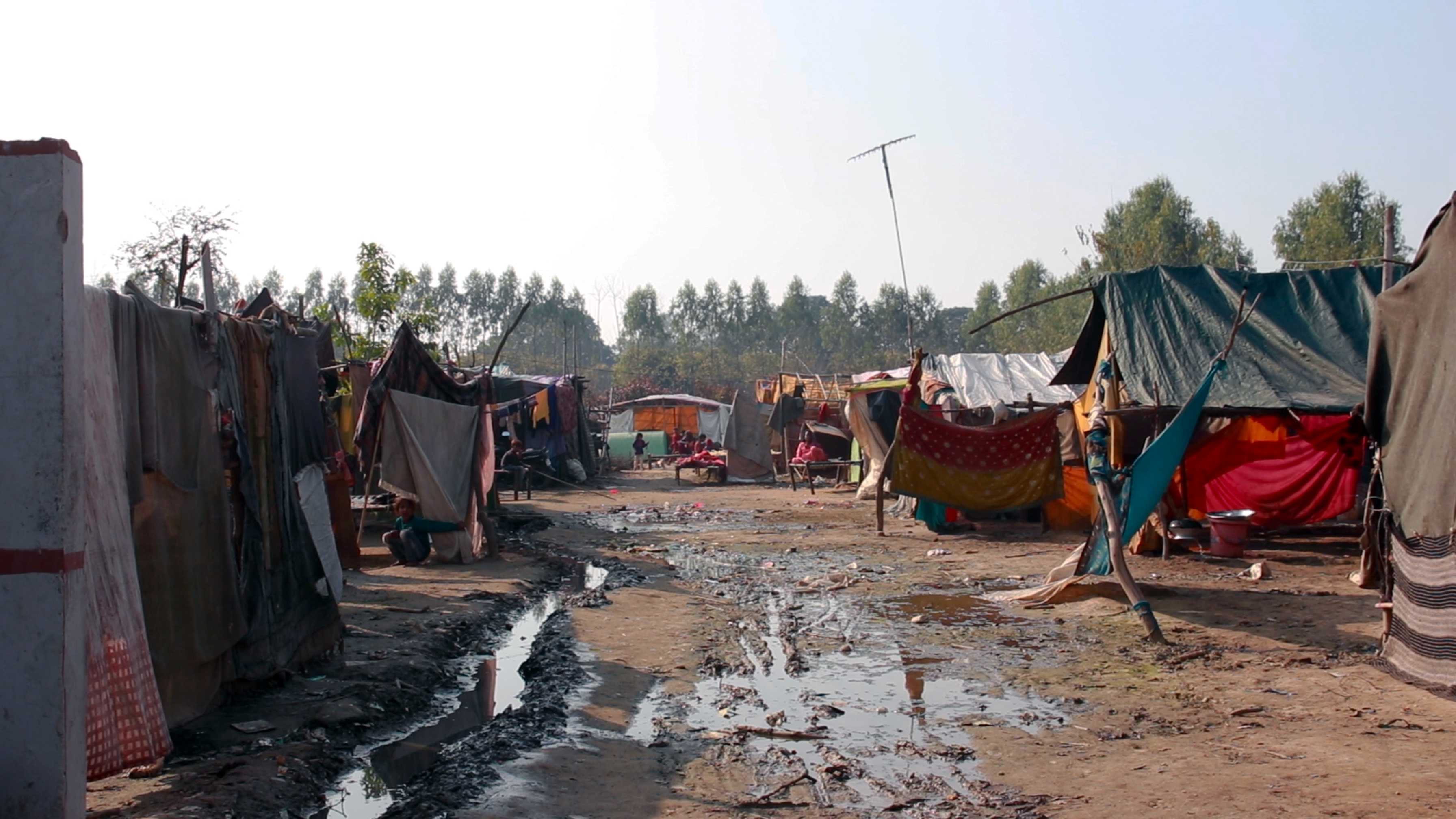 The displaced people who live in the colony told TwoCircles.net that they live in precarious conditions. Despite the much-hyped peace between Jats and Muslims, the displaced people do not want to go back to their villages.
Many victims lost their houses during violence or were later forced to sell them at cheap rates. "I had a two-room house with 40,000 bricks in 200 feet of land. But due to the slump in prices, I had to sell it for Rs 2 lakh and now I am living in this hut," Fayaz, who lives in Munawwar Hasan Colony, told TwoCircles.net while pointing at the hut he is currently living in. He hopes to build a pucca (concrete) house.
The distrust and suffering of communal violence still haunts the victims. Mahmood, a 75-year-old man, told TwoCircles.net that though his sons have gone back to the village, he never likes going back there. "No one stood for us except Tejpal- a Hindu Jat neighbor from his village, Bhora Kalan," he said.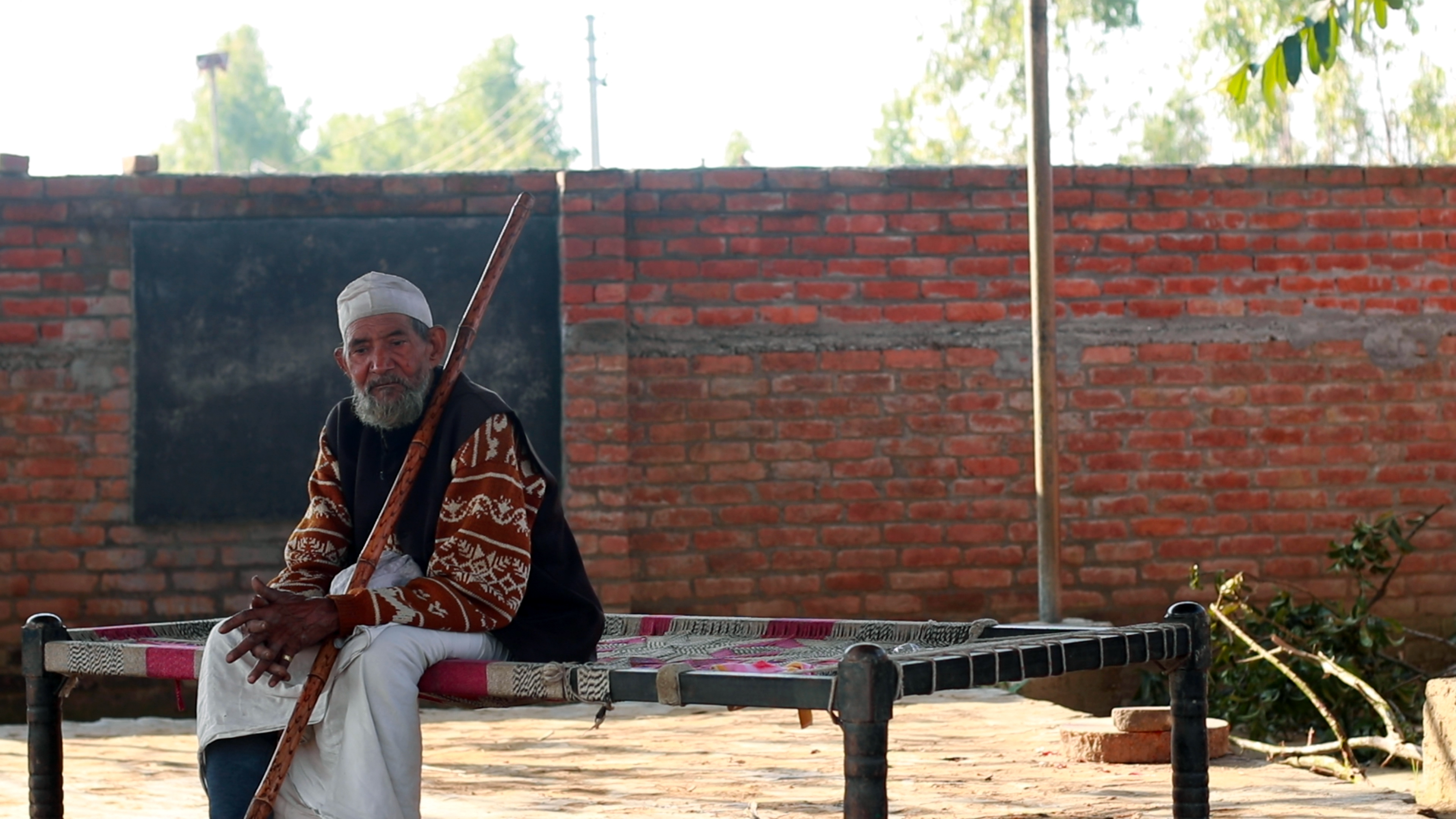 The 11 bighas of land for this colony was donated to the Arshad Madni Trust, by Nahid Hasan, the two times Samajwadi Party MLA from Kairana and the son of former MP and MLA Late Munawar Hasan. The Trust constructed 128 pucca houses, each house having a set of one room, a hall and a toilet in 50 feet of land. The ownership of these houses is still with the trust. At least 100  families are living in the makeshift huts. 
People living in these makeshift huts said that "it is difficult to live here."
"It is very cold during winters. . In monsoon, water flows inside, and in summers, these huts are hot as a heater," a woman named Sahida said. 
No proper school at the colony
Abdul Latif, a social activist associated with Our India Foundation told TwoCircles.net that in a field survey conducted in 2014, they found that the school dropout rate was more than 80 percent for Muslim children in Kairana. 
There is no school within a radius of three kilometres of the colony. 
Akram Akhtar Chaudhary's NGO, Afkar, constructed a makeshift school for the children in the colony. The school does not have any classrooms. Children have to sit in the open. Cemented blackboards have come up on the walls. 
Akram said that he was able to convince the administration to provide a teacher for this lone school after "a long bureaucratic struggle." For the last two years, due to the Covid-19 pandemic, the school has been  non-functional. There are no arrangements for online education.
The Trust also constructed a mosque where children below the age of 12 attend classes to learn the basics of Islam with the help of two Imams (Islamic preachers). 
Anger against BJP govt
There are around 500 voters in the colony and most of them are supporters of Nahid Hassan. 
"Nahid is everything for us. He has sheltered us and promised to build pucca (concrete) houses for all of us. We will vote for Nahid in the ongoing elections,"  Fayaz said. 
Another local Mohammad Shahzad, who was also displaced by the Muzaffarnagar riots, questioned the current BJP government. "Yogi and Amit Shah are talking about the exodus, but who has faced the real exodus?" he said. 
"We have been living in this colony for the last 7-8 years. The Yogi government has done nothing for us. No BJP leader ever visited our colony. How can we vote for BJP?" asked another local, Hamza. 
"Nahid not only gave us shelter but also during the lockdown he distributed food and made arrangements of water in our colony," Hamza said. 
Captives of charity politics
When the state fails to protect the life and property of its citizens, people are left on their own.
Every few months, members of various NGOs visit them to distribute relief material.
"This charity does not change or improve their conditions. On the contrary, it destroys their self-respect," Akram Akhtar Chaudhary said. 
During elections in India, the weaker sections of the society are given attention and political parties expect their support. But for these victims of riots, no such situation exists. 
Akram Akhtar Chaudhary said the non-reliance of the BJP on the Muslim votes makes them "captives of the so-called secular parties." 
"We become lesser citizens in the political discourse," he said.  
Locals rue that instead of rights, charity becomes the primary factor for getting their political support. "Even after almost a decade, we are living in precarious living conditions," they added. 
Sazid Ali is a doctorate from Center for Political Studies, Jawaharlal Nehru University. He tweets at @sazidjnu 
SUPPORT TWOCIRCLES
HELP SUPPORT INDEPENDENT AND NON-PROFIT MEDIA. DONATE HERE