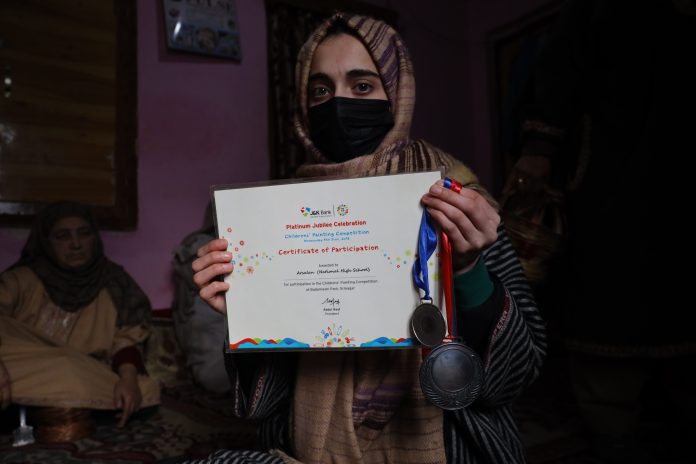 After a 19-year-old youth from Srinagar was arrested by National Investigation Agency (NIA) under militancy charges, his family has been left distraught. They claim their son is innocent and demanded his release.
---
Support TwoCircles
---
Auqib Javeed | TwoCircles.net
SRINAGAR —  "My brother's arrest has robbed the peace of our family," said 17-year old Sehrish Feroz of Srinagar. Her only brother, Arsalan Feroz (19), was arrested by the National Investigation Agency (NIA) after its sleuths conducted a raid at Arsalan's residential house in Srinagar on December 30.
Feroz was then taken to New Delhi, where he is under the custody of the NIA.
"We don't know where he has been taken and under what conditions he must be. We are begging for his release," Sehrish told TwoCircles.net.
According to the family, Feroz is a 12th standard student.
"When the NIA raided our house, Arsalan was not present and his father called him and asked him to co-operate with the agency," Sehrish said.
Sehrish said that Arsalan's father is a heart patient and he cannot live without his son.
"My father suffered a heart attack after his son was arrested. He can't live without him," she said.
The NIA in a statement said that they arrested 'a TRF operative' during raids in Srinagar in connection with a case of radicalising, motivating and recruiting youth of J&K by Lashkar-e-Toiba, a banned militant outfit.
"Yesterday (30.12.2021), conducted a search in Srinagar and arrested one TRF operative, Arsalan Feroz @ Arsalan Soub son of Feroz Ahmad Ahanger resident of Zaldagar, M. R. Gunj, Srinagar in Case No. RC 32/2021/NIA/DLI", reads the statement.
The case, according to the investigating agency, relates to a conspiracy hatched for radicalising, motivating and recruiting youngsters of Jammu and Kashmir to carry out violent activities in the Union Territory and other parts of the country by Sajjad Gul, Salim Rehmani alias Abu Saad and Saifullah Sajid Jutt, who are commanders of the TRF, a shadow organisation of the banned Lashkar-e-Toiba terror outfit.
However, the family contest the claims and maintain that "Arsalan was only a student and has nothing to do with militancy."
"He was not even a stone pelter. You can check his police records. He has never been detained before. How can he recruit people for militancy," Sehrish questioned.
A day after his arrest, the family arrived at Press Enclave, Srinagar and held a protest demonstration—demanding his release.
He was given clean chit by police, claims family
As per his family, he was earlier arrested by Jammu Kashmir Police on October 21, 2021, when his board exams were going on. "He was detained under the pretext of checking his mobile phone at that time," they said.
The family said Arsalan spent 40 days at Cargo—the headquarters of Jammu and Kashmir's elite Special Operations Group—and missed his board exams.
"He was given a clean chit and released. Why has he been detained again when he was given a clean chit first?" the family asks.
Days after his arrest, Arslan's father Feroz Ahmad Ahanger, who works as an accountant for a private contractor, reportedly suffered a heart attack.
"The doctors have advised us not to put him under stress but what can we do? He wants to see his son," she said.
The family is running from pillar to post to get their kin released. They said they haven't even hired a lawyer yet and are yet to figure out what to do.
On January 3, the family met the former chief minister of Jammu and Kashmir Mehbooba Mufti.
Mufti wrote a letter to Union Home Minister Amit Shah dated January 3, 2022, regarding the arrest of Feroz.
"In your last trip to Kashmir, you spoke emphatically about engaging with the youth here. Despite our political differences, I am sure we can agree that such incidents will only alienate our young generation further and leave them with permanent scars and a sense of despondency for a long time," Mehbooba's letter read.
Wrote to HM about Arsalan Feroz, a nineteen year old student arrested by NIA. Urge him to look into this case to ensure his release at the earliest. @HMOIndia pic.twitter.com/iCbFCsTyLr

— Mehbooba Mufti (@MehboobaMufti) January 3, 2022
"It's an utter tragedy that a young boy has been arrested despite no previous adverse police records. Such actions can have catastrophic consequences for him and his family," Mehbooba's letter read.
For Arsalan's distraught family, Arsalan's release is what they want.
"We just hope that he might be released. We have faith in Allah," Sehrish added.
Auqib Javeed is a journalist based in Kashmir. He tweets at @Auqib Javeed. 
SUPPORT TWOCIRCLES
HELP SUPPORT INDEPENDENT AND NON-PROFIT MEDIA. DONATE HERE