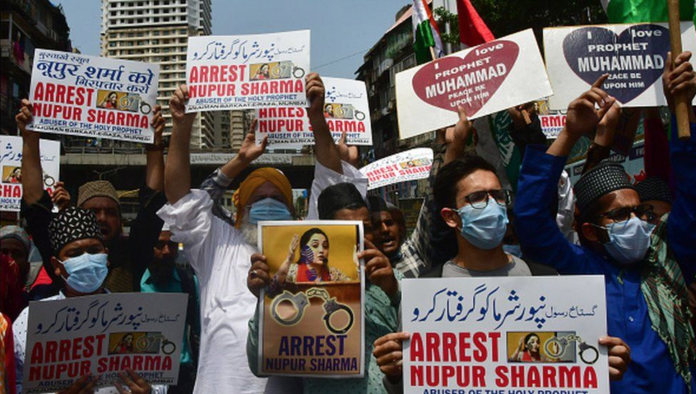 The experts said that targeting Prophet Muhammad, the most revered figure in Islam is a red line for Muslims across the world.
Zafar Aafaq | TwoCircles.net
---
Support TwoCircles
---
NEW DELHI — The diplomatic backlash from Muslim majority countries against India over derogatory remarks against Prophet Muhammad by two members of the ruling Bharatiya Janata Party (BJP) leaders Nupur Sharma and Naveen Jindal is seen as 'unprecedented' with many calling it a rare instance of such widespread condemnation by Gulf countries against Islamophobia in India.
Prime Time debates in India have become a platform to encourage hate mongers to speak ill about other religions. @TimesNow's Anchor @navikakumar is encouraging a rabid communal hatemonger & a BJP Spokesperson to speak rubbish which can incite riots.
Shame on you @vineetjaintimes pic.twitter.com/lrUlkHEJp5

— Mohammed Zubair (@zoo_bear) May 27, 2022
The governments of 18 Muslim majority countries have issued statements condemning the insulting comments made by BJP leaders. With Qatar taking the lead, these countries summoned Indian diplomats to foreign offices to register their official protests and also press for a public apology. 
Prior to these official protests, there was widespread public outrage against India across the Arab world with social media hashtags condemning the insults against the Prophet Muhammad, the founder of Islam. Videos surfaced on social media showing Indian products being pulled down from shelves in stores in Kuwait.
#WATCH: Superstores in Kuwait remove Indian products after 'derogatory' comments passed against Prophet Mohammad (PBUH) by members of India's ruling BJP party.
–https://t.co/xJGXlRxaiP pic.twitter.com/YgTDOG8qgN

— Arab News Pakistan (@arabnewspk) June 7, 2022
"These insulting remarks would lead to incitement of religious hatred, and offend more than two billion Muslims around the world," Qatari Minister of State for Foreign Affairs Soltan bin Saad Al-Muraikhi said in a media statement. 
In response, the BJP took action. Arun Singh, the party general secretary said in a statement that it respects all religions and strongly denounces insults of any religious personality. This was followed by the suspension of Sharma from membership and the sacking of Jindal.
BJP asserts that it is strongly against any ideology which insults or demeans any sect or religion.

In a statement, Party General Secretary Arun Singh says the BJP respects all religions and strongly denounces insult of any religious personality. pic.twitter.com/PHHNLHxdtE

— DD News (@DDNewslive) June 5, 2022
So what explains this public outrage in the Muslim world and the strong reactions from the governments who are typically considered allies of India. The experts are unanimous in their answer: targeting Prophet Muhammad is a red line for 1.8 billion Muslims across the world. 
Gulf nations largely avoid commenting on domestic issues in other countries and that's why you see silence over rising communal discord in India, said Talmiz Ahmad, a former diplomat who has served India in the Middle East. "But this time with insulting comments relating to the Prophet and his family, a red line has been crossed," Talmiz told TwoCircles.net. 
Talmiz said he was not surprised by this strong reaction in Muslim countries and linked it to growing concerns over "burgeoning Islamophobia across the world." 
According to Shaheen Nazar, a former editor at Saudi Gazette, the reactions of the governments in Gulf countries was in response to assuaging the domestic pressure that was visible on social media. "People were hurt because the insults were blatant and that too by a member of a ruling party against the most revered figure for Muslims," Nazar told TwoCircles.net. "Officials had no option but to act."
But was the public outburst a sudden reaction? Mohamed Zeeshan, who frequently writes on India's foreign policy matters for international media, says Arab countries are "non-interventionist by nature" towards countries outside the Middle East "but increasingly, they are becoming wary of Hindu nationalist sentiments spreading among the Indian diaspora in their countries."
In early 2020, at least a dozen Indian ex-pats in the United Arab Emirates were fired from their jobs over their Islamophobic remarks on social media. This had prompted the Indian Ambassador Pavan Kapoor to issue a warning to his compatriots from posting hate comments. 
At the same time, experts say, the economic interests of both India and the Gulf countries have a role in determining the present crisis including the Indian government's response and the future course. 
"The Modi government is wary of making enemies out of the Arab world in particular, given the outsized influence that the Arab world plays in the Indian economy through remittances and fuel exports," Zeeshan told TwoCircles.net. 
According to a report in the Economic Times on June 7:  
8.9 million Indians work in Gulf nations.

60% of India's crude oil comes from the Middle East.

UAE is India's third-largest trade partner.

Half of the remittances to India ($ 40 billion) are sent from 5 gulf countries.
Michael Kugelman, the Deputy Director of the Asia Program at the Wilson Center, said the ongoing crises will not hamper India's relations with the Muslim world, especially the Gulf states.
"While it's true that the Gulf region is critical to India's interests, as a critical source of energy imports and remittances, India is also a critical country for the Gulf region's economic interests. So I don't think, no matter how egregious these comments were by the two BJP leaders, that these Muslim-majority states will do anything that could imperil their relations with New Delhi," he told TwoCirlces.net.
Indian Muslims on social media and community leaders have welcomed the reactions from Gulf countries and even raised questions over their silence on past atrocities. Experts say that present crises may set in new precedence for Muslim nations to be more vocal against rising Islamophobia in India and thus force the Indian government to go against hate elements. "We are going to see them become increasingly outspoken from here on," said Zeeshan.
Ambassador Talmiz also held a similar view saying that domestic issues have a bearing on foreign policy. "We cannot continue to have good relations with other countries by abusing and violating a large section of a community within our borders."
Zafar Aafaq is a journalist based in New Delhi covering politics and human rights. He tweets @zafaraafaq  
SUPPORT TWOCIRCLES
HELP SUPPORT INDEPENDENT AND NON-PROFIT MEDIA. DONATE HERE