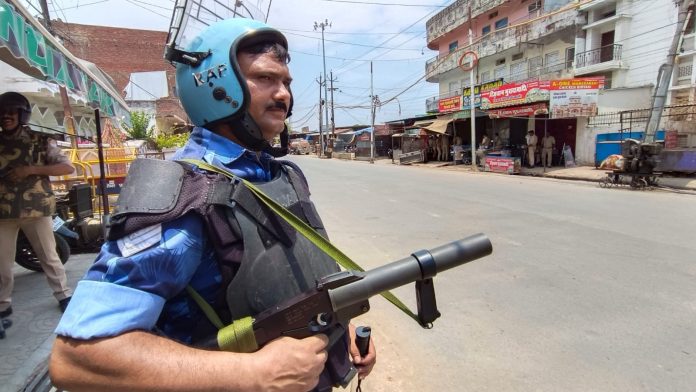 Atala area, the epicentre of violence in Prayagraj, is popular among locals for restaurants serving non-vegetarian food. 
TCN Staff
---
Support TwoCircles
---
PRAYAGRAJ (UTTAR PRADESH) — It was just another Friday for Saif Quraishi and his family on June 10 as they woke up early in the morning and started preparations for selling paya biryani outside Ansar Masjid, close to Atala Crossing in Prayagraj Uttar Pradesh, the spot where violent clashes started soon after Friday prayers.
Little did they knew that this Friday and the following days would be tough for them and others in the neighbourhood. Violence and police crackdown following protests over insulting remarks to Prophet Muhammad made by now suspended BJP spokesperson Nupur Sharma has severely hit the livelihood of more than 2000 people in Atala who are directly or indirectly reliant on over 150 non-vegetarian food eateries and restaurants in the area.
Saif's two brothers and their father, Mohd Riyaz, have been selling biryani in their small kiosk for many years and it is their sole means of livelihood. 
"As our stall is at the very place where the youths were protesting, we immediately ran away with our wares," Saif told TwoCircles.net. "We make Rs 500-800 per day," he added. 
Atala is known for its hustle-bustle with eateries, and kiosks–small and big–busy serving customers or packing orders till late at night.  
"Nine days have passed since we are surviving on our savings and that is depleting away fast," said Saif. Besides local owners of eateries, migrant workers employed as waiters and cooks or do other odd jobs at eateries and hotels are struggling. Some are surviving on their little savings while others are forced to borrow money from relatives and neighbours while there are many who are being helped by locals with better financial conditions.
Mohd Amin is unable to open his business despite the officials urging traders and eatery owners to resume their businesses. "Many of my workers were from outside and have fled to their native places following the violence. It is not possible to run the eatery without them," Amin told TwoCircels.net. 
Adjacent to Amin's eatery, Mohd Saifi and his family ran the oldest restaurant in Atala, called Allahabad Kabab Paratha. The restaurant has been closed since the violence erupted on June 10 and it may take a long time for it to be functional again even after the situation returns to normalcy as Saifi and his brother are named in the FIR lodged by police, said a local resident, Zubair. "Police claim that stones were pelted from the terrace of Saifi's restaurant," said Zubair. As Saifi and his brother are on the run, around 20 workers employed by him are also at large.
"I was employed at an eatery of kabab paratha in one of the lanes at Atala on a wage of Rs 200 per day I am without work since the day violence broke out in the area," Tauseef, an eatery worker living in the Atala area, told TwoCircels.net.
As officials are seeking cooperation from locals and traders to help them bring the situation back to normalcy, some dairies, a tea stall and a few grocery stores are open. 
"It will take much time for Atala to be like it was before June 10. As of now, I have opened my lassi shop after being urged by officials. But only two customers came. My shop was damaged in the violence and needs repair," said Mohd Ansar.
Famous for its special black masala tea, Rabbani's tea stall at Atala Crossing was a favourite hangout for many in the city. No one was at the stall when this reporter visited it on Saturday, June 18.
Corporator of Atala area, Moinuddin Ansari TwoCircles.net.that traders are cooperating with the administration. "Many have opened their shops but violence and crackdown has instilled fear among locals," he said.
Eatery business may take more time to resume at Atala as workers are yet to return, he added.
SUPPORT TWOCIRCLES
HELP SUPPORT INDEPENDENT AND NON-PROFIT MEDIA. DONATE HERE