From gali hockey, to India's hockey captain to DSP of police, it has been an incredible and equally inspiring journey for daughter of Chhattisgarh Saba Anjum who has received the Padma Shri 2015 honour
By Sharique Anwer, TwoCircles.net,
Durg (Chhattisgarh): Growing up in the Kelabandi locality of this place Durg, one of the district headquarters of Chhattisgarh, she was just another girl in the neighbourhood, daughter of a muezzin in a local mosque, youngest of the four siblings with not much resources at hand for the poor family.
And just because several boys from her mohalla played hockey, she developed an interest in hockey and started playing with those boys. And what started as gali hockey for her at the age of nine, became her passion and took her to unprecedented heights.
Saba Anjum receives the Padma Shri award at the hands of President Pranab Mukherjee at the Civil Investiture Ceremony at Rashtrapati Bhavan on April 8, 2015. (Photo credit: PIB)
Meet Saba Anjum, 30, who says hockey is in her blood, she cannot live without hockey and wants to start an academy to teach hockey. But it has not been as easy a journey as it sounds. She has had her share of struggles.
The main stream media is yet to discover her. But those – including journalists – who have known her, cannot but compare her with Pathan brothers – of the cricket fame – for a similarity in the dust-to-glory tale and the fact that the young cricketers too are sons of a muezzin in Vadodara. But cricket hogs all the limelight while gems such as Saba Anjum lead a near invisible-from-public-glare-life, partly also due to not very popular status that hockey has in India.
Born on June 12, 1985 at Kelabandi locality of Durg. Her parents, especially her mother, and siblings were and have always been her pillar of strength. "They sacrificed everything to provide me whatever I needed. My mother sold utensils from our house to get me passport because Rs 1,000 was a huge amount of money for our family at that time," Anjum shares her days of struggle with TwoCircles.net.
At home, her elder brother used to play hockey and Anjum played with him and other boys with a hockey stick she brought from the school. At that time, Durg was part of Madhya Pradesh. She participated in the interstate Nehru Cup and attended the camp.
Her father earned a meagre Rs 2,000 or Rs 3,000 as muezzin. Her brother made several trips for getting her passport from Bhopal (Chhattisgarh was part of Madhya Pradesh till November 2000 and Bhopal was the capital then as it is now of Madhya Pradesh). Even affording a pair of decent shoes was a tough thing.
"But I guess, constant conviction and the zeal to make it big in life helped me defeat poverty and also male chauvinism," she says.
After completing her schooling from the Adarsh Kanya Vidyalaya, Durg, she started coaching with Tanveer Akil in Durg. After the creation of Chhattisgarh state she was selected in the state team. She went on to be a product of Sector 18, Sports Training Centre (SAI) Chandigarh to play for the team as forward right wing striker from 2000 to 2002. She then joined Western Railways in 2003.
Her domestic career involves playing Junior Nationals 2000 in Chennai; National Games 2001 in Ludhiana; Jawaharlal Nehru Hockey Tournament 2003 in New Delhi; Federation Cup 2004 in Rajnandgaon (Chattisgarh) and Senior Nationals 2006 in New Delhi. She was the youngest of all participants in the Hockey competition at the 2002 Commonwealth Games at Manchester.
Not just domestic hockey, she has had a good share of international assignment. She was part of the Gold winning team of 2002 Commonwealth Games, 2004; Asia Cup and Bronze medal winning team of 2005 Asian Games Women's Hockey team. Besides, she participated in Australian tour 2004, New Zealand Tour 2004, Asian Tour June 2005 in Seoul, Indira Gandhi Gold Cup, October 2005 in New Delhi and Commonwealth Games, March 2006.
"I became the captain of the Indian women's Hockey team in 2011. I have played three Commonwealth games, four world cups, four Asia cups and 42 tournaments. I have won a total of 14 medals and scored 92 goals in 200 games / international matches," she informs.
After returning from Commonwealth Games, every player used to play for Railways except her. She too was the youngest player of all. At that time, Nitish Kumar was the Union Railway Minister and he had allocated funds for the team. "He enquired about 'the girl who doesn't have a job' and I was that girl. He gave me the post of clerk with the Western Railways, Mumbai.
"The financial condition of my family was very bad at that time, I used to be very tense. My parents used to work very hard to support the family, my job in the Railway was a relief for the family. Also, I got two promotions while playing for the Railways in between 2002 to August 2012," she sounds relaxed.
Haryana government offered a job of Deputy Superintendent of Police (DSP) to Commonwealth Gold medalists and team captains. "I too demanded the state government a similar job on the lines of Haryana. I was given the post of DSP in Chhattisgarh police in 2012," she recalls.
She was honored with the Arjuna Award in 2013 for sporting achievements. She has also received the Gundadhar Sports Award and Shaheed Kaushal Yadav Sports award given by the Chhattisgarh government. And now, she was one of the recipients of Padma Shri for 2015, awarded on April 8, 2015 by the President Pranab Mukherjee.
"I am extremely happy after receiving the Padma Shri award. Padma Shri award is a big recognition. When we play sports, our first aim is to perform better in the team and to become captain. But we look forward to Arjuna Awards or even such recognition as these are always special," Anjum told TCN even as she was hurrying to resume duty after receiving the award at Delhi.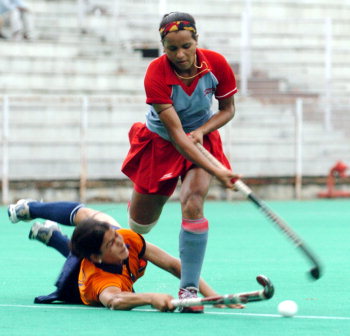 Saba Anjum gets past Uttar Pradesh captain Meenakshi in the 2005 hockey nationals at Delhi (Photo credit: The Hindu)
The Padma award brought back the memories of her father for her. He had died very early and was not around to see the family get better days. "We went through a very bad time but when we now have everything, my father is not here with me. I had bought a house in the same locality where we used to live. We all live there now, but it would have been better if my father was with us today," she remembers him.
But then, why is she into a police job and not into hockey, something she claims to be her life. Explains Anjum: "I have asked the Chhattisgarh government to open an academy so that I can teach hockey to local children. If the government does not open one, I will open an academy on my own to teach hockey to all inter area hockey aspirants. I cannot live without hockey, it is in my blood."
Today, she is an inspiration for aspiring young girls across India besides Sania Mirza, Saina Nehwal, PV Sindhu and Mithali Raj etc. She says, she takes pride when young girls refer her name as an inspiration.
Related:
SUPPORT TWOCIRCLES
HELP SUPPORT INDEPENDENT AND NON-PROFIT MEDIA.
DONATE HERE