G Gopalakrishnan has built mosques all his life, soon he will start work for 102nd
By Shafeeq Hudavi, TwoCircles.net
Kozhikode: He is not a trained architect. He is not an artist. And he is not even a follower of Islam. Yet he comes up with most beautiful designs for mosques, so beautiful, his name has become synonymous with mosque building across Kerala.
Govindan Gopalakrishnan, 78, a resident of Thiruvananthapuram, has been constructing mosques all his life. But he is no ordinary contractor. He credits his ability to draw sketches for mosques as "bestowed by God." For almost all mosque functionaries across the state, his name comes to mind when a new mosque is proposed or an old one is to be renovated.
Kottankal in Kottayam district, Beemappally, Kaduvappally, Alamcode Pally and Karunagappally in Kollam district are few of his famous works. The master designer is now busy with the construction works of Ilippakkulam mosque near Kattanam in Kollam district.
But what brought him into limelight was his first work that dates back to 1960s when he was a school going child while he drew sketch for the dome of the famous Palayam Juma Masjid in Thiruvananthapuram. Several philanthropic businessman and even government officials decided to renovate the Palayam Juma Masjid as the earlier structure was then almost 200 years old.
Gopalkrishnan's father was a contractor, whose blueprints of the buildings he constructed, prompted Gopalkrishnan to make a few sketches, which in turn, impressed Kerala's chief architect. They worked in tandem to complete the mosque as per his designs. When the renovated, re-constructed mosque was inaugurated few years later by the then President Dr Zakir Hussain, Muslims were hooked by his style – domes, minarets, something innovative for the land endowed with natural beauty and where temples, mosques and churches are all built keeping in mind the local architectural traditions, in sync with nature.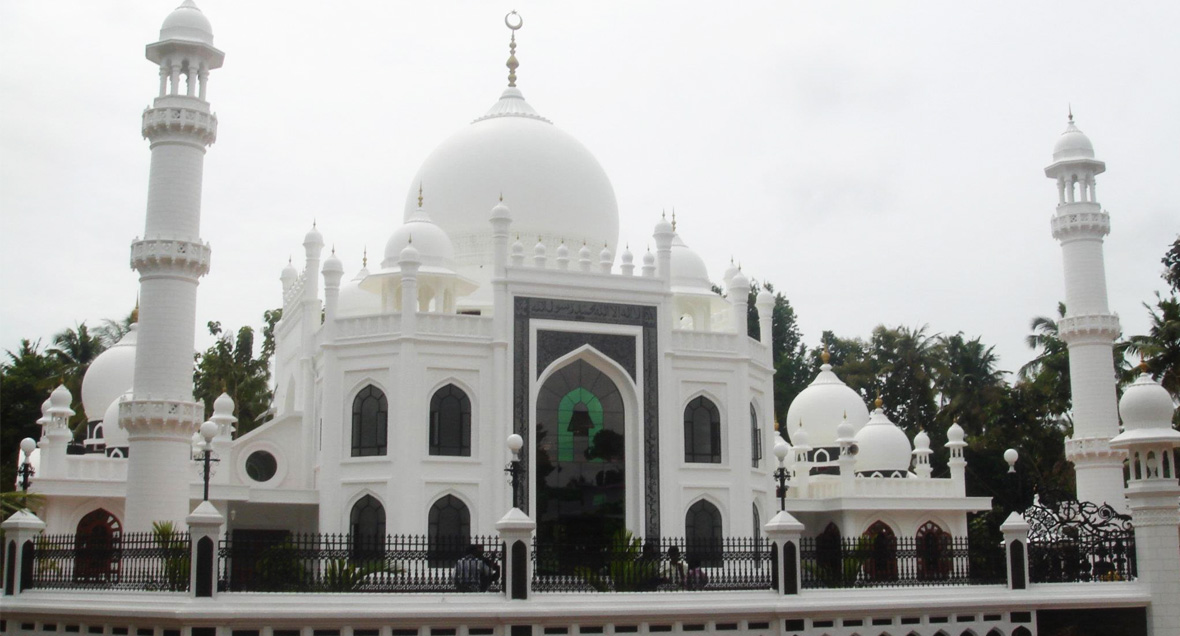 Sheikh Masjid, Karunagapally (Photo courtesy: manavektamission.org)

This sort of became his trademark, of creating new generation places of worship. Pristine white buildings, domes, minarets, Islamic calligraphy. All showing immense influence of Indo-Islamic architecture. Some are not white, but definitely sport colours unlikely to be found in traditional Kerala architecture: earthen colours and buildings hallmarked by sloping tiles roof to face heavy monsoon showers.
Gopalakrishnan says he got rid of the local architectural tradition as he "sees the world as one." He follows Indo-Saracenic model in architecture. He hasn't visited structures like Taj Mahal but refers the famous books 'Indian Architecture: Islamic Period' and 'Indian Architecture: Hindu Period' by Percy Brown.
G Gopalakrishnan at his drawing board

"I could easily complete these mosques as I was stuck with the spiritual beauty of the mosques. The ability to draw sketches for mosques is bestowed on me by God as I have determined the sanctity of place of worship and respect them," says Gopalakrishnan, who dropped out of college while pursuing diploma in engineering owing to the financial problems after his father fell ill.
Divine intervention! What else explains the ability of a person who has not visited any of the places outside Kerala to have been influenced any other styles of architecture to come up with showcases of Indo-Islamic architecture? Sheikh Masjid is akin to Taj Mahal, Koduvayil mosque in Kollam is a blend of Indo-Persian architecture and Nedunganda mosque borrows Indo-Saracen style.
Kaduvayil Juma Masjid, Kollam

His work has earned him so much name and fame, he is onto building his next mosque soon, the first outside his home state, at Dindigul in neighbouring Tamil Nadu. In fact, when TwoCircles.net contacted him on phone, Gopalkrishnan was returning home after a meeting with mosque committee at Dindigul. "If things go as expected, I will soon start construction of 102nd mosque in my life," says the contractor.
Ask him about training, he clarifies: "I am a contractor, neither an engineer nor an architect. I had started working with my father K Govindan since my childhood. As I said earlier, God bestowed this skill, I fine-tuned it slowly from experience."
K Govindan was one of the eminent contractors in Thiruvananthapuram. Gopalakrishnan, who was interested in drawing, utilised all opportunities to work with his father and started to draw sketches for the mosques. But he also owes much to TP Kuttyamu, first chief engineer of Kerala when the state was formed. "Kuttyamu Sahib was the encouraging force, tempting me, inspiring me to take over contracts for constructing more mosques after he entrusted me the duty of building Palayam mosque."
Gopalakrishnan has constructed several residential complexes, shopping malls and other buildings too. The contractor, who keeps copies of Quran, Geeta and Bible at his home, is not just an advocate of but a practitioner of communal harmony. Gopalakrishnan observes roza during the holy month of Ramadan, he fasts during Easter and also the 41-day vrat during the Sabarimala pilgrimage.
G Gopalakrishnan with his wife Jaya

His wife Jaya is a Christian. Govind, Sreeni and Neeni are sons. Govind's wife is Lakshmi; Sreeni is married to Aneesha, a Muslim and Sreeni's wife is Sajina. "I welcome all religions to my home and give them all a place they deserve," the septuagenarian adds.
Apart from 101 mosques, he has also built five churches and working on the sixth.
Currently he is engaged in writing a Malayalam book on his experiences with Islamic tradition and Quran. The book named 'Njan Kanda Quran' – which literally means 'The Quran, which I Saw' – will be released soon. "Through my book, I will reveal the light, which came up on me from the holy book."
After a lifetime of building places of worship, Gopalakrishnan has one dream: building and starting a 'School of Religious Thoughts', where Geeta, Quraan and Bible will be studied.
Related:
SUPPORT TWOCIRCLES
HELP SUPPORT INDEPENDENT AND NON-PROFIT MEDIA.
DONATE HERE