By Amit Kumar, TwoCircles.net
In 1634, the King of Kutch, Raja Bharmal I invited members of the Khatri community from Sindh to settle in the Kutch region, so that printed fabrics manufactured by the Khatris could be worn exclusively by the royal family. Ten generations and 382 years later, a member of the same family, 33-year-old Sufiyan Khatri, now heads a small entrepreneurial setup in Ajrakhpur, Kutch and helps provide employment to nearly 50 people in the village.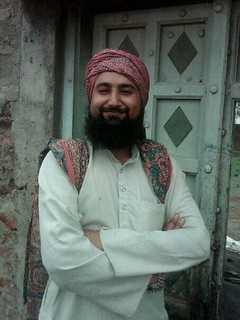 The story of Sufiyan, his art, his family and village is as interesting as it has been challenging, but one which shows the true grit and determination of these artisans who claim to be carrying on an art form that finds its origins in the Indus Valley civilisation.
Ajrakh – a unique technique in hand block printing, literally means 'Aaj Rakh' (keep it today). However, according to Sufiyan, the simplicity ends here: the process is complex as it often involves up to 16 steps, depending upon how many colors and layers of block print are desired. The art uses natural dyes, including a mixture of camel dung, soda ash, castor oil, waste iron, indigo, pomegranate peel boiled in water, etc. "This form of printing was also found in ancient Egypt. The simplicity of this art form, along with the natural ingredients, is the main reason why this art form has survived and excelled for thousands of years," says Sufiyan, speaking over the phone to Twocircles.net.
Until the early half of the 20th century, Sufiyan says the market for these prints remained mostly local, as almost all Sindhis and other locals wore these prints. However, around the time of India's independence, the market for these clothes started shrinking as locals started preferring Western clothes. Around the end of 1950s, as cheap chemical dyes made a foray into the market, production natural dyes came to a halt for about a period of 15 years. As a result, a number of local artisans shifted to chemical dyes over natural dyes.
Sufiyan's grandfather, Mohammad Siddique Khatri also shifted to chemical dyes but ensured that his three sons, one of whom was Dr. Ismail Khatri, learnt the traditional method of using natural dyes in Ajrakh printing.
However, the era of chemical dyes was short lived: a chance encounter with a police official, who saw the natural-dye products and was greatly impressed by the same, made Sufiyan's grandfather go back to using natural dyes, says Sufiyan. In 1975, the director of Gurjari, the State handicrafts corporation, met Sufiyan's grandfather and helped them train for a much larger market: that is when the business really got a shot in the arm; soon, they were selling their wares in the international and the national market along with catering the tourists who would visit Kutch. And the family has never looked back since. "We have never gone back to using chemical dyes; the natural element in our art is what makes us and our work unique and there is no way we will compromise on that again," says Sufiyan.
The family of Sufiyan had settled in a village called Dhamadka, mainly because of the proximity of the Saran river to this village. "Water is an essential ingredient of the Ajrakh process because it constitutes an important part of the natural dyeing process. We also need good quality of water, otherwise all efforts can go to waste," said Sufiyan.
2001 earthquake and the rehabilitation
The devastating earthquake in 2001 destroyed all the infrastructure for the artisans. Not only this, more than 100 people in the Khatri community lost their lives, and for the next few years, life was extremely tough for the village. "The water in the river Saran became unusable after the earthquake as the mineral content of the water became too high. Also, as our village was completely destroyed, we had no option but to move," says Sufiyan, who was still in his teens at that time and had already started working with his father. They found a vacant area 40 kms away and the entire community of Khatris came together to buy about 100 acres of land. The new village, fittingly, was named Ajrakhpur after the art form. The village was also thankful to Jama'at e-Ulema-e Hind who helped them build their homes, along with donations from Western clients which helped them rebuild their workshops. But most importantly, the water in the area was deemed good enough for work to resume. "Between 2001 and 2003, we hardly managed to do any work and were thankful to donations made by various people…my father had set up camps where food was rationed and given to all the families…during transition, most people would stay at our place because somehow, our house had escaped any kind of damage," says Sufiyan. "We had to dip into all our savings. However, we also decided that we would not just take donations and forget about it; after our workshops started, we supplied goods totalling the amount of donations to everyone who had helped us," says Sufiyan, smiling.
Today, thanks to the use to Social media and the internet, Sufiyan and his village of artisans have earned worldwide fame. His clients include the elite of Gujarat, along with thousands of buyers in the international markets. In July, Sufiyan visited Europe for a trade exhibition, and has already travelled all of India for hundreds of exhibitions and shows. "I learnt from my father that the artist is only as good as his co-workers. About ten years ago, I set up a company after my father's name, when he retired. Even though I am the one who travels around the world, I never claim it as my work. It is the work of this village, its people, and we are all in it together," says Sufiyan. According to him, on an average the artisans in the village, both male and female manage to get work for about 10 months a year. "In my company, I directly employ about 40 people, while several others earn money by supplying goods, colours, clothes to us. Even the lowest-earning artisan makes up to Rs 1,000 a day, so we can proudly say that no one in this village has to ever face poverty," says Sufiyan. He says this is also the main reason why there is almost zero migration from the village to the cities, as people are happy and content with the work they do, along with being a part of a larger family. Sufiyan also conducts training workshops for a number of people and says that going forward, his dream is to ensure that the entire village continues to benefit from this art form. "There is something amazing in living in such a family. I would never trade this for anything else," he says.
Related:
SUPPORT TWOCIRCLES
HELP SUPPORT INDEPENDENT AND NON-PROFIT MEDIA.
DONATE HERE