By Faisal Fareed, Twocircles.net
With UP going to elections this weekend, it is clear that the gloves are off and everyone is either trying to support a party or oppose it. The Ulemas of UP are not likely to be left behind. When the SP-Congress alliance was announced, Ulemas joined hands in opposing the same. Now, another group of Ulemas, the Rashtriya Ulema Council, has announced that it would extend support to the Bahujan Samaj Party. Their slogan "Muslim Dalit ka Saath Pasand Hai" might be similar to the one used by the SP-Congress alliance (UP ko ye saath pasand hai), but beyond slogans, what will be the impact of this alliance? Both the protests of Ulemas against Congress-SP and the support of RUC should be seen as positives for the BSP, right? The truth, however, remains that for their supposed 'clout' and the attention from media, parties like RUC have almost zero impact on the ground.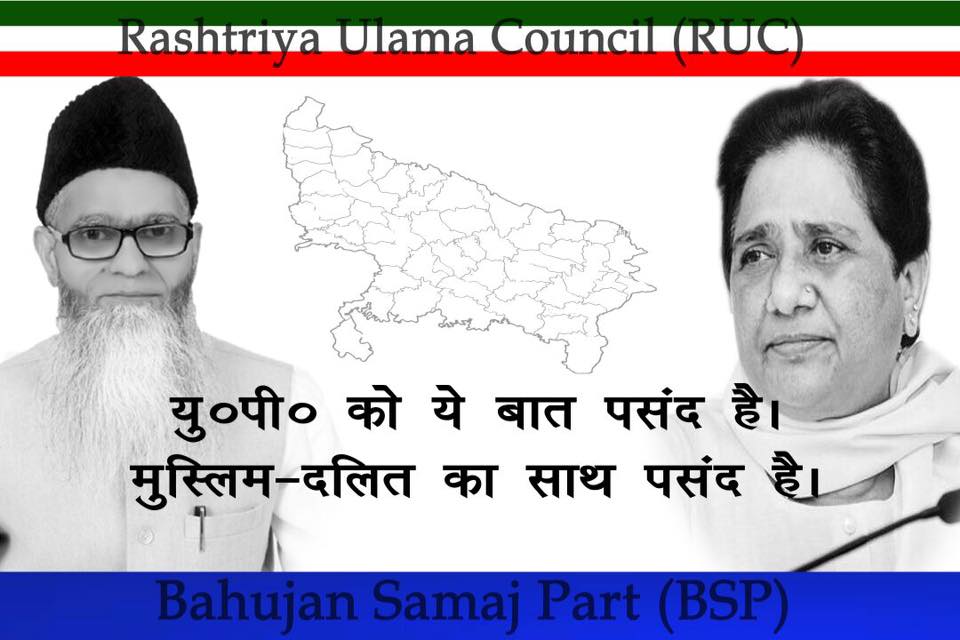 The BSP supporters term it as a shot in the arm, hoping that it will bring Muslim voters closer to their party. But let us not be swayed by mere emotion and beliefs, and look at the numbers: in reality, the RUC had contested 64 seats totaling crores of voters in 2012, and lost all the seats. What was worse, their candidates had to forfeit the deposits, i.e., less than one-sixth of the votes went to RUC in 63 of 64 seats. Their candidates managed to poll over 1.55 lakh votes, which shows how little the party actually mattered when it came to attracting votes. But it still performed better than other Muslim parties who contested in 2012 elections.
Many of them claim to be the sole representative of Muslims but failed miserably. Most of them got such a small number of votes that it became difficult to calculate the vote percentage. Hardly any of these parties had any impact on Muslim votes and results. Most of them failed to attract Muslims and there was no sway over the community.
The only exception to this trend was the performance of the Peace Party, which contested 208 seats and won four even as the party's candidates had to forfeit their deposits on 193 seats. The party polled over 17 lakh votes and their vote percentage were 4.54% in the seats it contested. Its president Dr. Ayub proudly claims that his party was the fifth-largest party in state assembly but even then it has not been given a government building for its office. When the 'best performing' Muslim party managed to poll less than 5% votes, one can imagine the state of other Muslim parties.
Quami Ekta Dal of Mukhtar Ansari contested on 43 seats and won two seats and had to forfeit its deposited on 37 seats. It polled over 4 lakh votes and its vote percentage was 5.32 % on the seats it contested. Now the party has been merged with BSP.
Another party, Ittehad-E-Millat Council of Maulana Tauqeer Raza, won one seat but that MLA too joined SP. It had contested on 18 seats and polled about 1.9 lakh votes.
Besides these three parties, no other Muslim party failed to make any impact, let alone win a seat.
For reference, Akhil Bharatiya Muslim League (Secular) ABML(S) contested on three seats and polled just 1,277 votes. The All India Minorities Front (AIMF) contested on 19 seats and got only 17,127 votes, about 0.48% of all votes polled. The Indian Union Muslim League (IUML) contested on three seats and got 2,130 votes. Momin Conference (MC) contested on two seats and got 1,557 votes. Muslim Majlis Uttar Pradesh (MMUP) contested on two seats and got 1,235 votes. Minorities Democratic Party (MNDP) contested on one seat and got 510 votes. Indian Peace Party contested on three seats and got 1,975 votes only. Indian National League contested on two seats and got 1,329 votes. The Muslim League Kerala State Committee contested on nine seats and got 7,373 votes.
The Welfare Party of India was introduced in Lucknow by S Q R Ilyas, who came with a briefcase and it became a saying in UP that WPI is limited to this suitcase only. It contested on four seats and got 2,388 votes.
There is no doubt that BSP's tie up with RUC is a symbolic gesture: the Muslims who vote for BSP will vote because of Mayawati, not because of their faith in RUC.
SUPPORT TWOCIRCLES
HELP SUPPORT INDEPENDENT AND NON-PROFIT MEDIA.
DONATE HERE