By Mahmood Alam for Twocircles.net
When Aligarh Muslim University Students Union (AMUSU) lodged a FIR against Jawaharlal Nehru (JNU) student leader Shehla Rashid Shora, my immediate reaction was that the green in AMU has turned saffron. But some of my close friends, who are AMU alumni, dismissed my statement as pure imagination.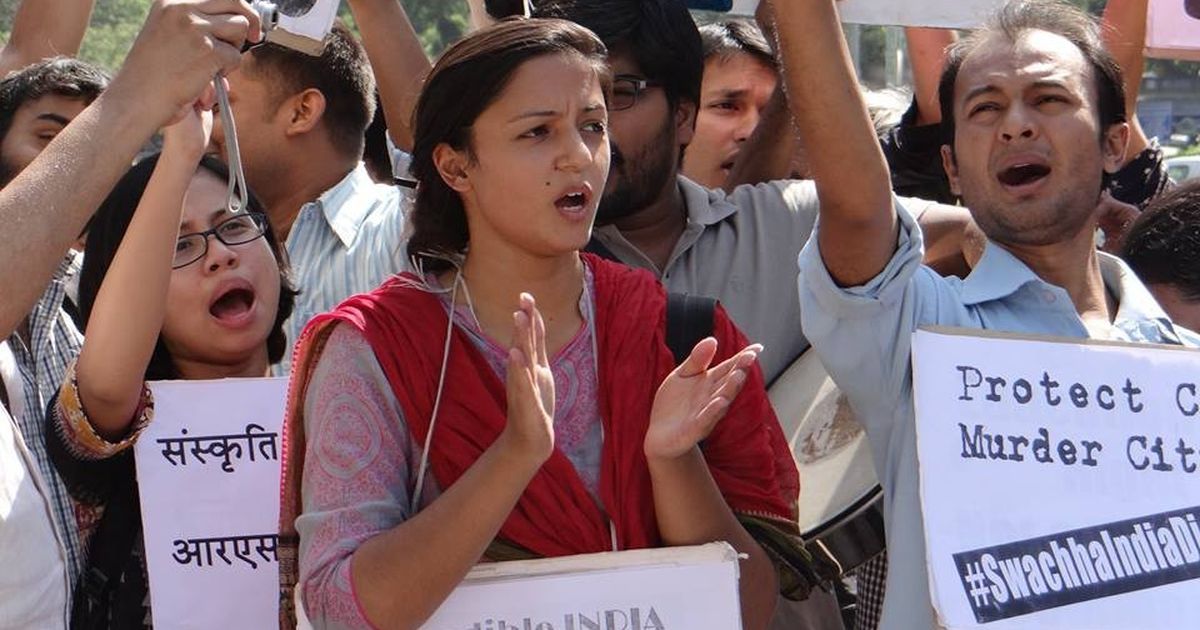 However, as the plot unfolds with the barefaced violence at Delhi University's Ramjas College, the picture seems to be getting clearer.
There has been an open assault on left-wing students, teachers and activists in some prominent university campuses across the country. And there is a common pattern in these acts of intimidation.
The prelude to these events of lawlessness has been a seminar or a gathering where left-wing students were supposed to speak.  This will be followed by right-wing student groups opposing any such gathering by calling it anti-national. One or two innocuous slogans will be picked up by a section of the media and the victimisation starts. They will pick and choose one individual. Dig into the social media postings of this individual. Some dead statements will be discovered. And then the whole debate will revolve around this individual, thereby pushing the act of intimidation in the backburner.
In the Ramjas College event, a 20-year-old Gurmehar Kaur became the face of student resistance. Her year-old social media posting was brought out from the debris and she was compared to underworld don Dawood Ibrahim by none other than a BJP parliamentarian. She was threatened with rape on social media.
Similarly, a student gathering was organised in AMU by AMUSU themselves. Just before the event, more than a month-old social media posting of Shehla Rashid was discovered, and she was branded as anti-Islam. Of course, Shehla Rashid herself clarified she never insulted the Prophet, and her views have been misunderstood. A large number of students in AMU campus disagreed with AMUSU, but the union still went ahead to chase Shehla Rashid; that too without calling a General Body Meeting (GBM) on this issue.
But there is a difference between the acts of victimisation in Ramjas and AMU. While physical assault took place and stones were thrown at Shehla Rashid in Ramjas, she was slapped with a FIR in AMU. Also, the teachers in Ramjas stood with their student Gurmehar and passed a resolution in her favour. Teachers in AMU were silent and did not utter a word on Shehla Rashid episode.
Shehla Rashid apparently appears to be a common enemy for both ABVP and AMUSU. Therefore, AMUSU did not condemn and remained silent on the act of violence at Ramjas College, whereas JNUSU has historically been supportive of the students in AMU. Those who filed FIR against Shehla Rashid did not release a single press statement till the writing of this piece.
The above events are just a pathological reflection of the disease which is evident deep down under the skin.
The process of Saffronisation in AMU started when BJP came to power in 2014. The credit goes to a former student Jasim Mohammad who runs three parallel organisations – Millat Bedari Muhim Committee (MBMC), Forum for Muslim Studies and Analysis (FMSA) and Muslim Chamber of Commerce and Industry (MCCI) — closely associated with AMU. Several retired and serving teachers of AMU are part of this movement. They organise a discussion on ideological issues regularly and extend their support to the Modi government through press statements. These organisations seem to have institutional support by the AMU administration to regularly conduct seminars and brainstorming sessions in the campus.
Jasim Mohammad, who has written a book praising PM Modi, acts as a de facto spokesperson of Shah by writing and distributing press releases almost on a daily basis. He was also instrumental in introducing Shah to Modi. Jasim's book 'Narendra Bhai Modi Farsh se Arsh tak Vol- I' in Urdu was released by PM Modi along with Zameeruddin Shah.
No wonder Vice Chancellor Shah did not hide his inclination towards Modi government and the RSS. He disregarded all criticism to attend the controversial Iftar party hosted by RSS affiliate Muslim Rashtriya Manch when the entire nation was in the grip of intolerance debate. During the Iftar, Shah praised RSS leader Indresh Kumar and sought appointment from him for a one-on-one meeting. Shah was part of the team of Muslim clerics who met Prime Minister Modi to congratulate him for demonetisation and increase of Haj quota just before the crucial UP elections.
Eyebrows were raised when the Centre openly sided with Shah in a case in the Supreme Court challenging his eligibility as the vice chancellor. Interestingly, the Central government, which is opposed to the minority character of AMU, said in an affidavit that the AMU need not follow UGC regulations in the matters of eligibility of a vice chancellor.
The process of ideological sprinkling, coated with the lure of power, at the top is bound to trickle down below. So has the seepage reached from the top administration down to the students union?  It is for the well-wishers of AMU to probe and reflect.
The author is an AMU alumni and a Supreme Court lawyer.
SUPPORT TWOCIRCLES
HELP SUPPORT INDEPENDENT AND NON-PROFIT MEDIA.
DONATE HERE