By Shiva Thorat, Twocircles.net
Over the past few years, the works of Dr BR Ambedkar have been appropriated by a number of publication houses-big and small-and sold at exorbitant prices.But for Maya Kharat, a 54-year-old woman from Deonar, Mumbai, the joy of distributing and spreading the words of Babasaheb far outweigh any monetary benefit.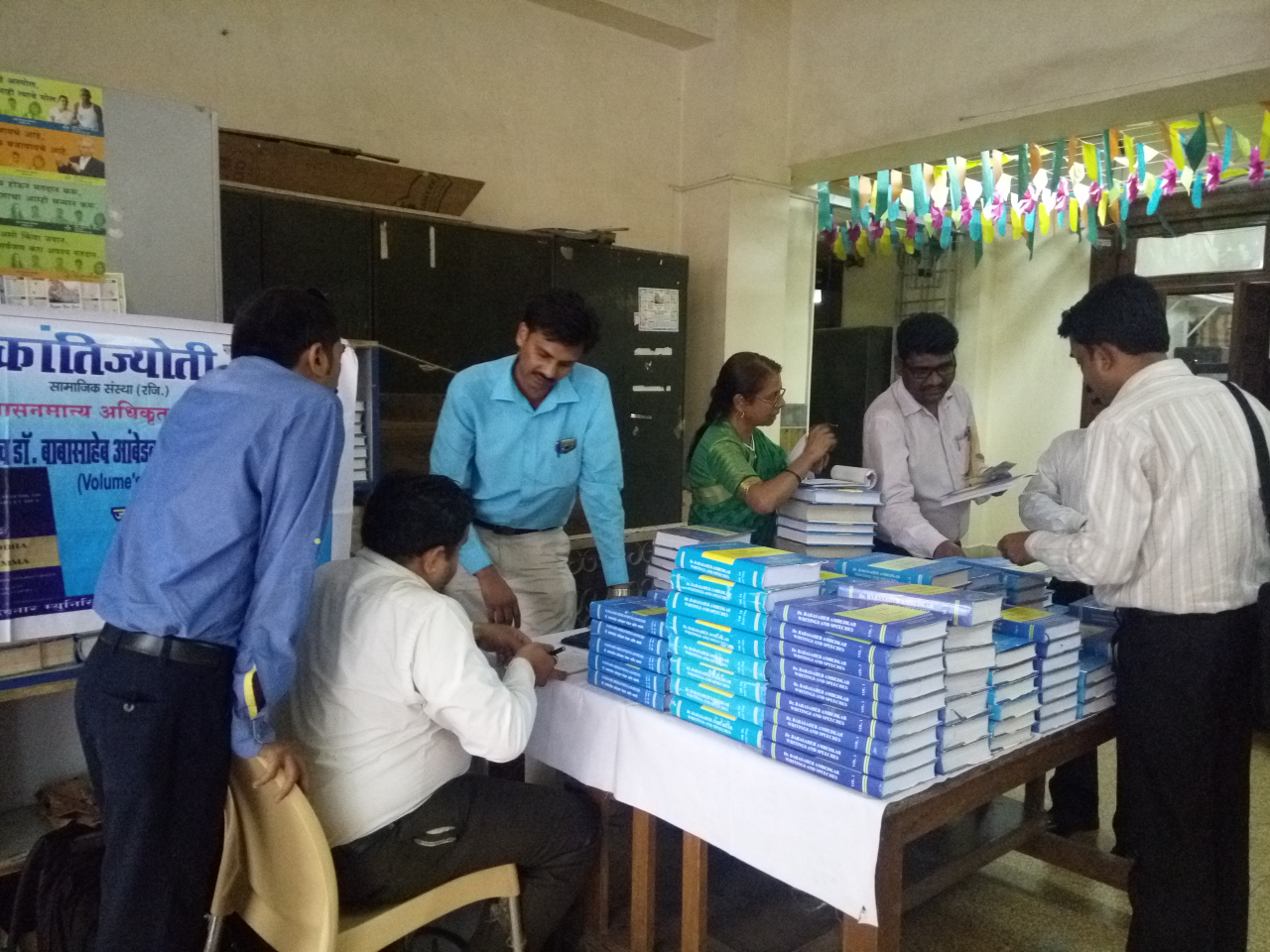 Kharat, who was born in a Dalit family, studied up to B.Com and joined as a clerk in state transportation. She worked there until 2007, when a moment in her life changed the course of her future. She says, "I visited Charani road, Mumbai where Babasaheb's book are kept as per government orders. But I saw books being consumed and being destroyed by termites. I felt bad, and decided to spread his books and distribute his ideas among people."
Kharat adds, "As per Babasaheb, cultivation of mind is important. I find spreading books to be a significant source for the cultivation of mind. I feel that spreading his book in the peoples is my responsibility."
In 2010, Kharat established non-profitable organisation called Kranti Jyoti. Kharat also said that she deliberately chose the name Kranti Jyoti, as it was the title given to Savitribai Phule for her works towards Dalit and marginalised community.
Kharat never lets the lack of money or resources stop her from working. Since she does not have that much money, she has converted her house into an office, which also doubles up as offices for her cultural wing called Janjagruti Prabodhan Kala Manch and her education counseling wing working together. Even after so much work, she personally visits a lot of place to sell the books and spread Babasaheb's writings and speeches.
Recently, at a program called Empowerment of Women and Views of Dr. Ambedkar in SNDT Women University, organisers called her to set her stall with all the volumes of Writing and Speeches. One of her customer Shubhangi Kedare from Ambarnath of Suburban Mumbai part who is professor said that, "No one can match the kind of effort Maya Kharat puts to spread the voice of Babasaheb. Her dedication is fabulous. We do not have all his volumes in college and just because of her effort that we have a complete collection."
Kharat owes her love for Babasaheb to her family. Her father and uncles had been active in the Ambedkarite movement, and also part of the Republican Party of India. "I was inspired by Babasaheb's vows of breaking the circle of slavery. If I get a chance to revolt against the caste system through selling his books, I will do that. It doesn't matter if I am getting any benefits out of it or not".
No wonder her efforts are greatly appreciated by Dalit Bahujan students. "Spreading his (Babasaheb's) valuable books at low costs is a great effort for society. Otherwise, people like us who are below the poverty line will not be able to read," said Sujata Navgire, an MA English student in SNDT University, Mumbai.
Udayan, the son of Maya Kharat was so inspired by her mother's work that he decided to help his mother. He said, "Being a Dalit, we have to understand what kind of accelerator we have to provide to the community. I have decided to give support my mother and her work".
There is no middle man between the government press and Kranti Jyoti foundation to get and sell the writing and speeches copies. The publishing house applied for the tender issued by the government about 6 years ago and they won it. Now they have to submit invoices of every book they sell. And on the basis of that, they get further orders of the books.
When TCN asked them how many copies they sold of writing and speeches, Kharat replied, "More than 5,000 set of volumes have been sold". Maya Kharat also said, "the history of our struggles need to be highlighted from our side. Babasaheb is history and his writings are historical".
SUPPORT TWOCIRCLES
HELP SUPPORT INDEPENDENT AND NON-PROFIT MEDIA.
DONATE HERE