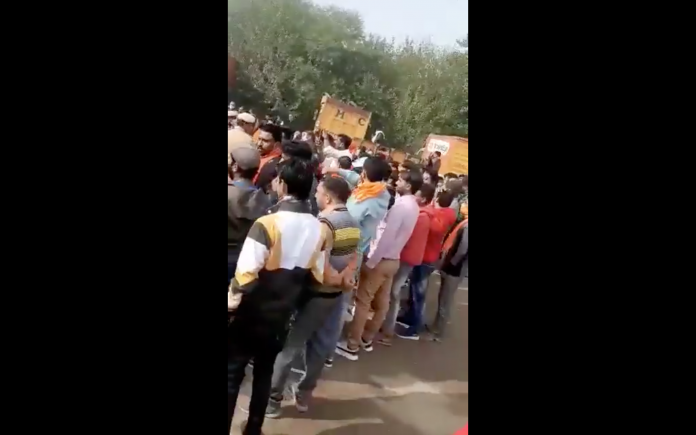 After protests, the police detained several people from Hindutva groups. Muslims were allowed to offer prayers on some portions of the ground in the presence of heavy security.
Sana Ejaz | TwoCircles.net 
NEW DELHI — Members of Hindutva groups on Friday again disrupted Friday namaz in Gurugram's Sector 69 threatening to scale up protests if the prayers are not stopped in public places.
The members shouted "Jai Shri Ram" slogans while Muslims were offering prayers. The incident is the third such instance in consecutive weeks where Hindutva members disrupted Friday prayers at the site. 
After protests, the police detained 30-40 people from Hindutva groups and Muslims were allowed to offer prayers on some portions of the ground in the presence of heavy security.
Gurugram Namaz protests : Disruptions by Hindutva groups continue at Sector 37 in Gurugram as chants of 'Jai Sri Ram' are raised.

Last Friday a puja was held to commemorate the 2008 Mumbai terror attacks right here. @scroll_in pic.twitter.com/vvntYOeM38

— Aishwarya (@aishwaryas_1011) December 3, 2021
A video posted by Live Hindustan, shows a member of a Hindutva outfit telling Muslim worshippers not to pray in open spaces.
गुरुग्राम में खुले में नमाज पढ़ने पर विवाद फिर से गरमाता जा रहा है। शुक्रवार की दोपहर जुमे की नमाज के लिए आए मुस्लिम समुदाय के लोगों को बजरंग दल के कार्यकर्ताओं ने खदेड़ दिया जिसके बाद से घटना स्थल पर तनातनी का माहौल बना हुआ है। #gurugram #Namaz #bajrangdal pic.twitter.com/WU3sDYQRbU

— Hindustan (@Live_Hindustan) December 23, 2022
"This is not Udaipur; this is Gurgaon," a member of Bajrang Dal, is heard saying in one of the videos. He was among those who protested against offering namaz in open spaces in Gurgaon last year as well. 
After controversy over namaz offering in open places, the district administration designated six open sites including Atlas Chowk at HSIIDC Ground, Peepal Chowk in Udyog Vihar phase-2, HSVP land in Udyog Vihar phase-4, Leisure Valley Ground in Sector 29, HSVP land in Sector 42 and HSVP land in Sector 69, for offering namaz In 2021.
Muslims of Gurgaon section 69 said that they offer Namaz in the open because of the lack of a mosque present in the area.
Bajrang Dal members disrupted and forced people to leave the ground during Friday prayer in section 69.
PTI reported that after receiving the information, a police team reached the spot and found that the people from the Muslim community were leaving the place, Umesh Kumar, SHO of Badshahpur police station, said.
Police said around 15 Bajrang Dal members led by its district security chief Amit Hindu disrupted more than 100 people who were offering namaz at a site on the Haryana Shahari Vikas Pradhikaran (HSVP) land in sector 69, PTI report said. 
Protesters being detained by the police. https://t.co/5B5uFihM0p pic.twitter.com/VO9J9KFqmS

— Pavneet Singh Chadha 🚜 🌾 (@pub_neat) December 3, 2021
"The site was one of six designated (open) sites. We have not received any complaint and if received action will be taken as per the law," he added.
Amit Hindu, a member of the right-wing outfit, alleged that the worshippers were encroaching on the green belt in the area to pray.
"This site was allocated temporarily for offering prayers. Now, some people from other districts and states are also coming here to offer namaz," he claimed.
"We will give a memorandum to the deputy commissioner on Monday to stop prayer at this site," he added.
Praveen Saini, the district coordinator of the Bajrang Dal, said "Chief Minister has clearly said that there will be no namaz in open spaces."
In December 2021, Haryana Chief Minister Manohar Lal Khattar said that offering namaz in open spaces will not be tolerated and that some sites in Gurugram reserved for Muslims to conduct prayers had been withdrawn.
Right-wing outfits have been opposing the offering of Friday namaz in open spaces. Last year, there were several reports of Hindutva groups disrupting Namaz in Gurugram.
On November 5, Hindutva supporters in a call for violence at a gathering raised the slogan "Goli maro saalon ko, Hindu ke gadaaron ko (Shoot the traitors of Hinduism)" in Sector 12 of Gurugram. The gathering was meant to register protests against Muslims offering namaz in public places on Fridays.
In another instance, on December 3, 2021, the "Jai Shri Ram" sloganeering Hindutva group disrupted Friday namaz in Gurugram's Sector 37 area. 50 protesters gathered to demonstrate at the site they shouted hateful slogans while Muslims were praying.
"Jai Shree Ram" slogans raised ahead of the scheduled Friday namaz in Gurgaon sector 37 amid heavy police presence, about 50 protesters gathered to demonstrate at the site. Police trying to keep situation under control. Updates on @TheQuint @QuintHindi #gurgaon #Gurugram #Namaz pic.twitter.com/O6PXO0lv6D

— Eshwar (@hey_eshwar) December 3, 2021
Sana Ejaz is an independent journalist from Bihar. She tweets @SanaEjaz_