By Raqib Hameed Naik, TwoCircles.net,
New Delhi : As the BJP Cultural Minister Mahesh Sharma explained Lynching of Muslim by mob in Dadri "Just as an accident" other followed his tracks in different ways like a local BJP leader, Nawab Singh Nagar, terming lynching mob as "Innocent Childrens" while Shrichand Sharma, vice-president of BJP's Western unit terming the incident as "This happens every day".
---
Support TwoCircles
---
Some of the Muslim Leaders and Organisation's were swift to react to the statements issued by the Saffron party and raised questions on Killing of deceased Ikhlaq who have been proved innocent after Animal Husbandry has given clean chit to the family that the meat stored in their house was mutton not beef while other choose to stay mum.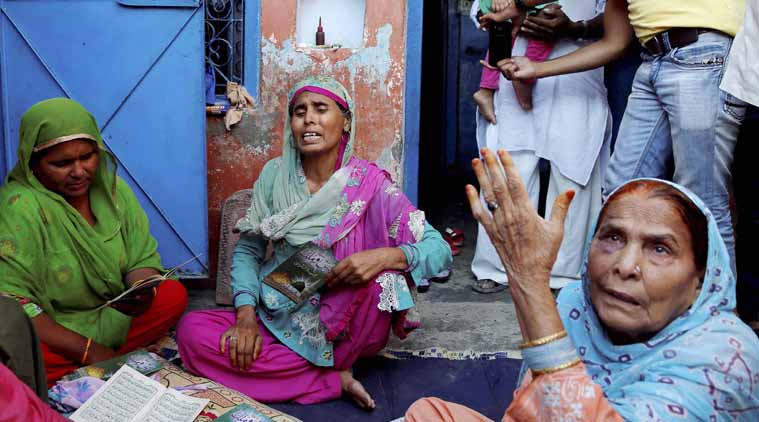 Photo courtesy : Indian Express
AIMIM leader, Asaduddin Owaisi on Friday morning visited the deceased Ikhlaq family in Bisada village and claimed that Ikhlaq was "targeted for his religion." He castigated Samajwadi Party government for investigating a piece of meat and treating the victim as accused.
"This wasn't an attack over meat. He has been killed in the name of religion. This is a pre-planned, cold-blooded killing. It cannot be an accident. This is the thought which is against secularism, it is against the brotherhood of India. It sees Muslims with an eye of suspicion," Owaisi told reporter after meeting the family.
The AIMIM leader also lashed out at Union Minister, Mahesh Sharma who had termed the attack "Just an accident".
"Mahesh Sharma is the Culture Minister of the country and it is unfortunate that he doesn't have the courage and honesty to condemn the incident unconditionally," Owaisi said
While condemning the Modi's approach who have remained silent on the incident, Owasi said that PM should have condoled the death at least with a tweet.
"We were expecting the PM would have at least sent condolences to Sartaj (victim's son) and condemned it. We were expecting that the PM who says 'sabka saath sabka vikaas' should have condoled at least with a tweet," he said.
Mamata Banerjee's TMC also assailed Modi for keeping quiet on the lynching of Ikhlaq by a mob, who killed him over allegations of cow slaughter and storing beef in his home.
TMC MP Sultan Ahmed demanded that Modi make a statement on communal incidents in the country in order to stop RSS and other outfits from "disrupting" communal harmony.
"We want to know why is Narendra Modi silent on the recent killing of a person only over rumours of consuming beef. This is nothing but spreading communal poison in the society and disrupting the fabric of the country," TMC MP Sultan Ahmed told PTI in Kolkata.
"Modi keeps on speaking about each and every issue. But he stays mum on various communal incidents. He should speak up in order to stop RSS, VHP from destroying communal peace," he added
Samajwadi Party senior leader and Uttar Pradesh urban development and minority affairs minister, Azam Khan hit out at BJP for the lyncing incident and claimed that the party's strategy is to attract votes by polarising people along communal lines ahead of the 2017 state Assembly elections.
"Such heinous acts may be taken as the saffron outfits's preparation for the upcoming UP Assembly elections in 2017. They deem massacre of innocent Muslims as one of the strategies to attract electorate on communal lines.BJP has been inciting large scale violence in UP ahead of the assembly polls. Such incidents are occurring repeatedly after the Muzaffarnagar violence," Azam Khan told PTI
Khan urged Prime Minister Narendra Modi to prevent BJP volunteers from victimizing the minority community to meet "petty political ends" besides alleging that Muslims were being victimised for staying in India like patriots instead of migrating to Pakistan during partition,
Azam took a swipe at PM Modi quoting his plea of "Sarva Dharma Sambhava", saying the blot of 2002 Gujarat riots has not washed off him yet.
He also blamed the Noida administration for not acting swiftly and allowing vehicles fitted with loudspeakers to move on the roads, thus instigating people to join the protest.
The Union Minority Affairs Minister, Najma Heptulla despite issuing a statement spoke to PTI when inquired about her stand on Dadri issue. The Minister condemned the incident and said that the Centre's aim was to instill "confidence in the minorities" which seems hollow in light of statements issued by other BJP leaders.
"It is indeed a very condemnable incident. The (Union) Home Ministry has now taken up the matter and sought a report from the UP government. Let the inquiry be over. Time and again (Narendra) Modiji has said that people are free to practice their religion in the country. And me and my department will look towards instilling that confidence in the people," Najma told PTI
Another Muslim face in BJP and Minister of State for Parliamentary Affairs, Mukhtar Abbas Naqvi choose to stay mum. Earlier this year Naqvi had asked all those who want to eat beef to go to Pakistan.
Meanwhile most of the Muslim Organizations refrained from issuing a statement on the incident but spoke to individual reporters from newspapers when contacted.
The All-India Muslim Majlis-e-Mushawarat, an umbrella body of Muslim organizations initially desisted from issuing a statement but its President, Dr Zafrul Islam Khan did give quotes when a reporter from TCN called him.
Dr Zafrul Islam blamed the "cumulative efforts" of hate mongering by the Hindutva organisations, aided by silence of Prime Minister Narendra Modi and his government, on the subject for the incident, adding that since this government has taken over the number of communal incidents have tremendously risen.
"The Prime Minister thinks that only by talking big in foreign countries, he can get away with everything while maintaining infinite silence on communal speeches and hate mongering," Dr Khan told TwoCircles.net, while drawing attention that the right wing party has been indulging in similar polarising efforts from Bihar to every state to reap political benefits out of it.
Parvez S Lakdawala, the Mumbai president of Indian Union Muslim League (IUML) appealed to senior leaders of all the parties and administrative apparatus to come all out against these incidents which could serve as a message that incident like Dadri won't be tolerated.
"Why don't the BJP leaders see it as an assault on our secular ethos? If someone really slaughtered a cow and ate its meat, there is a law to punish the guilty. Who gave the rights to a mob to kill a man just on the basis of a rumour? Unless the senior leaders in all parties and administrative apparatus demonstrate that such incidents will not be tolerated, it will continue to happen," Parvez told TOI
The Association for Protection of Civil Rights (APCR) along with several organizations had on Thursday organized a joint candle light vigil protest at Patel Pratima near Vidhan Sabha, in the Uttar Pradesh capital condemning the mob lynching incident in Dadri and questioned the stand of PM Modi on the issue.
"We were assured about "Acche Din" by Modi and hence we experienced the same in the form of majoritarian jingoism and minority slaughtering. Modi who mocked himself by writing 'Ahimsa is the greatest Dharma' on Facebook wall at Silicon Valley, would realize soon that Indian citizen has lost hope in his government," Kashif Ahmed Faraz, Assistant National Coordinator of APCR told TwoCircles.net .
A National Commission for Minorities member has termed the lyching of Ikhlaq as as "communalism in its ugliest manifestation," adding that this "cannot, and must not, go unpunished in a secular nation."
In an email response to Shahzad Poonawala who have moved a petition to NCM, its member Capt. Praveen Davar wrote, "NCM strongly condemns this cowardly and reprehensible attack on an innocent Muslim which also resulted in severe injury to his 23 year old son. The NCM will also monitor the steps being taken by the District Administration to bring the perpetrators of the ghastly crime to justice. This is communalism in its ugliest manifestation and cannot, and must not, go unpunished in a secular nation, " he said.
The politics over Dadri goes on. Today, violating section 144, BJP MLA Sangeet Som, who is an accused in Muzaffarnagar riots, held a public meeting in the area. Meanwhile senior BSP leader Naseemuddin caravan was stopped by angry Hindu women when he reached Dadri today.
Which way this politics will go, only elections can tell us.
SUPPORT TWOCIRCLES
HELP SUPPORT INDEPENDENT AND NON-PROFIT MEDIA. DONATE HERE