By Raqib Hameed Naik, TwoCircles.net
Ranchi: In a gruesome attack on minorities in Jharkhand, two Muslim men were beaten and hanged to death by unknown assailants in Jhabbar village of Latehar District. According to the initial Police investigation, the two people were on their way to a Friday market with buffaloes.
---
Support TwoCircles
---
The unfortunate incident is being seen by many as linked to the surging beef-related attacks across India.The Superintendent of Police Latehar, Anoop Birthare, was quoted by newspapers as saying that the two of them–identified as Muhammad Mazloom and Azad Khan–were subjected to extreme brutality.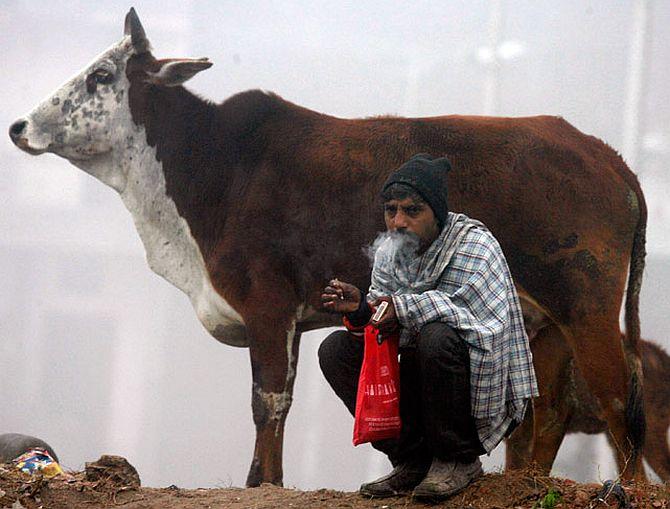 Photo For Representational Purpose Only (Courtesy: rediff.com)
"An FIR has been lodged against unknown persons for the murder. While the probe is on, it is yet to be investigated if this was a case of business rivalry, or cattle loot, or something else. The sight suggested that the two of them were subjected to extreme levels of brutality. It means that the assailants were moved by extreme hatred," the SP was quoted in a report.
The two had their hands tied together behind and their mouth stuffed with a cloth.
According to some reports published on newspapers, the local residents have claimed that the assailants were Hindu radicals who with the intention of freeing the buffaloes, tortured and killed two persons
The hanging of two men's sparked protests by locals on Friday, which turned violent when police tried to take down the bodies. Locals resorted to stone pelting at officials who had arrived in the morning to manage the situation and ensure that it does not take communal turn. One Police Officer and six cops were injured during the stone pelting. The Police retaliated by resorting to aerial firing and baton charge.
"We held a peace committee meeting in the evening. We have assured villagers of a speedy investigation. They in turn have assured us that peace would prevail in the area. The manner of killing is serious and there will be no laxity in the investigation," Palamu DIG Saket Kumar Singh was quoted by Indian Express.
The incident has sent shockwaves across the countries and angered netizens, who went to social networking website, Facebook to vent out their anger.
"This is just barbaric. There are some ministers in Modi cabinet who stoking the fire and the Hindu right fringe is trying to impose their ideology. People who are stoking this ideological fire should be held responsible for these two murders," wrote Jasvinder Singh Bajwa on Facebook.
Another netizen, Yashwinder Singh, wrote, "My head is down with shame and shame. How is it different from ISIS ideology!"
SUPPORT TWOCIRCLES
HELP SUPPORT INDEPENDENT AND NON-PROFIT MEDIA. DONATE HERE