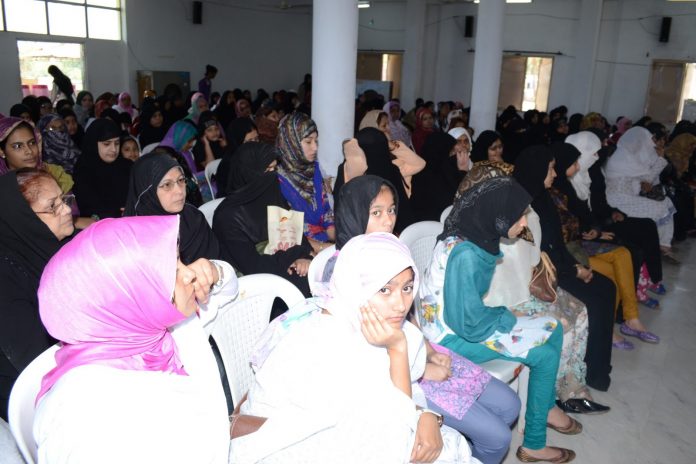 TwoCircles.net Staff Reporter
Jalgaon(Maharashtra): Representatives from various muslim organisations gathered for an education awareness drive led by association Muslim Khatik Welfare of Mehrun, Jalgaon.
---
Support TwoCircles
---
Organised under the patronage of Mufti Haroon Nadvi, Shabbir Sardar and Munaaf Seth, the event's motive was to agitate members from Muslim khatik community to get proper education. Muslim Khatiks are scattered in some areas of Gujarat and Maharashtra and earn their living chiefly working as butchers.
The message from Talimi Qafila was to ask Muslim khatiks to educate their children first. "Education differentiates humans from animals. Spend less in marriages, and instead spend on the education of your child," the organisation said.
Apart from the organisers and participants, Jalgaon Mayor Nitin Bhai Laddha, Ghani Memon, Prof. Iqbal Shah, Prashant Naik, Iqbal Peerzade, Vivek Thackrey, Maulana Abdul Rahman Milli, Hafiz Abdul Rahim Patel from Jamiat, Muhammad Janab Parola, Bharat Bhau and several other were present at the event.
Mayor Nitin Laddha endorsed the motive of the drive and said, "Life isn't complete without education. Education helps the humanity to survive." Prof. Iqbal Shah also congratulated the association for this ceremony and donated Rs 2,000 in the Education fund of the Muslim Khatim Welfare.
Ghani Memon said, "If we, the educated and wealthy, do not come in this movement open-heartedly, Allah will punish us."
Mufti Haroon Nadvi said that Allah ordered us to study first, before keeping Roza, doing Namaz, Zaqat or before going on Hajj. Mufti Haroon Nadvi said, "Do job whatever you want, sell chicken or meat but study first."
Mufti Haroon Nadvi took B.R. Ambedkar as an example and tried to positioned his stature in the community. He said, "It was the education which had put Ambedkar to his heights. Even his haters remember him on January 26 every year."
Coming over to the Nikah, Mufti Nadvi said, "We do not need to spend a fortune on marriages. Instead we should spend as much as possible on education. Ijtema marriages are helping people to save millions of rupees, follow that to save money."
More than 300 people from the community and the village took part in the completion ceremony of the Talimi Qafila.
SUPPORT TWOCIRCLES
HELP SUPPORT INDEPENDENT AND NON-PROFIT MEDIA. DONATE HERE