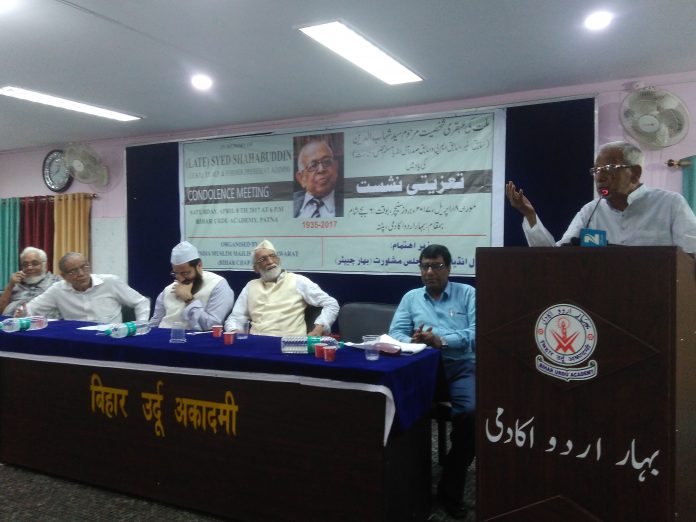 TCN News
Patna : On Saturday last week, a condolence and tribute meeting was held here to pay tribute to Syed Shahabuddin, ex-diplomat, ex-Member of Parliament, ex-President of All India Muslim Majlis-e-Mushawarat at Conference Hall of Bihar Urdu Academy in Patna.
---
Support TwoCircles
---
"Shahabuddin Saheb raised the genuine grievances of Indian Muslims and their legitimate aspirations but within the context of a secular order and with a nationalist motive. He encouraged participation, not separatism. He struggled for a solution within and not outside the system. He believed in cooperation, not in confrontation," said Naushad Ansari, member of executive body of AIMMM, in his introductory speech.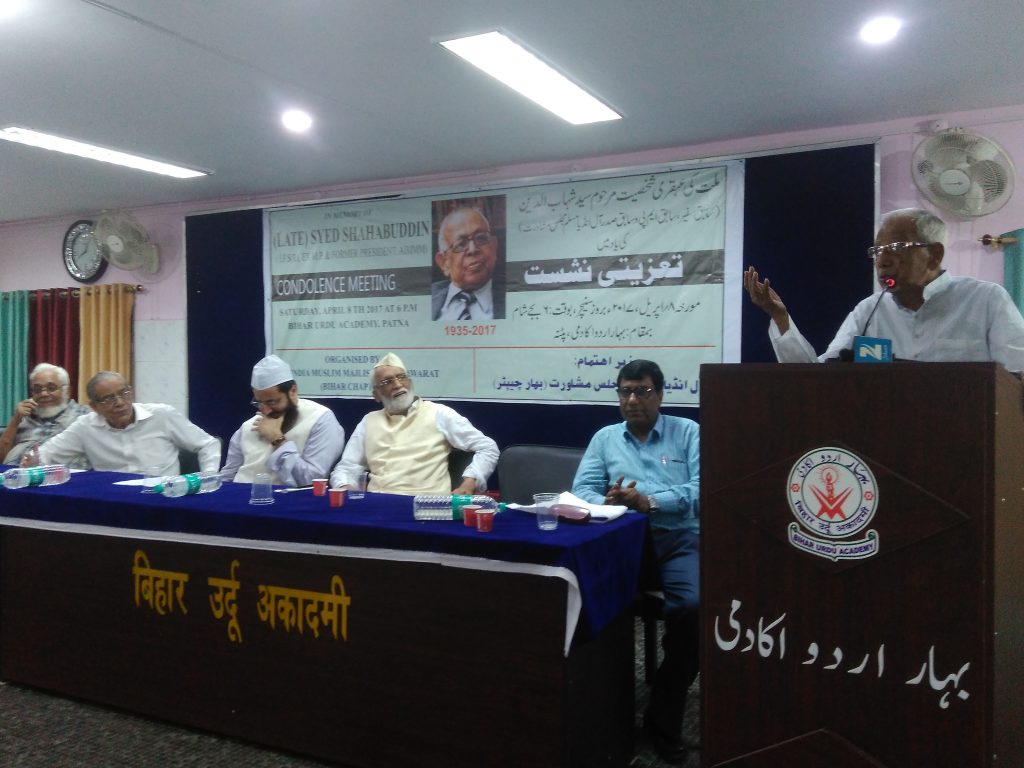 "He stood for dignity of citizens of India, which includes their identities, equality and security rolled into one. With his vast knowledge and experience as a diplomat, as an expert in constitutional law, as a member of Parliament, as a journalist, a lawyer, an orator and an activist, he enshrined all round dynamism that ultimately created confidence in Muslims for claiming their legitimate rights', he added.
Shafi Mashhadi, Chairman of Urdu Mushawarati Committee, said, 'The Nation lost a precious gem of man in the demise of Syed Shahabuddin."
Dr. B.H. Khan, eminent orthopedic and class fellow of Shahabuddin praised the oratory power and literary work carried out by him since college days.. "The greatness of this man was his humbleness, simplicity, strong character and firmness in his decision," said Shah Mashhood Ahmed Quadri, Principal, Madrasa Islamia, Shamsul Hoda.
Senior Journalist Reyaz Azimabadi, stated that Shahabuddin was his senior by two years and a rare combination of a brilliant student who was also a student leader. "In Shahabuddin's death, Indian Muslims have lost a powerful, eloquent voice," said Husn Ahmed Quadri, General Secretary of Jamiat-ul-ulema Hind (Bihar).
Maulana Rizwan Islahi, Ameer-e-Muqami, Jamaat-e-Islami Hindi (Bihar) said that Syed Shahabuddin had an illustrious career in diplomacy and politics but his remarkable contribution was to instill a new hope and courage in the new generation of Muslims, encouraging them to fight for their rights. "He was straight forward, honest and pro-active person", said Khursheed Ahmed Arfi, senior member of Momin Conference and author.
Fakhruddin Arfi coordinated the program. He said that Shahabuddin was an inspiration and role model for others to emulate. Ata Aabadi, poet, Aftab Ahmed, social activist, Aslam Jawedan, Hassan Nawab Hassan, also spoke on the occasion.
Expressing deep sorrow and shock over the great loss, a condolence resolution was presented by Anwarul Hoda, Secretary General of All India Muslim Majlis-e-Mushawarat and passed by the gathering in the meeting which conveyed heartfelt sympathies and condolences to the members of the bereaved family and prayed Almighty to grant eternal peace to the departed soul.
SUPPORT TWOCIRCLES
HELP SUPPORT INDEPENDENT AND NON-PROFIT MEDIA. DONATE HERE