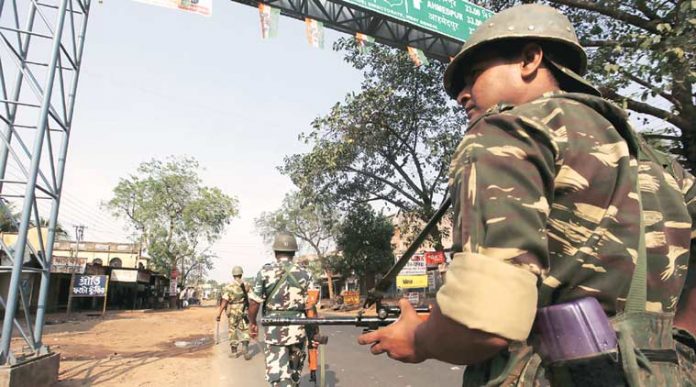 By Siddhant Mohan, TwoCircles.net
Tension prevailed in the Birbhum district of West Bengal after a Muslim boy named Azhar Sheikh was killed on Monday night following a dispute.
---
Support TwoCircles
---
On Monday, 25-year-old Azhar Sheikh was returning to his village, Amdole, where the incident occurred, on his bike, when he accidently hit the gate of Pandal. The pandal was installed on the occasion of a Hindu marriage ceremony.
Angry members of the Hindu community thrashed the boy, following which Azhar came back home and returned to the spot with his brothers and friends in order to confront the attackers. But according to locals, members of the Hindu community were already prepared with the sickle and javelins. When Azhar arrived, he was stabbed in his chest with sickles and country-made javelins. His friends and brothers took him to the hospital where he was declared dead.
Sarbeshwar Rajbanshi, his brother Bishu Rajbanshi and one of their colleagues have been linked with the murder. Both the brothers are said to be associated with Rashtriya Swayamsevak Sangh (RSS). Azhar's last rites were performed by his father today Malik Shiekh.
Residents of the village Amdole tell that Police has sealed the village perimeter and is not allowing any outsider to come inside but even after all the police arrangements, the area is still tense. A resident of the village told Twocircles.net over the phone: "They (the Hindu community members) are telling us that they have started the movement and will teach us a lesson. But Muslims here are also incensed after the killing of Azhar, and they are saying that we won't sit silently if attacked again."
About 65% of the village of Amdole consists of Muslims.
While Murarai Police Station PSI Arup Dutta refused to comment on the issue, CI Raj Kumar Malakar informed that FIR was lodged against Bishu Rajbanshi and he was arrested last night. Villagers do say that Police is taking all measures to control the situation and thanking the force too.
Since the last couple of weeks, a number of incidents in Birbhum have resulted in the district sitting on a communal tinderbox. On the occasion of Hanuman Jayanti on April 11, police lathi-charged members of Hindu Jagran Manch for taking out a procession. Hindu Jagran Manch and BJP condemned the Police for action, but Police clarified later on that procession was taken out without any prior permission. Earlier there were few CCTV footages and reports emerging of Hindu boys trying to buy Cattle carcases and cow heads with an aim to create communal disharmony.
SUPPORT TWOCIRCLES
HELP SUPPORT INDEPENDENT AND NON-PROFIT MEDIA. DONATE HERE