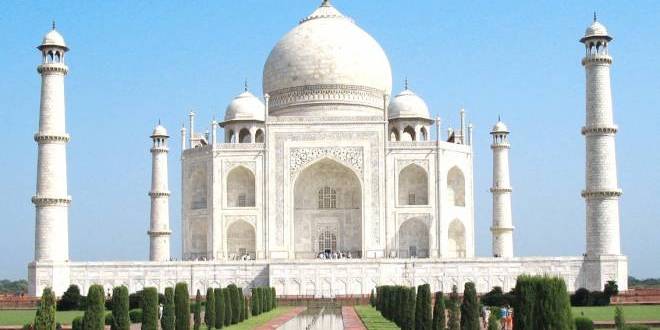 Agra, (IANS): Even as preparations for the annual three-day Urs of Mughal emperor Shah Jahan beginning on Sunday go on apace, the controversy relating to the entry of visitors with saffron-coloured scarves threatens to disturb the fragile communal peace here.
Officials however said on Saturday evening that the matter has been resolved.
---
Support TwoCircles
---
A few days ago, women fashion models from 34 countries had visited the Taj Mahal. Some of them wore saffron scarves which were not allowed and had to be left at the gate.
This infuriated the saffron outfits in the city. For the past four days, members of the Shiv Sena, Vishwa Hindu Parishad, Hindu Jagran Manch and Bajrang Dal have been protesting at the gates of the Taj Mahal.
Responding to Friday's call for 'Maha Gherao' of the Taj Mahal by Hindu outfits, a group demonstrated and entered the premises of the Taj Mahal, ignoring the Supreme Court orders against protests and marches within 500 metres of the World Heritage Monument.
Senior police officials and the Archaeological Survey of India local chief Bhuvan Vikram tried to persuade them to give up the protest as there was no ban in force. The officials later accepted their memorandum demanding action against some ASI and CISF officials.
The ASI chief in Agra told IANS that the protesters had been told that there was no ban on scarves and people were free to wear any colour scarves.
The silence of the tourism organisations in the city has baffled many. Some members said the controversy was harming tourism.
Meanwhile, ASI officials said entry to the Taj Mahal would be free during the three-day Urs. Tahiruddin Tahir, president of the celebrations committee, said a thousand-metre chadar would be offered on Tuesday and members of all communities would join the procession.
Heritage conservationists however expressed concern over the growing length of the chadar from a few feet some years ago to a thousand metres. "The communalisation of secular monuments, property of the ASI, is a matter of grave concern," said Shravan Kumar Singh of the Braj Mandal Heritage Conservation Society.
SUPPORT TWOCIRCLES
HELP SUPPORT INDEPENDENT AND NON-PROFIT MEDIA. DONATE HERE