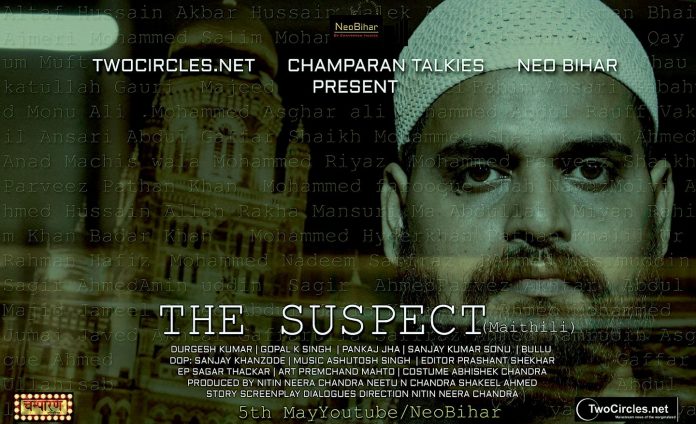 By Twocircles.net Staff Reporter
Nitin Neera Chandra, the director of National Award-winning movie Mithila Makhaan, is back with The Suspect, a Maithili short film which looks into how innocent Muslims are picked up by the police in the name of fighting terrorism. The movie is being produced by Champaran Talkies in association with Twocircles.net and Neo Bihar and the movie has been scheduled to release on May 5.
---
Support TwoCircles
---
Speaking about the movie, director Chandra, who is a resident of Patna and has made three full-length feature films, said that the movie was an attempt to battle Islamophobia and increasing religious polarisation in our society. The Suspect depicts an unfortunate incident that changes the life of Abdul Rahim Ansari of Mirzapur, Darbhanga, who comes to Mumbai for a film-related job.
The wrongful conviction of innocent Muslims has for long been an issue of grave concern, and over the past several years, Twocircles.net has extensively covered the subject. Which explains how Chandra and Twocircles.net ended up collaborating on the subject. According to Kashif-ul-Huda, founder, and editor of Twocircles.net, this collaboration is in line with the larger picture for Twocircles.net. "As a media organisation, we were always interested in producing more video content. When the opportunity came to work with Nitin Chandra we were happy to work with him," he said.
"Over the past decade, we have done several stories of people falsely accused of terrorism and sentenced to years of trial  Through this movie, we hope that the viewer will be able to step into the shoes of those victims and empathize with them," Huda added.
Chandra also believes that the tie-up with Twocircles.net is a step in the right direction for the movie. "The core intention of Twocircles is same as me. So, we are helping each other raise sensitivity for the subject. Ek aur ek gyaarah hotey hain," he said.
Chandra added that he hoped that associating with Twocircles.net would help him reach the right audience since a number of people who would be reading the Website are likely to be interested in the movie also.
SUPPORT TWOCIRCLES
HELP SUPPORT INDEPENDENT AND NON-PROFIT MEDIA. DONATE HERE