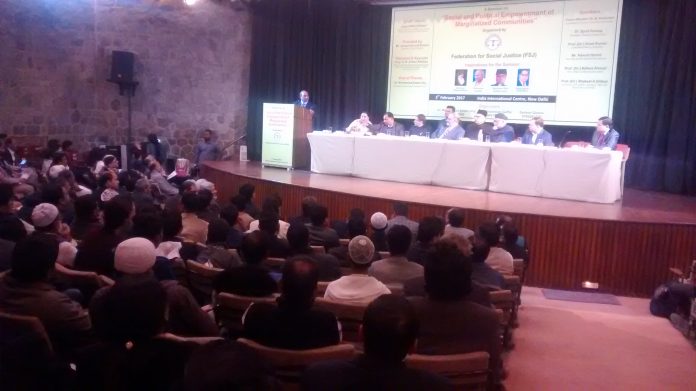 By Amit Kumar, Twocircles.net
The Federation of Social Justice, an organisation that seeks to give a platform to all the marginalised voices in the country, organised a Seminar called "Social and Political Empowerment of maginalised communities" at the India International Centre, Delhi on Sunday, February 5 to discuss the ways of improving the situation of Dalits and Muslims in the country.
---
Support TwoCircles
---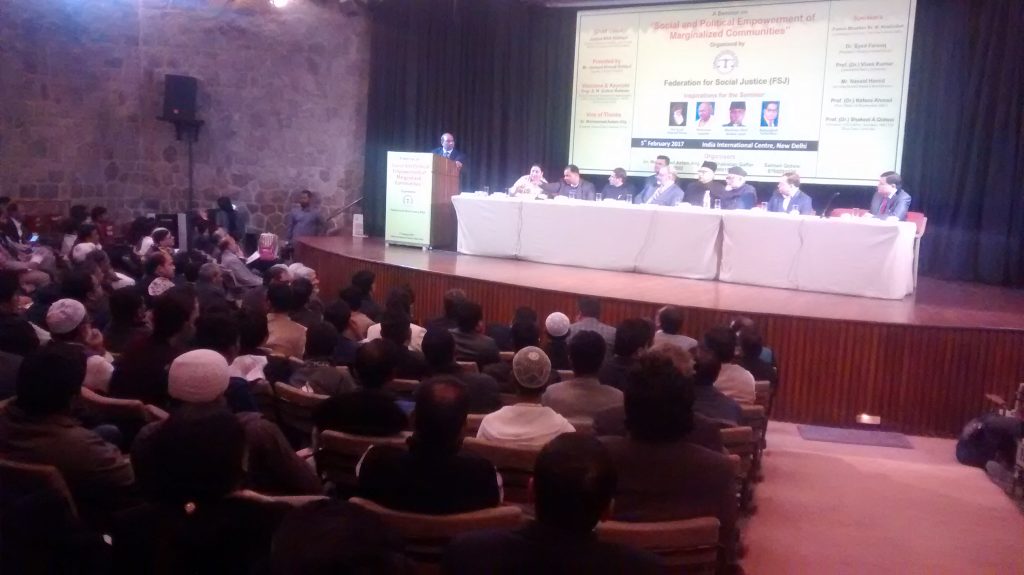 During the seminar, various eminent personalities like chief guest Justice MSA Siddiqui, Professor (Dr.) Vivek Kumar from JNU, Professor (Dr.) Nafees Ahmed from AMU and Syed M Qutbur Rahman, an entrepreneur from Dubai and a member of the AMU Court, and others stressed on the need to end the continuous social exploitation of socially backward communities. Professor Kumar in his address said that the slogan of "Dalit Muslim Bhai Bhai" goes back to 1962, but that subsequently the movement was hijacked by various political parties. The speakers addressed a packed auditorium, saying that the communities must also work on strengthening themselves politically, and not fall for false promises made by various parties.
Former chairman of the National Commission for Minority Educational Institutions, Justice MSA Siddiqui remarked that communities and nations cannot progress without sincere and visionary leadership which guarantees freedom, justice, and equality to people. While speaking as the chief guest, he cautioned that the election of UP was going to decide the very fate of the 'Idea of India', which our freedom fighters had dearly pursued for. He stressed that the promise of good education and desired employment to marginalised sections will remain hollow without affirmative action on the part of a responsible government.
In a conversation with Twocircles.net, Rahman, who is the national convener of FSJ, said that the condition of Dalits and Muslims has deteriorated over the past seven decades and that FSJ was a small attempt to rectify these issues. Justice has eluded the marginalised communities the most in this country, and FSJ will seek to work on this issue. While refusing to side with any political party, Rahman nevertheless said that the Samajwadi Party in UP had been a source of disappointment to the Muslims in the state and that as of now, security and safety were the biggest concerns for the Dalits and Muslims of the state. "We need to ensure that instead of merely using Dalits and Muslims as votes, there should be actions to address their concerns," he added.
The chancellor of Alfalah University Jawwad Ahmed Siddiqui emphasised in his presidential remarks that education, economic advancement and social well-being of any community is not possible without having equal access to opportunities and development. He said that since it is the politics that decide a lot in the country, it is important for people for a party that can assure a reasonable level of social justice.
SUPPORT TWOCIRCLES
HELP SUPPORT INDEPENDENT AND NON-PROFIT MEDIA. DONATE HERE