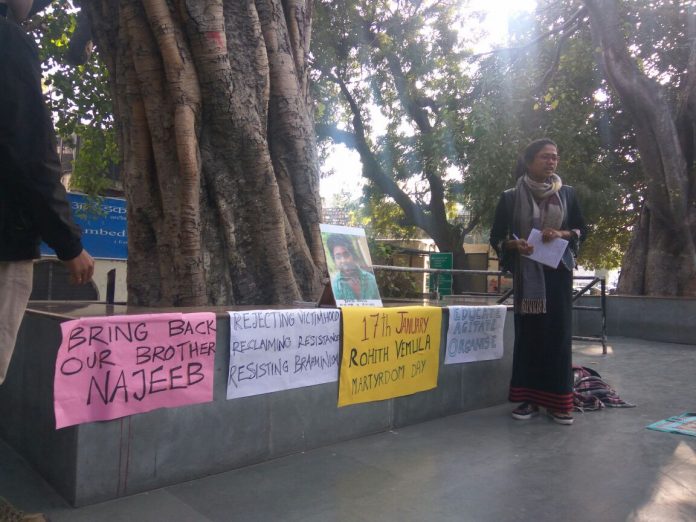 By Pritam Singh Tinna, Twocircles.net
The first death anniversary of Rohith Vemula was observed at the Ambedkar University, Delhi, by students from marginalised communities under the aegis of Dalit Bahujan Adivasi Collective (DBAC), who spoke of how Universities continued to remain casteist to its very core.
---
Support TwoCircles
---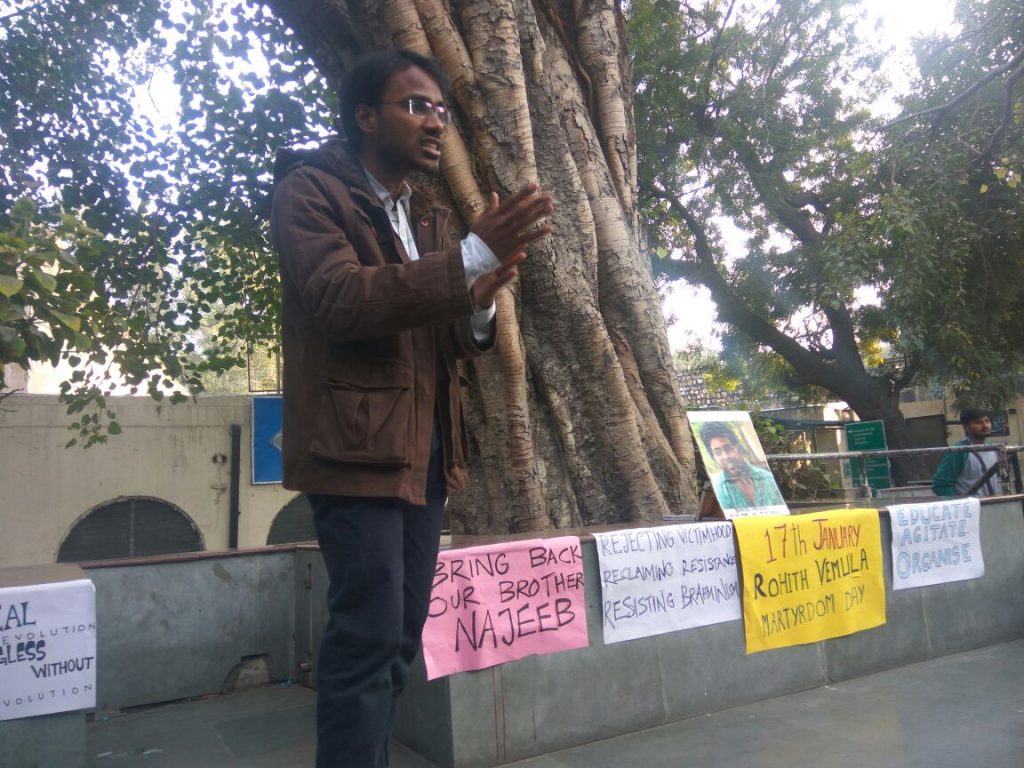 Speaking on the occasion, Dilip Yadav, one of the students suspended by the JNU administration and a member of United OBC forum, said, "In 56 central universities the percentage of OBC students, who constitute 60% of the entire population of India, is less than 6%. All these universities have devised various ways to keep Dalit-Bahujan students out from the education system. One such thing happened when UGC gave a Gazette notification of May 5, 2016, making viva voce the sole criterion for selecting students at the MPhil and PhD level".
Along with Dilip Yadav, the other speakers of the event were T. Praveen who is a member of BAPSA (Birsa Phule Ambedkar Students Association) and Dawa Sherpa who is a member of DSU (Democratic Students Union).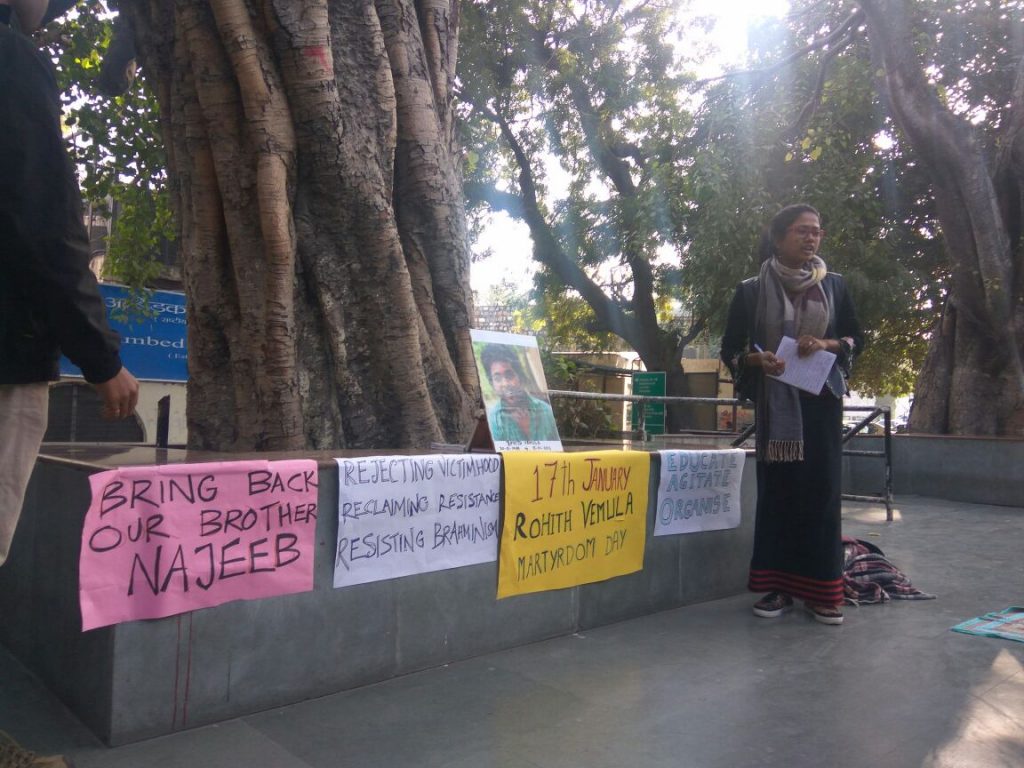 Dawa Sherpa, while talking about how the Brahmin left betrayed the movements of Dalit-Bahujans and Muslims, said, "During the post 9 February event, more than 25 buses of students had gone out from JNU in support of Kanhaiya Kumar (Bhumihar) while it was even difficult to get even two buses of students from JNU in support of Najeeb (Pasmanda Muslim)."
While talking about viva voce and the Brahminism that creeps into this form of examination he said, "Dalit-Bahujan students have been getting the lowest marks in these viva voce exams the maximum. While a Dalit-Bahujan student gets out of 30 is 4 or 5 marks while Savarna students get more than 24-25. This is just another way to keep Dalit-Bahujan students oppressed and to keep them in the same hereditary work of the caste system."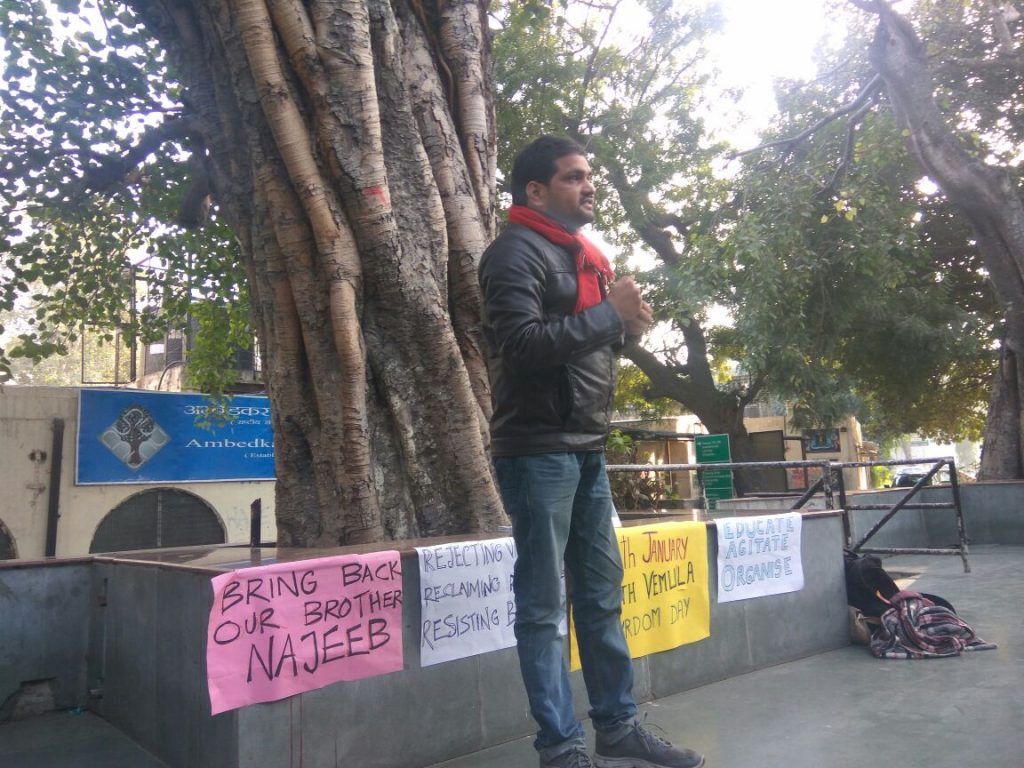 Other things like the complete lack of interests in the implementation of reservation while the selection of teachers and students in these central universities were also discussed.
It is important to point out that even in Ambedkar University, there are less than 5 Dalit professors, while Dalit-Bahujan students have to fight against the Brahminical Election Committee and Students council for their simple right of representing themselves and having separate electorates in the council elections.
T. Praveen also said that the degenerated leftist parties like CPIM, CPI (ML) and other such Brahminical parties have been diluting and capturing the cause of Dalit-Bahujans.
Renu, a member of DBAC, AUD said, "We call people from the oppressed sections from the other universities so that we all can work together and fight against our oppression this is a step to create our own leadership for our own fight."
Talking about the same issue, Riya Dakini a member of the DBAC said, "You see, not many Savarnas came here to listen to Dalit-Bahujan students. They instead would come after the event. Many Savarna students have even been boycotting such lectures and talks, same had happened when our university had organised a talk by Bezwada Wilson."
The students gathered at the event said these universities are Brahminical in their laws and acts like Rohith Act should be passed and formulated so that oppression in these Universities against Dalit-Bahujan and Adivasi students is reduced.
SUPPORT TWOCIRCLES
HELP SUPPORT INDEPENDENT AND NON-PROFIT MEDIA. DONATE HERE