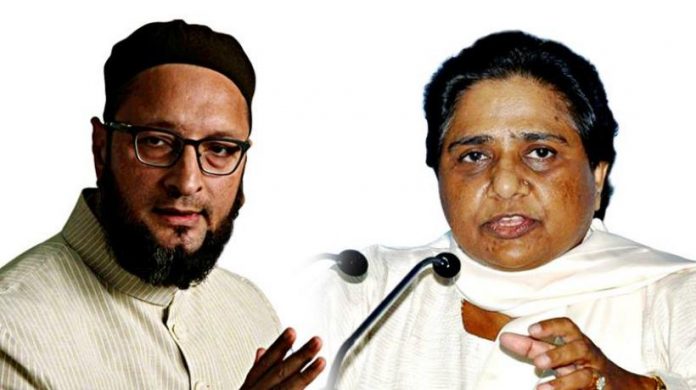 By Soroor Ahmed, Twocircles.net
The strategy of All India Majlis-e-Ittehad-ul-Muslimeen in the poll-bound Uttar Pradesh is different from the one adopted during the campaign ahead of Bihar Assembly election of October-November 2015. In Bihar, its supremo Asaduddin Owaisi never missed any opportunity to criticise chief minister Nitish Kumar, RJD chief Lalu Prasad and the Congress party as well as the BJP. This was the stand taken by him in spite of the fact that a large number of Muslims of the state continue to have a soft corner for Lalu Prasad for the role he played in checking the communal menace in the post-Bhagalpur riots years. He came to power four months after the infamous communal flare up of October-November 1989 in which hundreds of people, mostly Muslims, were killed.
---
Support TwoCircles
---
In Uttar Pradesh, Owaisi––whose party is contesting in several seats––is selective in criticising the so-called secular parties. Be it in Aligarh, Saharanpur, Sambhal or Lucknow, he has been extremely critical of chief minister Akhilesh Singh Yadav for betraying his old father. He has also ridiculed the Yadav family's domination over the Samajwadi Party.
Owaisi has also, of course, targeted Congress, which has been out of power for the last 27 years.
In comparison to Bihar, he has been criticising the BJP and prime minister Narendra Modi more in speeches in UP.
More than riots and other communal issues, he would flay demonetisation and foreign policy of the NDA government. He would name cities like Aligarh, Moradabad, Saharanpur, Lucknow etc in this regard as lakhs of workers have been left without jobs after note ban.
But what is worth noting is that Owaisi is not directly hitting out at Bahujan Samaj Party chief Mayawati.
Mulayam Singh Yadav and Akhilesh might have failed in checking the Muzaffarnagar riots of September 2013, yet the Samajwadi Party has one thing to claim––that is, its firm stand against the rioters during the Ram Janmabhoomi movement days. Be it Lalu Prasad or Mulayam Singh Yadav, both became heroes in the eyes of Muslims for their role in the 1990s. A sort of Muslim-Yadav alliance emerged.
But Mayawati has no such thing to project before Muslims today, though it is also true that she has not harmed the community either. Her political plank had always been different. It is for the first time this year that she is seriously trying to woo Muslim voters––though it is also true that she had been distributing tickets to Muslims liberally in the past too.
She is trying to win over Muslims after she felt that the Brahmins, who helped her to come to power in 2007, deserted her in 2014 Lok Sabha election. An overwhelming number of them voted for the BJP.
Needless to say, unlike in Bihar, Brahmins form a sizeable vote bank in UP. This time also, the BSP fears that they would vote in favour of the BJP.
As in UP, where Mayawati is strong, there is no such scope for AIMIM to attract Dalits. So, Owaisi is soft towards the BSP. In Bihar, one of the six candidates put up by his party was a Dalit.
In his election speeches in UP, Owaisi would repeatedly talk of taking Muslims and Dalits together. He would remind the people as to how in Hyderabad he had tried to win over Dalits and that he was the first leader to pay attention to the case of Rohith Vemula's suicide.
In UP, he would refer to Ambedkar's contribution in Constitution making.
At one or two places, Owaisi would just say: "Behenji se apna haq lenge" (We would take our right from Behenji, that is Mayawati).
This single-liner is loaded with meaning, that is, he is not ruling out any post-poll proximity––if a need arises.
Some reports suggested that AIMIM was keen to have some sort of pre-election alliance with BSP, but Mayawati was not interested in it.
A political party is free to adopt any policy it wants. But Owaisi's strategy raises one question: if he can be so lethal in his attack on Lalu Prasad, Mulayam Singh Yadav, Nitish Kumar and Akhilesh Singh Yadav for ignoring Muslims, why is he silent on Mayawati?
The answer seems to be simple. For Owaisi, championing the cause of Muslims is secondary. What is primary for him is the expansion of his party AIMIM.
Owaisi was selective in contesting elections. His party did not fight in Bengal because there was no BJP, but threw his hat in Maharashtra, Bihar, and UP as BJP is a strong force. The presence of BJP, Owaisi felt, would help AIMIM expand its base.
Similarly, in UP it is not attacking Mayawati because politically she may suit AIMIM and help it expand its base. Had the plight of Muslims been the priority,  Owaisi would have asked some really uncomfortable questions from Behenji too.
Lastly, what Owaisi misses while attacking the family rule in SP is that he is himself the product of the same dynasty politics.
But he would always shower praise on the role of his grandfather, father, and younger brother Akbaruddin Owaisi.
A different yardstick indeed.
SUPPORT TWOCIRCLES
HELP SUPPORT INDEPENDENT AND NON-PROFIT MEDIA. DONATE HERE