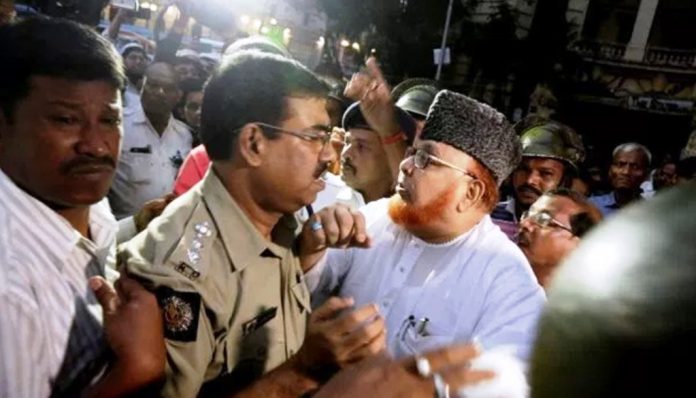 By Mirza Mosaraf Hossain, TwoCircles.net
After a series of mob lynching of Muslims across the nation in the name of protecting cows, the BJP and the RSS are now targeting West Bengal, as we have seen from the recent events in Dhaulagarh and now in Baduria and Bashirhat. Despite condemnation from all quarters for circulating fake images, videos and news, the BJP is clearly in no mood to let peace prevail in the state, as was visible from an incident reported from of Bethuadahari village of Nakashipara Block in Bengal's Nadia district, where an Imam was attacked by BJP workers for no apparent reason.
---
Support TwoCircles
---
Manirul Islam, an imam who belongs to another village, Subhasnagar, was on his way home when the BJP march was returning from the Nakashipara police station and the BJP mob started to beat the imam seeing his beard.
The Imam could not be contacted as he was admitted to the Krishnanagar Subdivisional Hospital. According to another imam of a nearby village, Oliullah Sekh said, "Manirul Islam, the imam of Kanthalberia village was attacked by 50 to 60 people with rods, bamboos in his head, chest and legs. He was forced to say Jai Sri Ram but he did not." He added that though there was some Muslims present at the spot, they could not save the imam for fear of their own life.
When this paper contacted the local police who are handling this case, the Sub Inspector of Nakashipara police station, Mukul Mia, confirmed that the protesting rally was by BJP workers going back from the police station. He said, "A group of BJP workers and many others under the banner Hindu Jagaran Manch, a Hindu outfit at Nakashipara Block, assembled on the police station compound demanding the reason of heckling a BJP worker from Patika bari village at College more, Bethuadahari and they on their way to return back attacked a local imam on the road."
After this incident, local Muslims from nearby villages broke some of the Hindu shops as retaliation in utter rage. But the situation is now under control. Police reached quickly at the spot and 144 was enacted. No additional forces have been brought in yet.
Though the situation of the locality is now calm and quiet, the area remains tense especially given what is happening in other parts of Bengal. According to a resident of Chandanpur, SK. Md Sabir, "We are passing a crucial time stage of our life, and we don't know what is going to happen next."
SUPPORT TWOCIRCLES
HELP SUPPORT INDEPENDENT AND NON-PROFIT MEDIA. DONATE HERE