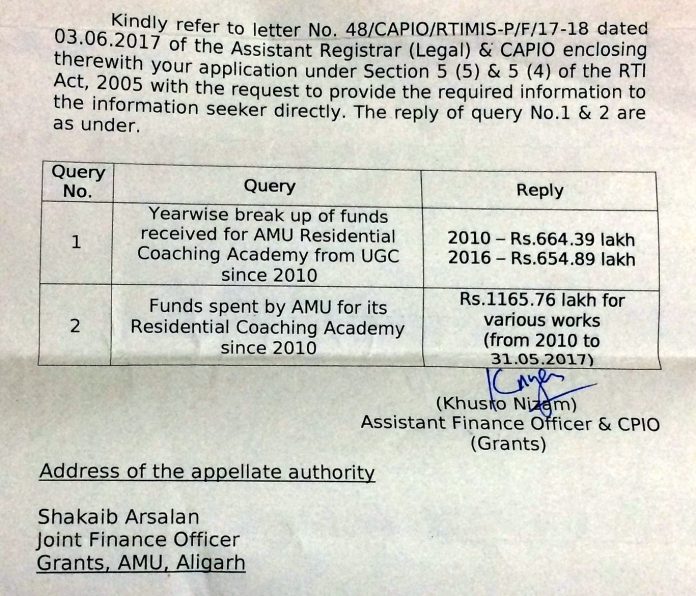 By Raqib Hameed Naik, TwoCircles.net
Aligarh: In 2017, when UPSC results were declared on May 31, there was a moment to celebrate for the Muslim community as 51 Muslim candidates out of the total 1,099 successful candidates made their way in the final list of the Union Public Service Commission (UPSC) examination along with dozens of women, schedule caste and schedule tribe candidates.
---
Support TwoCircles
---
But for Jamia Millia Islamia Residential Coaching Academy, it was an even prouder moment as 27 students studying in its academy qualified the prestigious exam. Importantly, 9 out of 27 were women. Five made it to the IAS and two to IPS out of selected 27.
"We had started this academy in 2010 and since then our efforts have resulted in 93 civil servants. It is all the result of 700 hours of classes and dedicated faculty of the universities and cooperation and hard work of students," Professor Saima Saeed, Deputy Media Coordinator had told TCN.
Every year, the residential coaching academy (Centre for Coaching and Career Planning) at Jamia Millia Islamia invites application for an intake capacity of 200 candidates (150 boys and 50 girls) for free coaching along with hostel facility from those belonging to the categories of minorities, SCs, STs. and women who are desirous of appearing in Civil Services preliminary-cum-mains.
But about 130 km away, Aligarh Muslim University's residential coaching academy, which was started in the same year as Jamia Millia Islamia in 2010, drew a blank as none of its students were able to make their entry to the final list.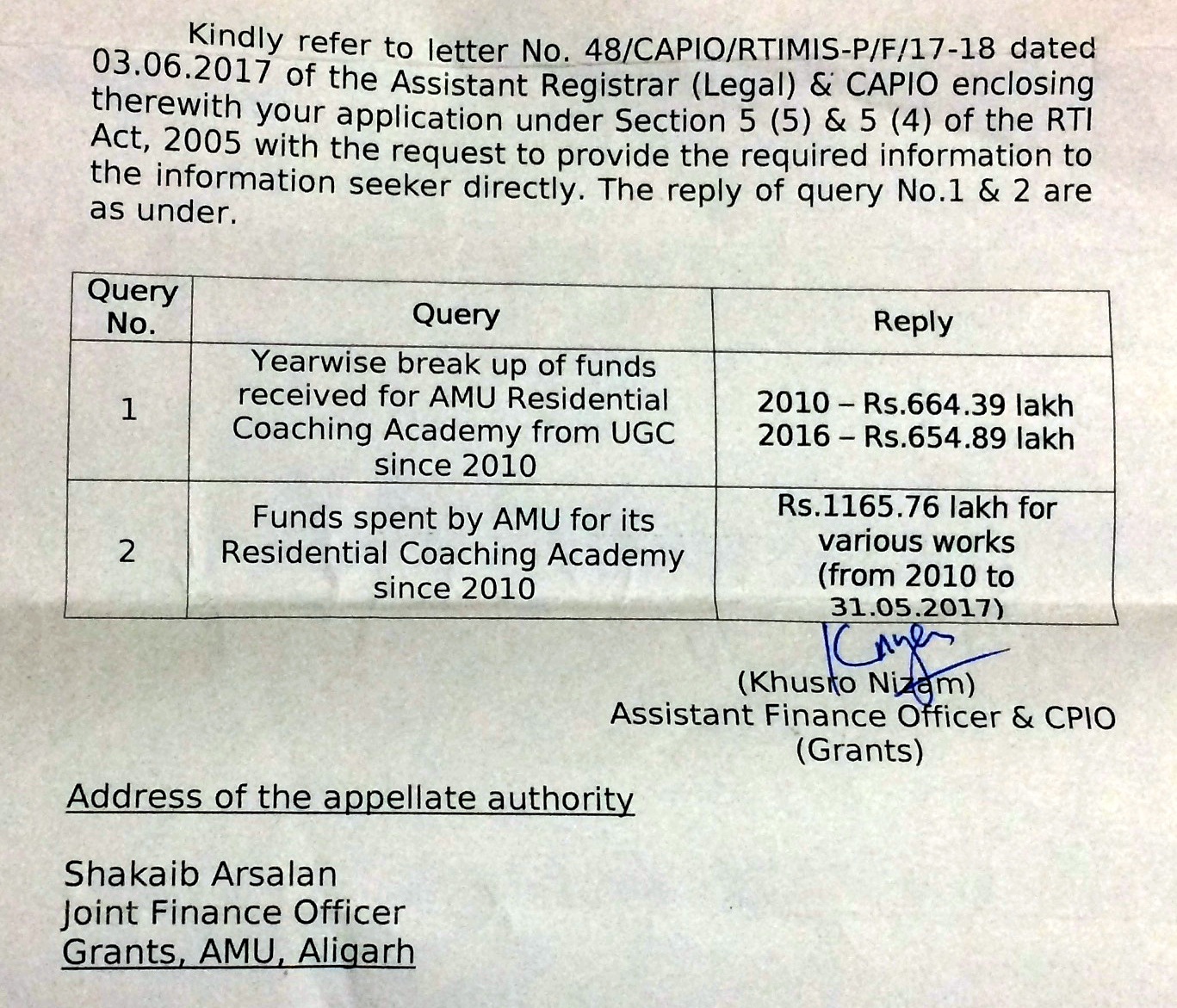 TwoCircles.net filed an RTI and tried to dig deeper as to why AMU's centre was not able to perform, despite receiving similar funds like other RCA established in four other universities viz. Jamia Millia Islamia, New Delhi, Maulana Azad National Urdu University, Hyderabad, Jamia Hamdard, New Delhi and Ambedkar University, Lucknow.
As per the RTI reply given by the Section Officer of AMU, Residential Coaching Academy, from 2010 to 2016, only four students have cracked the prestigious UPSC exam from its academy. A total of 644 students were admitted since 2010 to 2016 for receiving coaching for the civil service examinations.
The number remains fairly low even when it comes to candidates who have qualified states civil services and Judicial services exams. From 2010 to 2017, only 22 candidates have qualified state civil service exams and 27 have made their way to the judicial services.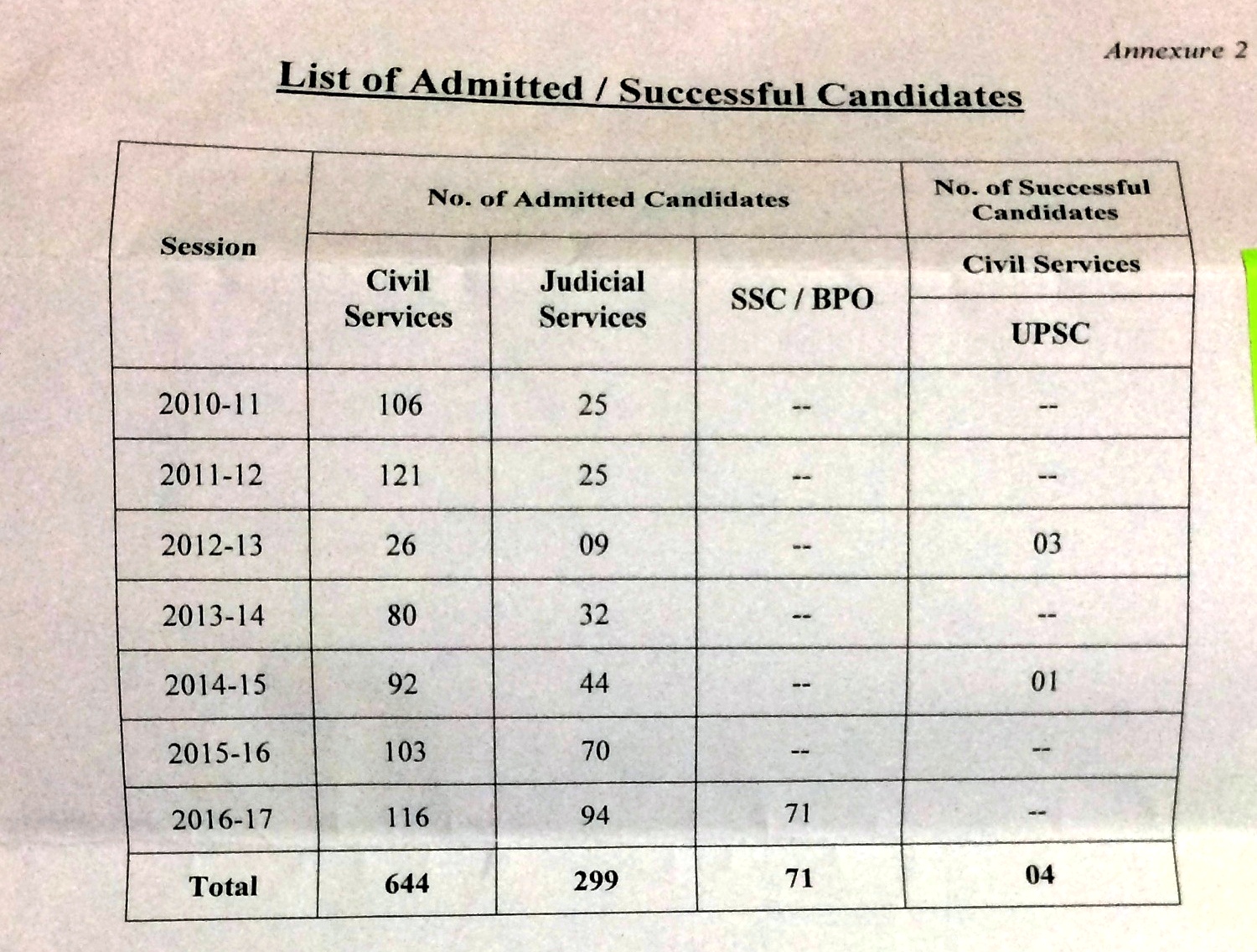 This failure does not come cheap, however. A total of Rs 9.83 lakh was spent on the salaries of the staff hired by the academy in 2016-2017.
In fact, since 2010 when the RCA in AMU was established, an amount of Rs 11.65 crore has been spent for various works. Despite spending such an enormous amount, the number of students qualifying competitive exams remains very low.
"Yes, there was low result in initial years as classes weren't held regularly as there was little money to run the academy. The students started moving to other RCA's and institutions like Zakat Foundation," said Prof. Md. Kalimuddin Ahmad, Director, AMU Residential Coaching Academy.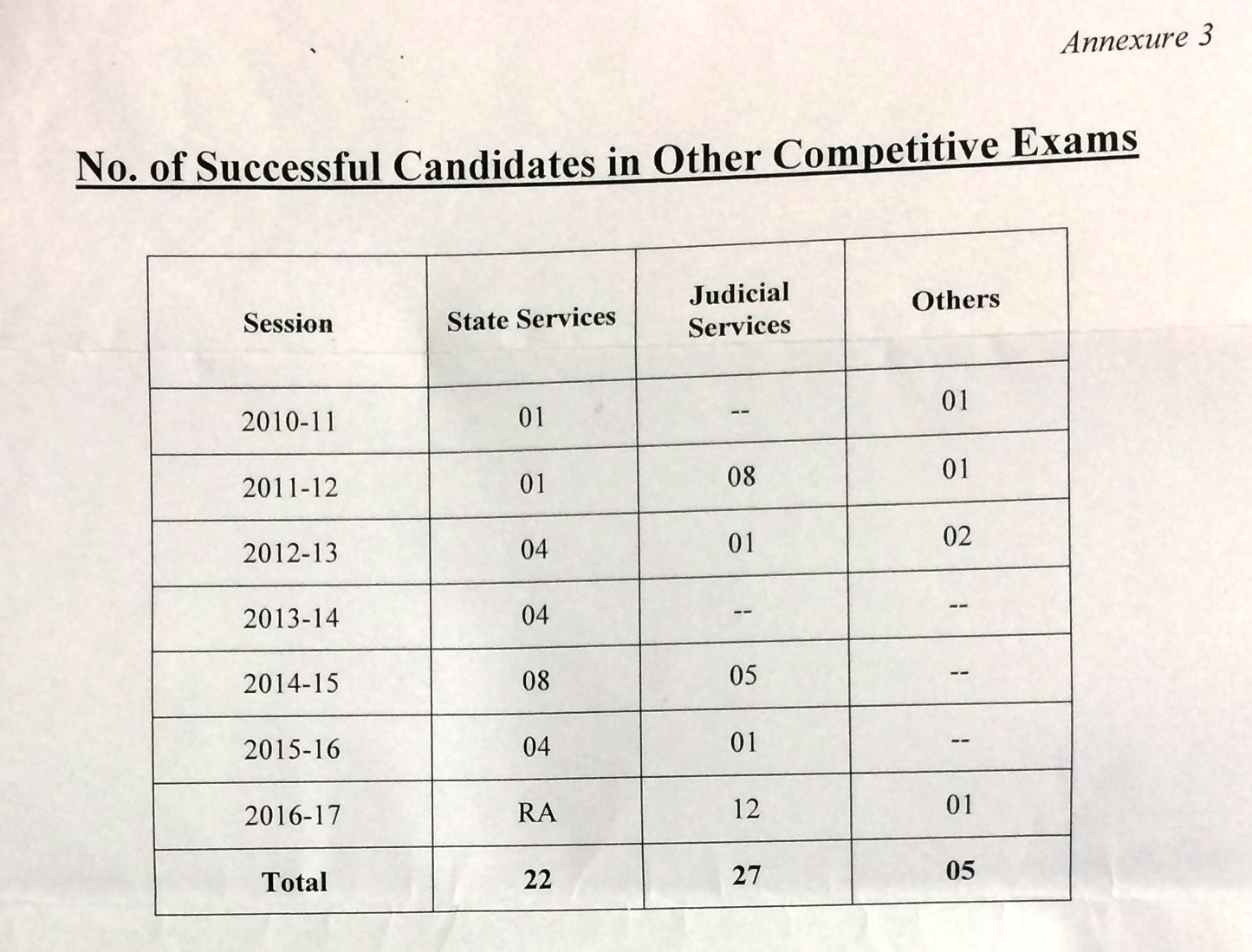 "If the amount given by UGC to AMU is considered head wise, then out of total Rs 11.65 crore, Rs 10.5 crore was spent on developing infrastructure and rest was left to be utilised for hiring the services of the faculty. This year we are expecting good results," he added.
The Residential Coaching Academies were established in 2010 by the UGC in five universities to provide the Coaching to the aspirants of the Civil Services Examination – UPSC, Provincial Services Examinations, Judicial Services [PCS (J)] , Public Sector Banks and Insurance and Indian Railway Services competitive examinations for Minorities, /SCs/STs & Women. Residential facilities are extended during their coaching period.
SUPPORT TWOCIRCLES
HELP SUPPORT INDEPENDENT AND NON-PROFIT MEDIA. DONATE HERE