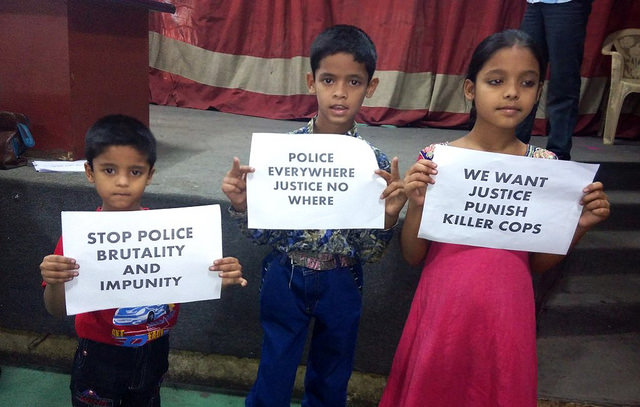 By Raqib Hameed Naik, TwoCircles.net
Hyderabad: Two Muslim youths, Mohd Riyaz Khan and Mohd Abdul Sayeed, were acquitted by the metropolitan session judge in a local Nampally court in Hyderabad on Wednesday, May 31 over allegations of killing two cops.
---
Support TwoCircles
---
Riyaz and Abdul  were accused of killing police constable K Balaswamy and injuring another policeman on May 17th, 2009 at Falaknuma, Hyderabad on the 2nd anniversary of Makkah Masjid blast and killing constable V Ramesh at Shalibanda, Hyderabad on May 4th, 2010 on 3rd anniversary of Makkah Masjid blast day.
Denied bail for all these years, both were released from jail after 7 years of incarceration. Their case was fought by Advocate Mohd Muzaffar Ullah Khan, Adv. Mohd Asif Ali and Adv. Saluddin Deccani.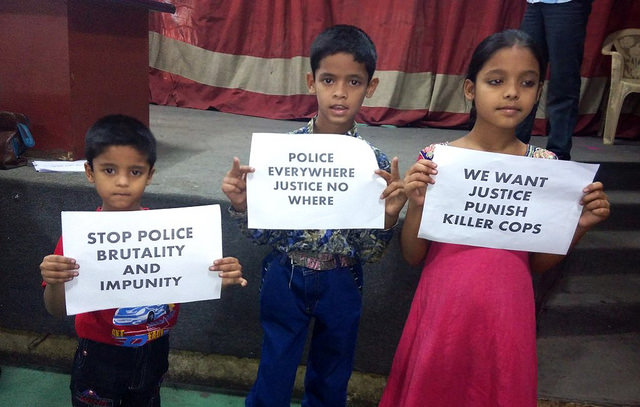 The youths were allegedly shown as accused and followers of Mohammed Viquar Uddin, who was alleged of forming a self styled, Tahreek Galba-e-Islam (TGI) by the Hyderabad Police. Viquaruddin was killed by police in an encounter in April 2015, when police team escorting them to the court alleged Viquar and four other associates of snatching the weapons. The family and civil rights organizations have alleged police of killing Viquar and his four associates in "fake" encounter.
Initially the case was registered by Shalibanda Police later it was handed over to the Special Investigation Team (SIT) of Hyderabad Police. The SIT with the help of Organisation for Counter Terrorist Operations(OCTUPUS) & counter Intelligence Cell (CI) arrested seven person and shown them as accused in these two incidents.
Other five co accused were: Mohammed Viquar Uddin, Mohd Amjed, Mohd Zakir, Dr Haneef and Izhar Khan of Lucknow, UP. They were booked U/s 121,121 (A), 120 B, 302,307 and Sec 16, 18 and 20 of Unlawful Activities Prevention Act.
Both the cases were investigated by SIT, Hyderabad Police. The Hyderabad Police claimed that the above members had formed Tahreek Gaalba-e-Islam (TGI) and were avenging the killing of innocent Muslims in police firing post Makkah Masjid Blast on 17th May 2007.
In a previous Judgement On 14th Sep 2016 the IInd Add. Metropolitan Secession Judge had acquitted both the accused in the killing of home guard Radha Krishna Murty.
"We knew that all of them were innocent. They were supposed to get released in April 2015 itself, but police killed them so that they couldn't come out. They could have also walked free on May 31," Mohammad Ahmed, father of under trial Viquaruddin killed in Aler encounter told TwoCircles.net.
Hyderabad-based Majlis Bachao Tehreek (MBT) has welcomed the judgement and have raised questions against the Alair encounter.  "All other accused were about to be set free due to lack of evidence against them that's why the Telangana State Police killed Syed Viquar Uddin and other four Muslims in a fake encounter at Alair who were under Judicial Custody," said Amjed Ullah Khan, spokesperson MBT.
MBT has demanded an inquiry by a sitting Judge of Supreme Court Judge in the arrest of innocent Muslim youths and their killing in Aalair encounter  terming it as cold blooded murder of five "innocent" youths.
Related: 
Aler Police Encounter of five Muslim Undertrials
SUPPORT TWOCIRCLES
HELP SUPPORT INDEPENDENT AND NON-PROFIT MEDIA. DONATE HERE