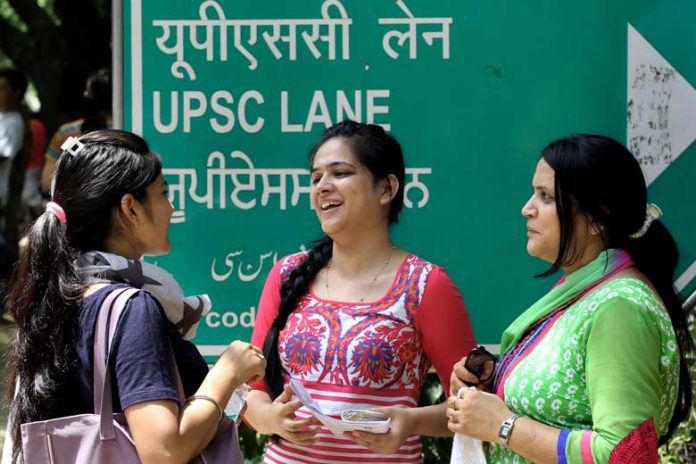 By Raqib Hameed Naik, TwoCircles.net
New Delhi: Of the total 1,099 successful candidates in the final list of the Union Public Service Commission (UPSC) examinations, 50 Muslims have made it to this year's result, with Bilal Mohiud Din Bhat from Kashmir bagging the tenth rank. The number of Muslim candidates is higher than last few years.
---
Support TwoCircles
---
In 2016, 36 Muslims had cleared the exams, while the number stood at 38 in 2015, 34 in 2014 and 30 in 2013.
Along with Bilal, nine Muslims have made it to the top 100 ranks. Those in top 50 include: Muzammil Khan (22), Sheikh Tanveer Asif (25), Hamna Mariyam (28), Zaffar Iqbal (39) and Rizwanbasha Shaikh (48). Seventeen Muslims feature in the Top 500.
The selected UPSC candidates are recommended for various government posts which include Indian Foreign Service (IFS), Indian Administrative Service (IAS), Indian Police Service (IPS) and several other allied services.
Although Muslims comprise 13.4% of total population, they are dismally represented in the top government services, often due to lack of education and unavailability of resources. They account for about 2% in the civil services.
The Union Public Service Commission (UPSC) declared the final result of the 2016 civil services examinations on Wednesday evening. Like previous years, this year too a woman, Nandani KR, has topped the exam. Others in the top five are Anmol Sher Singh,  Gopala Krishna, Sauyma Pandey and Abhilash Mishra.
Successful Muslim Candidates for UPSC Result-16
| | | |
| --- | --- | --- |
| S.No. | Name | Ranks |
| 1. | BILAL MOHI UD DIN BHAT | 10 |
| 2. | MUZAMMIL KHAN | 22 |
| 3. | SHAIKH TANVEER ASIF | 25 |
| 4. | HAMNA MARIYAM B A | 28 |
| 5. | ZAFFAR IQBAL | 39 |
| 6. | RIZWANBASHA SHAIK | 48 |
| 7. | SHEIK ABDUL RAHAMAN S | 62 |
| 8. | ARIF AHSAN | 74 |
| 9. | SYEED FAKHRUDIN HAMID | 86 |
| 10. | BISMA QAZI | 115 |
| 11. | SUHAIL QASIM MIR | 125 |
| 12. | S M QASIM ABIDI | 177 |
| 13. | RAZEEM K | 191 |
| 14. | GAUSH ALAM | 206 |
| 15. | NAHAS ALI | 359 |
| 16. | MD ADIL ASHRAF | 435 |
| 17. | PATHAN ADEEB DAULAT KHAN | 450 |
| 18. | SAQIB YOUSUF | 472 |
| 19. | HASEEN ZAHERA RIZVI | 509 |
| 20. | JABEEN FATHIMA J | 525 |
| 21. | ANAM SIDDIQUI | 538 |
| 22. | SHEIKH SAMI UR RAHMAN | 554 |
| 23. | MOHAMMAD ARSHAD | 556 |
| 24. | MINHAJ UDDIN NIZAMI | 584 |
| 25. | SHAIK SHAHABAAZ HANOOR | 603 |
| 26. | INABAT KHALIQ | 604 |
| 27. | FAISAL JAVAID | 610 |
| 28. | HARIS BIN ZAMAN | 646 |
| 29. | IRAJ RAJA | 674 |
| 30. | EZAZ AHMED | 697 |
| 31. | EHJAS ASLAM S | 704 |
| 32. | REHNA R | 735 |
| 33. | MANER NASIR IQBAL | 753 |
| 34. | ABDUL RAHEEM A | 755 |
| 35. | NASEEF ABDUL KADER | 781 |
| 36. | MUHAMMED SHABEER K | 805 |
| 37. | ANAYAT ALI CHOWDHARY | 808 |
| 38. | DANISH AGASTAM | 814 |
| 39. | JABBAR | 822 |
| 40. | TASLEEM AHMED | 827 |
| 41. | SHARDUL | 828 |
| 42. | MD MUSTAQUE | 836 |
| 43. | RENA JAMIL | 882 |
| 44. | SHUHAIB T | 885 |
| 45. | SHAHANSHA K S | 897 |
| 46. | MUHAMMED HANEEF | 898 |
| 47. | MD SARFARAZ ALAM | 904 |
| 48. | MD SARFARAJ ALAM | 1028 |
| 49. | SAJAD BASHIR | 1042 |
| 50. | AMIR BASHIR | 1087 |
| 51. | UMMUL KHER | 420 |
SUPPORT TWOCIRCLES
HELP SUPPORT INDEPENDENT AND NON-PROFIT MEDIA. DONATE HERE