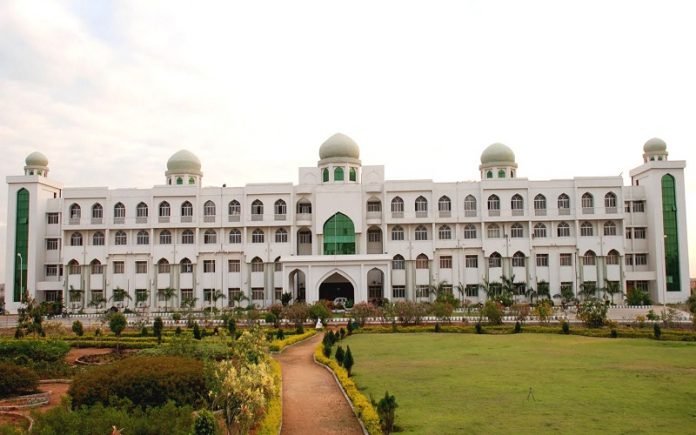 By Raqib Hameed Naik, TwoCircles.net
Hyderabad: In 2009-2010 during the United Progressive Alliance (UPA) regime in an attempt to aid minorities, Scheduled Castes, Scheduled Tribes and women write various competitive examinations, the University Grants Commission (UGC) established five Residential Coaching Academies (RCAs) in five universities across India to provide coaching to the aspirants with residential facilities.
---
Support TwoCircles
---
The residential coaching academies were established in Aligarh Muslim University, Maulana Azad National Urdu University, Dr B.R. Ambedkar University, Jamia Hamdard and Jamia Millia Islamia for providing coaching in UPSC, state PSC, Judicial Services, Public Sector Banks and Insurance and Indian Railway Services examinations.
One of the academies and the only one in South India was established at the Maulana Azad National Urdu University (MANUU), Hyderabad. The university has received a grant of Rs 8.45 crore from the UGC since 2010 and spent an additional Rs 58 lakh to establish the same.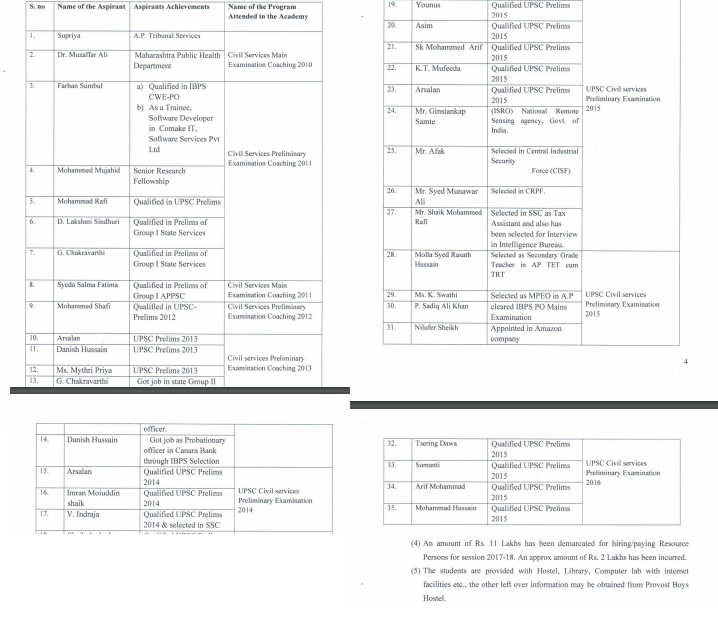 However, as per an RTI filed by TwoCircles.net, the MANUU Civil Service Examination-Residential Coaching Academy (CSE-RCA), which is providing coaching to students since 2010, has not helped even one student qualify the UPSC exam and less than 15 students have been able to clear any competitive exam.
The director of the Institute Professor Amirullah Khan believes the lack of good results can be attributed to the students' 'poor' backgrounds. "The student we select for coaching come from poor backgrounds and villages and have no orientation towards civil services and getting results out of them is quite difficult. We will need at least five years to get some meaningful results," he told TwoCircles.net.  The number of selected candidates are abysmally low compared to the funds spent on establishing RCA and hiring faculty for the same.
Not that the lack of results has deterred students from enrolling: this year, more than 100 students have been enrolled into the MANUU CSE. However, while the Director puts the blame on students, a conversation with students shows that the lack of faculty is a far bigger concern. Also, there seems to be an excess amount importance given to attendance as if Civil Services aspirants are kindergarten students who need to be forced to attend classes.
The director says that it is mandatory for students to have minimum 75% attendance to continue coaching in the institute. Given that almost all students come from a marginalised background, achieving this number should not be an issue. But students say that classes aren't held regularly and a major portion of last four months was spent by students in attending motivational lectures.
"First two months, almost every day there was a motivational lecture. The academy has covered just one unit of several components in General studies whereas the optional subjects are yet to start. Students should have completed their prelims syllabus by this time," a student of MANUU CSE, who wished not to be named told TwoCircles.net.
As a result, many students have started leaving the academy. According to Syed Zain Ul Abiden, who left coaching academy a few days back, "The infrastructure is good as well as the library, but there is no proper faculty. In such a scenario, students won't be able to crack exams and it'll take ages for young aspirants to clear even the prelims exam."
Another student who left the academy and wished to not be named says, "We are civil service aspirants, not some school-going children who need to be enforced with strict attendance rules. We have traveled hundreds of kms to attend this coaching program. Who doesn't want to attend classes? But if the faculty is not up to the mark, it is better to self-study."
Even the amount spent on hiring seems unclear given the responses issued under the RTI and the conversation with the Director. As per information under the RTI, Rs 11 lakh has been demarcated for hiring resource persons and only 2 lakh has been spent so far. But the Director said, "We have a budget of more than Rs 1 crore for hiring faculty for this session and more than Rs 16 lakh has been spent." While the budget figures are markedly different, what remains unclear that neither budget figures shed much light on where the money is spent.
The CSE academy has a permanent staff including one Director and two assistant professors. The MANUU CSE director has taken just one class in last four months whereas other assistant professors haven't taken even a single class. So, while the Director believes that the students have no "orientation towards civil services," the reality lies elsewhere.
It must also be pointed out that the condition of the RCA in Aligarh is not much better, as we showed in our story in July this year.
Importantly, earlier this year when UPSC results were declared on May 31, it brought cheers for the Muslim community as 51 Muslim candidates out of the total 1,099 successful candidates made their way in the final list of the Union Public Service Commission (UPSC) examination along with dozens of women, schedule caste and schedule tribe candidates.
For Jamia Millia Islamia Residential Coaching Academy which was also set up in the same year as MANUU CSE, it was an even prouder moment as 27 students studying in its academy qualified the prestigious exam. Importantly, 9 out of 27 were women. Five made it to the IAS and two to IPS out of the selected 27.
While the motive behind setting up these institutes is noble and gives a lot of hope to students, the discrepancies in their performances show that there is a need to ensure quality results from all the five RCAs. The lack of performance from South India's only such centre should be a cause of concern for both the people and the government.
SUPPORT TWOCIRCLES
HELP SUPPORT INDEPENDENT AND NON-PROFIT MEDIA. DONATE HERE