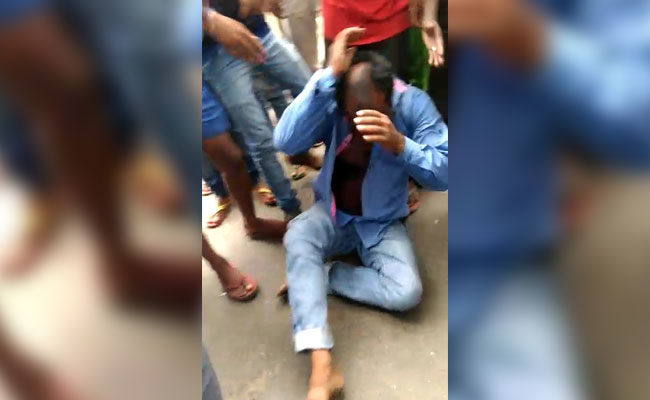 By TwoCircles.net Staff Reporter
In a shocking turn of events in the case of the brutal murder of Alimuddin Ansari, the wife of an eyewitness to the murder was 'killed' in an accident moments before the court proceedings were about to begin.
---
Support TwoCircles
---
Forty-five-year-old Alimuddin Ansari was lynched by a mob in Ramgarh, Jharkhand in June over allegations that he was carrying beef. Two local BJP leaders: Nityanand Mahato and Santosh, along with three others had been arrested. Two more Bajrang Dal members surrendered a few days later. As per a report in the Indian Express, the BJP denied that Mahato had any ties with the Bajrang Dal and Gau Raksha Samitis and described him as a dedicated party worker.
Zuleikha Khatoon, who was the sister of Alimuddin, had come to court along with her husband Jalil Ansari and other family members to witness the proceedings of the case in a fast track court. Just before the proceedings, Jalil realised that he had forgotten his ID card. When she stepped out with Shahzad Ansari, the son of Alimuddin to go fetch the card from home, their bike was hit by a car. While Zuleikha died on the spot, Shahzad was rushed to the hospital.
The court hearing was adjourned after the incident.
In a written complaint to the Police, Jalil Ansari said he and his wife had been threatened against coming to court. Mariam Khatoon, the wife of Alimuddin, sounded shaken when TwoCircles.net spoke with her over the phone. "What has happened is for everyone to see…We are too shocked to say much to the media now, but we all know who was threatening the family and who carried the attack…This issue has become scary for us," she said. Another family member who spoke with TwoCircles.net said the attack seemed pre-meditated, but asked for more time to be ready to speak with the media.
SUPPORT TWOCIRCLES
HELP SUPPORT INDEPENDENT AND NON-PROFIT MEDIA. DONATE HERE