By Shafeeq Hudawi, TwoCircles.net
Most people would be happy to find work after completing nearly a decade of higher education. But Narayanan M Sankaran, who recently finished his Ph.D. from English and Foreign Languages University, Hyderabad, clearly has other plans and rightly so. Sankaran hails from a tribal hamlet Mundakutty near Pulpally in Wayanad district. He does not know if he is the first and/or the only Ph.D. holder from his Kuruma tribal community in Wayanad but knows that instead of finding work, he will try to ensure that more tribal boys are taken for higher studies and enrolled for civil service examination.
---
Support TwoCircles
---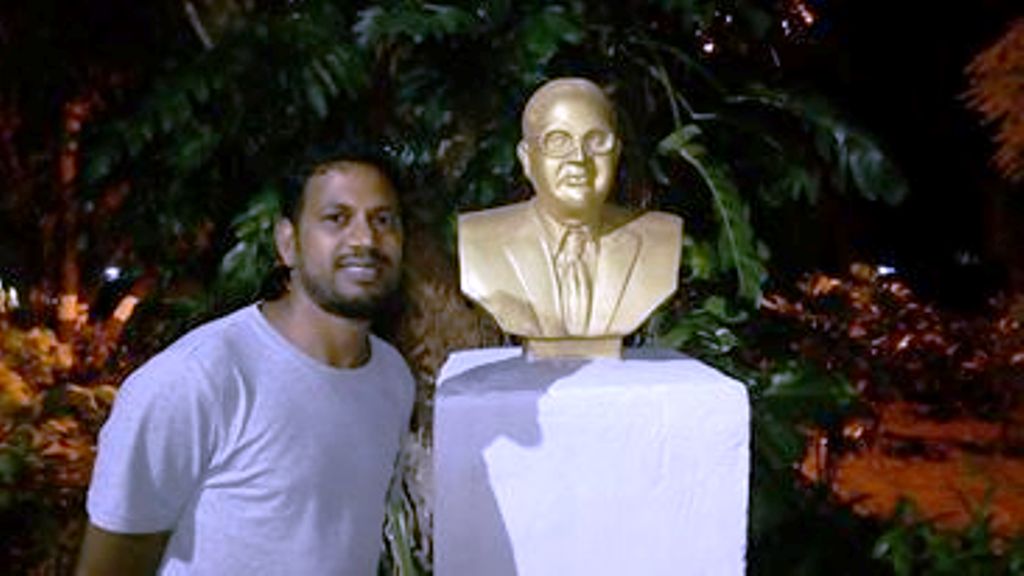 To achieve his goal, Narayanan has joined Kanavu Gurukulam, a unique experiment in alternative schooling meant for educating Adivasi children.
"Kanavu is now guiding several school dropout tribal children and brings them back to school. There are several tribal students, who tend to drop higher study due to various reasons. I want to concentrate them and pursue higher studies," Sankaran says. And his respect for Kanavu has genuine reasons. It was due to support from Kanavu member Sherly Mary Joseph that Sankaran was able to finish his studies and go to Kannur University. "She was active with Kanavu and she forced me to carry on my studies by extending all kind of help," he said adding his meeting with Sherly was a turning point in his life.
Sankaran, who completed schooling from Devi Vilasam Vocational Higher Secondary School at Pulpally and Ambedkar Memorial Asrama Vidyalayam had finished his graduation in economics in St. Mary's College at Sultan Bathery in Wayanad. But after economics, he chose English for further studies and completed his M.Phil and Ph.D. from English and Foreign Languages University in Cultural Studies.
"I am obliged to give back for what I have got from Kanavu," he said adding only collective efforts could bring changes in educational scenario of tribes in Wayanad district. As per 2011 census, the district has a tribal population of more than 1.5 lakh residing in more than 3,000 colonies.
By joining hands with various activists here, Narayanan wants to hold camps in a bid to find out the college dropout children and guide them. Besides, Kanavu will make tribal children prepared for civil service examination.
"Tribal students can perform well if we cultivate a sense of pride in them," says Narayanan sharing his own experience. Rather than facing discrimination, he enjoyed the privilege of being a tribal student during his higher studies.
Kanavu was set up by social activist K J Baby to reduce the high dropout rates among tribal students in 1994 and it was registered as a trust, and the ex-students took over its administration in 2007.
Narayanan has decided to seek help from Kanavu alumni to materialize his dreams and raise funds for them.
During his higher study, Narayanan also completed a 45 days course in 'political training for political educators' at Escola Nationale Florestan Frendarndas in Brazil. The course helped him to understand about the tools and techniques of working with the indigenous people for their empowerment.
In addition to this, Narayanan plans to set up a research centre and advanced studies for tribal studies. "The plan is to develop the present library into a full-fledged one," he says. He dreams of making the library here the prime option for researchers while it comes to studying about tribals in Kerala. Besides, he will start working on setting up another centre in Kottayam district. Named Centre for Social Studies and Culture, the centre will assist students and researchers in tribal and dalit studies.
"Our history, stories, and struggles are being told by others and they often give them their own interpretation in order to suit their interests. The research centre can resist such injustice," he said.
SUPPORT TWOCIRCLES
HELP SUPPORT INDEPENDENT AND NON-PROFIT MEDIA. DONATE HERE