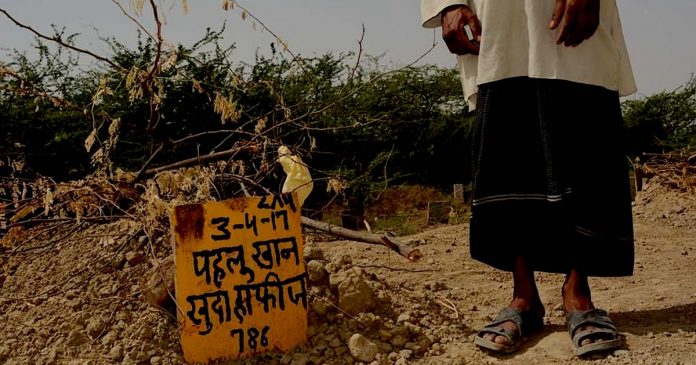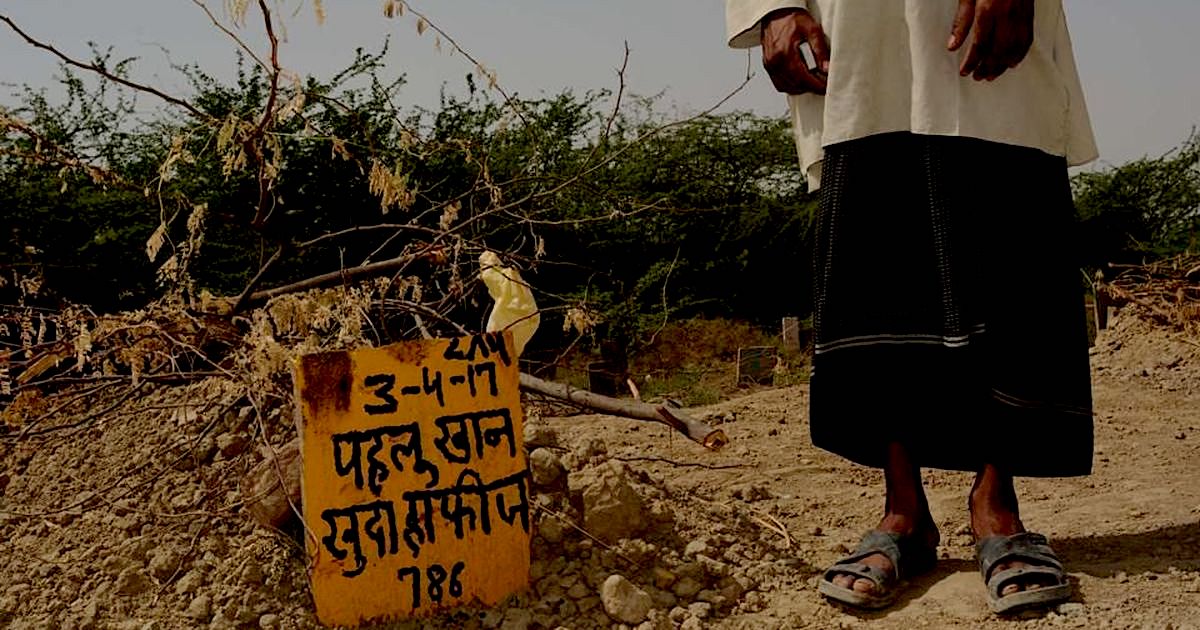 By Afroz Alam Sahil, TwoCircles.net
---
Support TwoCircles
---
Mob-lynching in India is neither new nor specific to certain regions of the country. However, over the past few years, the nature of such has changed from mere angry mobs to targeted attacks on individuals belonging to certain communities, especially Muslims. And Pehlu Khan happened to one such Muslim whose life ended at the hands of the so-called cow vigilantes. He was beaten to death in full public view, the ghastly event was recorded and circulated in public, the media went berserk (for some time at least), and yet there are 'debates' over who, or what killed him.
When the Rajasthan Police exonerated six people accused of murdering Pehlu Khan, a number of people were shocked. But for Rajasthan Police and the State Government, this was the result of meticulous cover-ups and planning. And the role of Dr Mahesh Sharma, Union Minister of State for Culture, Environment, Forests and Climate Change and his hospital shows the levels at which justice for Pehlu Khan was denied.
Sharma as part of Kailash Healthcare Limited which runs Kailash Hospital, where Pehlu Khan was brought after the attack. But before we get into what the doctors at Kailash Hospital did, let us go back to what conducted by a medical board of three government doctors from the Community Health Centre (CHC), Behror, revealed. In their findings, the government doctors wrote: "After careful examination of dead body by medical board, the fact[s] reveal that cause of death is shock brought as a result of antemortem thoraco-abdominal injuries mention[ed] in PMR [post-mortem] report sufficient to cause of death as ordinary course of nature."
And yet, the police and the prosecution are trying to negate the report with statements from doctors at the private Kailash Hospital in Behror where Khan had passed away.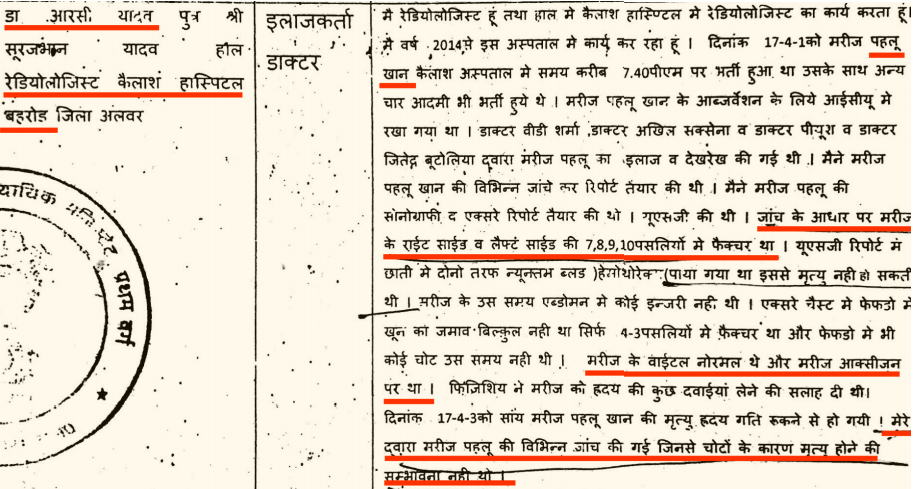 At least three doctors at Kailash Hospital have given statements to the police with regard to Khan's death. General Surgeon, Dr V. D. Sharma, in whose care Khan was placed, in his statement claimed that Khan was absolutely fine on April 2 and on the morning of April 3, before dying of a heart attack, says the report published.
The report questions and says, "Dr Sharma also said it was not possible for Khan to have died of the injuries he had sustained. But Dr Sharma's statement is riddled with many apparent and unexplained contradictions. For example, Dr Sharma has also admitted that when Khan was admitted to the hospital on April 1 he had bled from the nose and complained of pain in the right side of his chest where an X-ray later found multiple fractures in the ribs. Yet, Dr Sharma said Khan's blood pressure, pulse and breathing were "normal"."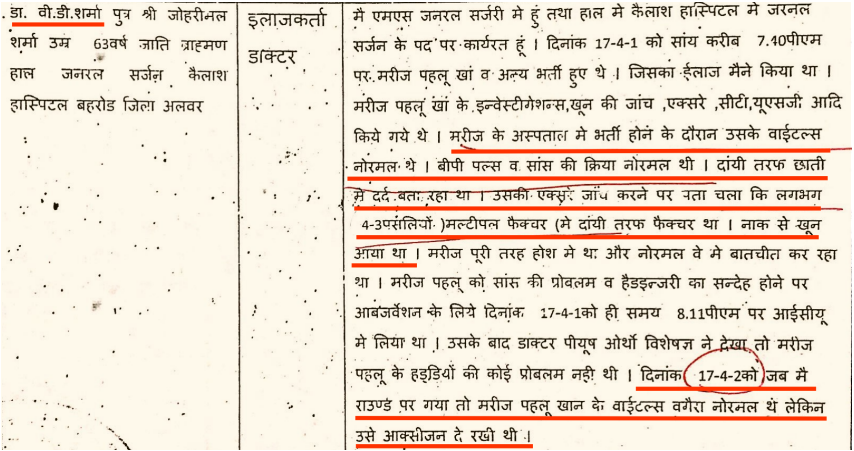 The report further adds, "Dr Sharma admits that on his rounds the next morning he found Khan had been put on oxygen support due to "difficulty in breathing''. Yet, Dr Sharma said, Khan's "vitals, etc., were normal". The doctor also said that Mr Khan had been asthmatic and a heart patient, and had had stents installed in his heart: hence, his death was due to the failure of a weak heart and not from the injuries."
The report pointed out how a similar line is taken by the other doctors of the Kailash hospital, although there is a minor divergence on one claim. Radiologist Dr R. C. Yadav said that four ribs had been fractured on both the left and the right side of Khan's chest. Yet, Dr Yadav also said that a sonography, an X-ray and a USG [ultra sonography] revealed that the chest, lungs and abdomen of Khan were normal with no injuries. The radiologist, therefore, concluded Khan could not die of the injuries.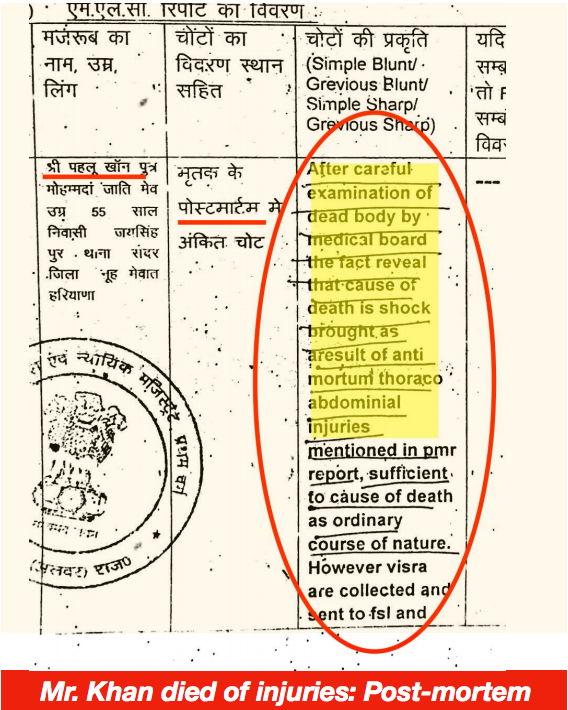 The report added, "It is not known if the police seized the medical reports from Kailash Hospital pertaining to Khan's treatment from the time he was admitted until he passed away, or if they obtained an independent assessment from government doctors of such medical reports," the report said.
The report pointing out the role of Sharma is not coincidental. As it rightly pointed out, in September 2015 when gau rakshaks lynched a Muslim, Muhammad Akhlaq, at his home in Dadri village of Uttar Pradesh, Dr Sharma called it an "accident" and denied it was a "conspiracy".
Rather, Sharma alleged in an interview to The Indian Express, that Akhlaq had eaten beef, which provoked the Hindus to attack him. In that interview, Dr Sharma also alleged, without proof, that illegal cow slaughter was rampant in the village. "There has been a spurt in the cases of cattle theft," he told the newspaper. "They [thieves] tie the four legs (of the cow) in a special knot, use some instrument, kill it. Within minutes, they skin it, pack its meat in a vehicle, and escape."
When one of the accused died in police custody in October 2016, Dr Sharma not only attended his funeral but also intervened when the dead man's family refused to cremate him until their demands for an investigation and a compensation of Rs 1 crore were met.
While many have questioned the exoneration of the accused, the fact-finding report has once again shown that these crimes are not committed out of 'rage' or 'vengeance' but are instead systemic in nature and the perpetrators have assurances of getting protection from the Police and the government.
SUPPORT TWOCIRCLES
HELP SUPPORT INDEPENDENT AND NON-PROFIT MEDIA. DONATE HERE