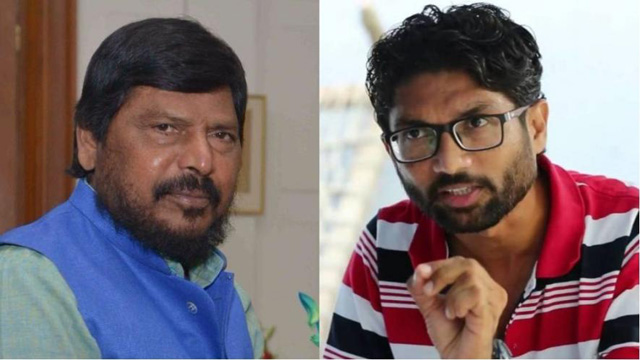 Gandhinagar, (IANS): Gujarat legislator and Dalit activist Jignesh Mevani on Monday asked Union Minister Ramdas Athavale to advise Prime Minister Narendra Modi for an ordinance vis-a-vis the SC/ST Act to ensure protection of the Dalits' rights.
"Our stand is absolutely clear — we don't believe in RSS ideology or any violence. We totally believe in the Constitution. Instead of advising me, Athavale ji should advise (Prime Minister) Narendra Modi to assure the Dalits across the country that their rights will be protected and that the Centre will bring in an ordinance on the issue before April 14, the birth anniversary of B.R. Ambedkar, should the apex court reject the review petition on the issue," Mevani said.
---
Support TwoCircles
---
Athavale had earlier advised Mevani to shun support to the Maoists groups which, he said, were anti-Dalits.
Athavale is founder-leader of the Republican Party of India (Athavale) and is Minister of State for Social Justice and Empowerment in the Modi government.
Dubbing Athavale, Union Minister Ram Vilas Paswan and BJP MP Udit Raj as 'hanumans' of Modi, the Gujarat lawmaker said they should advise the Prime Minister and the Bharatiya Janata Party leadership to defend the Scheduled Castes and Scheduled Tribes (Prevention of Atrocities) Act.
"Athavale should also demand for the impeachment of two Supreme Court Justices who ruled in a case vis-a-vis the SC/ST Act. He should also advise persons who say there is nothing like secularism and that if the country needs to be saved, there should be no Muslims in India. He should also advise Rashtriya Swayamsevak Sangh people who want to change the Constitution."
The Dalit leader said he believed in the Indian Constitution, while Athavale had gone ahead and forged an alliance with the BJP and RSS, who "have been talking of changing the basic structure of the Constitution".
Athavale, who visited Surat on Sunday, said on the sidelines of an event that Patidar agitation leader Hardik Patel had contributed to Congress good show in the 2017 Gujarat Assembly elections.
He asked Patel to approach Modi for seeking reservation for his community rather than Congress President Rahul Gandhi who he said "did not have any power to do so".
SUPPORT TWOCIRCLES
HELP SUPPORT INDEPENDENT AND NON-PROFIT MEDIA. DONATE HERE