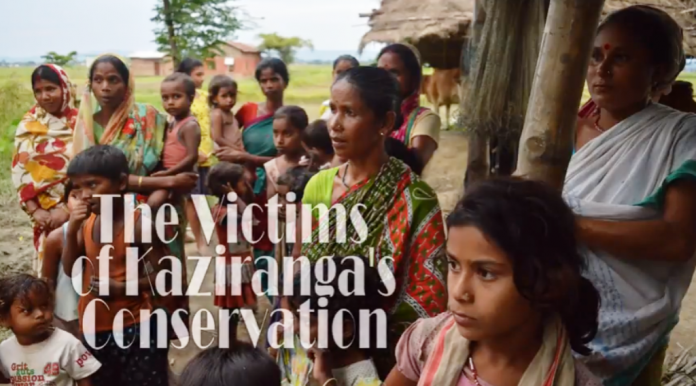 Text and Video by Amit Kumar and Saptarshi Gogoi
Nandeshwar Pegu is a farmer in his 70s and supports his large family in Belogudi village. Over the past several years, he had painstakingly collected bags of rice in his Sanghor, a small bamboo structure that acts both as a granary and a temporary shelter in his farm. However, last year, all his efforts turned into dust when a hoard of elephants from the neighbouring Kaziranga National Park attacked his granary and destroyed all his produce. Despite submitting his application for compensation last year, he is yet to hear anything about when, and if, he will be suitably compensated.
---
Support TwoCircles
---
The Assam government in its attempt to keep conservation and local resident on the same side mandates that owners of every cow killed by a tiger from the Kaziranga National Park and Tiger Reserve will be paid R 3,750 per dead animal. In its effort to help in human-animal conflict, the World Wildlife Fund (WWF) also pays the same amount to farmers. However, it is pretty clear that an amount of Rs 3,750 for the dead of a fully-grown cow is not only extremely low, it is actually an insult to the farmers. Similarly, no matter how much crops are destroyed by elephants, the farmer can only earn up to Rs 7,500 as compensation regardless of what his actual loss was. And, to make matters worse, if deer and wild boars destroy or damage your crop you have no access to compensation at all. This, despite our findings that both wild boars and deer cause the most amount of damage to the crops on a regular basis.
The following video, which was shot over two months, looks at how the victims of Kaziranga's conservation, the farmers have lost all hopes from the government when it comes to compensation. It also looks at the role of community organisations like Jeepal in raising the issue of the farmers at the right level. Amit Kumar of TwoCircles.net travelled across the eastern range of the Kaziranga National Park to find out there were few, if any, villages that had not suffered because of animal encroachment, and what the local people have to say about this issue.
SUPPORT TWOCIRCLES
HELP SUPPORT INDEPENDENT AND NON-PROFIT MEDIA. DONATE HERE