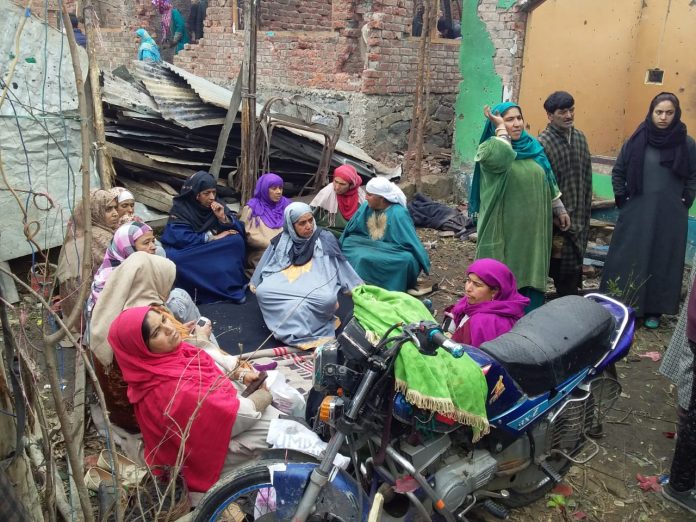 By TCN Correspondent
Mujgund: – Until Saturday afternoon, Ashraf Mir, a resident of Srinagar, had a house where he stayed with his family like all his neighbours. By Sunday afternoon, however, his house had been reduced to a rubble and by the time the security forces had completed their encounter operations killing three militants, he had been rendered homeless. Two of them were under the age of 18, with one as young as 14.
---
Support TwoCircles
---
It is a similar story for seven families whose homes were left completely destroyed with all the possession between Saturday and Sunday.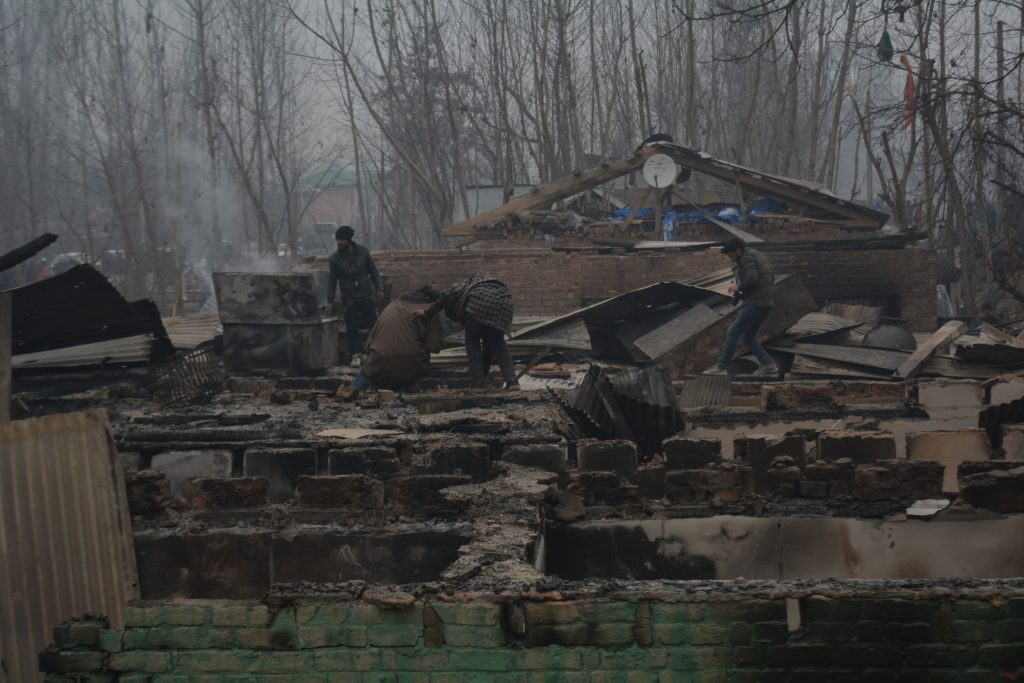 "They (the security forces) fired around hundreds of rockets, mortar shells; thousands of bullets throughout the night towards our houses and razed them to ground," said Mir. When he came back to the place his home stood, all he found was a dark reminder of what had happened between Saturday and Sunday. "Everything is gone…clothes, utensils, books of my children, ration stock for winter. They used heavy ammunition to turn our houses into ashes," he added.
According to Mir, around 4:30 pm on Saturday, the government forces laid a cordon in Ghat Mohalla, Mujgund in Srinagar. After a few hours, he heard gunshots and decided to run to a "safe place" along with his family members.
"We left everything on God's mercy and took shelter in a nearby village. For the whole night, I could hear the loud bangs and sounds of bullets being fired," Mir said.
Another resident Ghulam Rasool Kachroo said security forces didn't allow them to take anything not even the "gold ornaments" and the "money" they have saved for their children.
"When we heard gunshots, we were told to leave the houses quickly. I lost everything that I had saved for my children's and nobody is going to support us. For God's sake, tell us where we will go in this bone-chilling cold," said Kachroo whose house was also razed to ground during the encounter.
A joint team comprising the Special Operations Group of Jammu and Kashmir police, Indian Army's 5 Rashtriya Rifles and Central Reserve Police Force launched a search operation in Ghat Mohalla in Mugjund area of Srinagar City. In the fierce encounter that followed, two 'minor' militants Mudasir Parrey, 14, and Saqib Bilal Sheikh, 17, both from Hajin area of North Kashmir's Bandipora district along with a Pakistani militant identified as Ali Bhai, were killed.
For the residents of the region however, the price paid is extremely high. Seven families have been left homeless after their house was completely destroyed during the encounter. Some residents accuse government forces of using excessive ammunition to kill the trapped militants while others allege there was no militant was present in the Mohalla and accuse government forces of staging a "fake encounter".
"All the necessary items are completely destroyed, especially the jewellery brought for the marriage of our daughters, nothing had left behind for us were we will go now" said Raja Begum, a 50-year-old who was wailing outside her ruined house. One can see burned utensils, splinters of glass along with bullet cartridges littered near the encounter site.
"After zeroing in on a suspected house, forces fired some warning shots after which the militants resorted to indiscriminate firing. The fire was returned, triggering a fierce gun-battle," according to a police statement. The gunfight also left one army soldier injured while three civilians sustained injuries, the statement added.
The people in the area have started collecting funds for the victims of the encounter with some voluntarily bringing construction material in trucks. Netizens have also started an online campaign to help the victims to rebuild the houses.
"That is why Islam asks us to strengthen the Baitulmal (a store that strives to aid the needy people), so that people don't have to beg," said an old man who was collecting the money for the victims on the road.
The victim says nobody from the administration have come forward to help them and that they are spending their days under an open sky. The youth are seething with anger at the attitude of the government. "They will come during the time of elections and will even kiss your feet to get your votes, after that they will show you the middle figure," said an angry youth while referring to the politicians, none of whom have even bothered to visit the site.
A government official who has served as District Development Commissioner in many districts, while wishing anonymity, said "government doesn't compensate those destroyed house where militants are being shielded or sheltered. Usually we compensate where the militants haven't been shielded by the families and where Collateral damage happens." In the three decades of conflict, thousands of homes have been destroyed during the gunfight between the security forces and militants.
'Teenage boys as militants not a good sign'
The two teenage boys had joined militant ranks few in the month of August. Mudasir was a Class 9 student, who went missing from his home, with his school senior, Saqib Bilal Sheikh was a Class 11 student on August 29. The duo had reportedly had gone missing soon after an encounter between militants and armed forces in his neighbourhood in which three Pakistani militants were killed. According to reports, they joined militancy together. The death of two teenagers has send shock waves across the valley, with calls for the all parties to introspect into a situation wherein boys as young as 14 are picking up guns and being shot dead.  "This is not a good sign for us and also not good for those people who are accepting them in their organisations," said Prof. Noor Ahmad Baba, a political scientist at the Central University of Kashmir while raising questions on the militant leadership regarding the recruitments of teenagers.
"I wouldn't approve this kind of militancy where children would be recruited to fight the battle," he added. He also slammed the state authorities for their aggressive policies. "The state has become completely aggressive, intolerant and repressive toward its own people. It's time for them to introspect too," he said.
Another political analyst Dr Sheikh Showkat Hussain sees young boys joining militancy as a sign of growing alienation and suffocation.
"It is at a stage where every youth irrespective of his age is inclined to join militancy, so it is the reflection of that thing which let these kids to join militancy. The children in Kashmir have grown up in a kind of atmosphere that drives them to pick-up arms" he said while talking to TwoCircles.net.
When asked about the recruitments of teenage boys in the militant ranks he said, "The militant groups are not formal groups where they announce recruitments and people come and they choose the best one. It is an insurgency, where you have a few hundred people fighting and sometimes their leadership also don't know who is being recruited. It is not an organised and/or a systematic force, it is a form of stray militancy," he said.
Sheikh also lambasted the state government for using "excessive" forces against the two boys in the encounter.
He said under the International humanitarian law governing the legal use of force in an armed conflict, proportionality and distinction are important factors in assessing military necessity.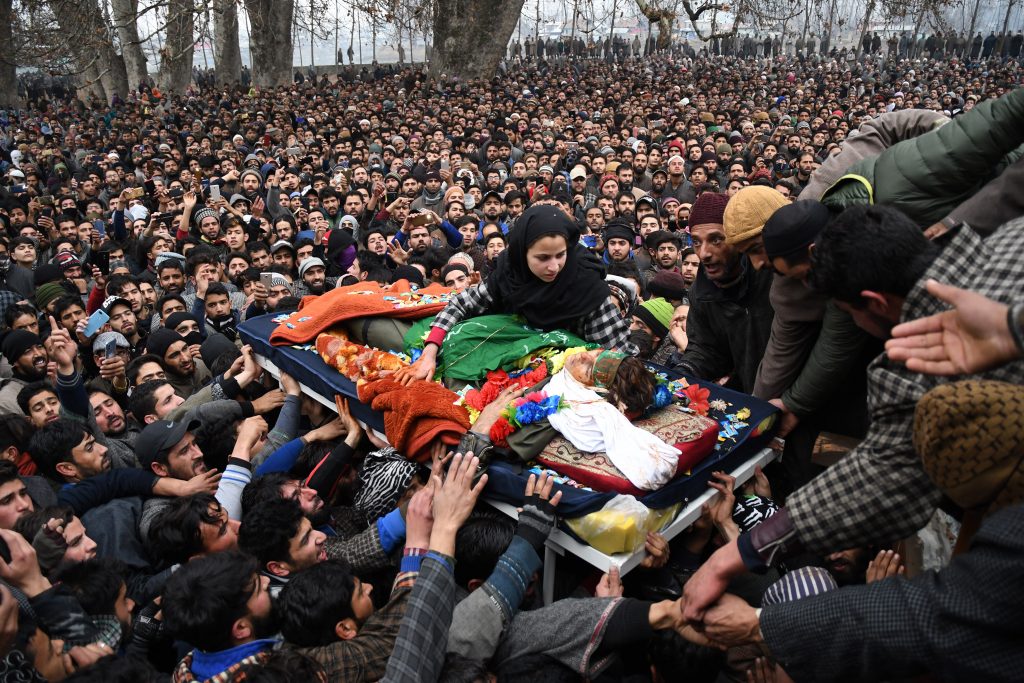 "You have to strike the rule of proportionality, if you have a boy who has joined militancy few months ago and doesn't even know how to use his gun, how can you use missile, mortar shells and drones against him? How can you justify the use of disproportionate forces on these kids?" he questioned
Under Article 85(3)(b) of the International humanitarian law, "launching an indiscriminate attack affecting the civilian population or civilian objects in the knowledge that such attack will cause excessive loss of life, injury to civilians or damage to civilian objects is a grave breach."
Meanwhile, the Jammu and Kashmir Police, according to reports, has sought feedback from its district heads about the fresh trend of teenagers joining the militant ranks so that appropriate measures are taken to plug it before "situation goes out of hand." This is of little solace to the family of Mir, Kachroo and others who lost all their possessions. For the families of Saqib and Mudasir, however, the loss is irrecoverable.
SUPPORT TWOCIRCLES
HELP SUPPORT INDEPENDENT AND NON-PROFIT MEDIA. DONATE HERE