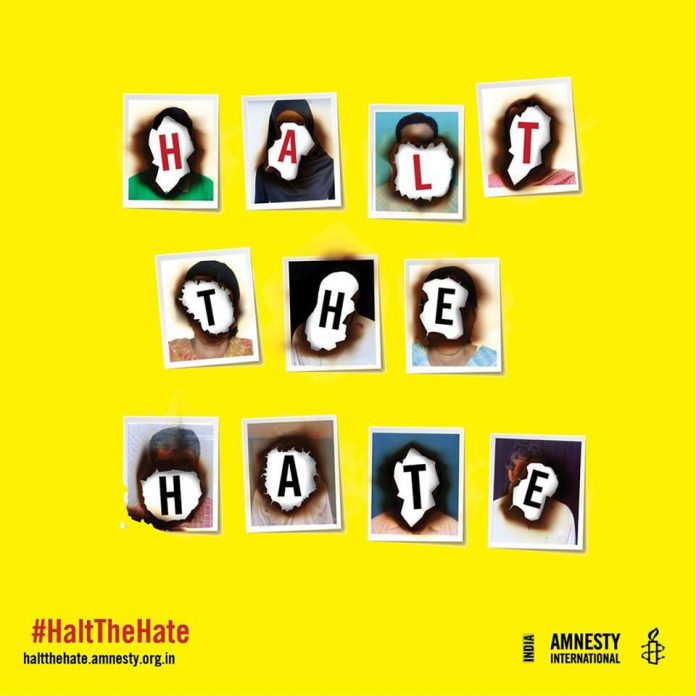 By TwoCircles.net Staff Reporter
One of the leading human rights organization Amnesty International India has launched a website on Thursday which will be used to document the hate crimes in India.
---
Support TwoCircles
---
Known by the name of "Halt the Hate", the interactive website – which the Amnesty refers to as microsite – documents alleged hate crimes against Dalits, Adivasis, members of racial or religious minority groups, transgenders, and other marginalized communities that are reported in various Hindi and English newspapers.
Aakar Patel, Executive Director, Amnesty International India, said, "The first step to ensuring justice and ending impunity for hate crimes – where people are targeted because of their membership of a particular group – is to highlight their occurrence."
He further said, "Our website aims to draw attention to some of these crimes by tracking and documenting them. Many of these incidents are deeply disturbing: Dalits have been attacked for merely sporting mustaches, and Muslims lynched for transporting cattle. Dalit women have been branded as witches and raped and killed."
'Halt the Hate' documents alleged hate crimes in India starting from 28 September 2015, when Mohammad Akhlaq, a Muslim resident of Dadri, Uttar Pradesh, was murdered in his home by a mob claiming that he had eaten beef. Since then, media reports have begun to increasingly report instances of alleged hate crimes.
Thus far, "Halt the Hate" has documented about 44 hate crimes against Dalits, and 141 against Dalits in the year 2017. It also alleged to record 69 incidents of killing where 146 people lost their lives.
The Uttar Pradesh came up as the leading Indian state in terms of hate crimes recorded. Alone in UP, 237 hate crimes were recorded in the year of 2016.
"The data on our website is just a snapshot of alleged hate crimes in India. Many incidents are not reported in the media. While criminal investigations have been initiated in some cases, too many have gone unpunished. Authorities need to do much more to ensure justice for victims and their families," Patel said.
Amnesty International India has also tried to reach out to individuals by providing 'report a hate crime' on the website where it allows users to inform regarding such hate crimes.
Patel further said, "The police need to take steps to unmask any potentially discriminatory motive in a crime, and political leaders must be more vocal in denouncing such violence."
SUPPORT TWOCIRCLES
HELP SUPPORT INDEPENDENT AND NON-PROFIT MEDIA. DONATE HERE