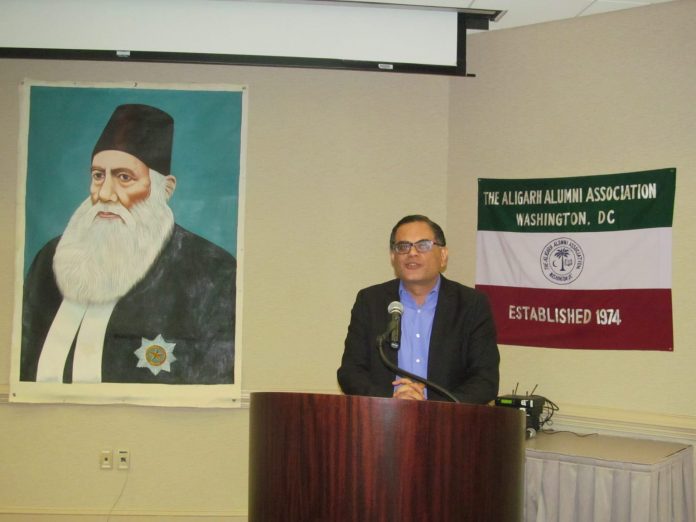 A report by Afzal Usmani
"You are free; you are free to go to your temples. You are free to go to your mosques or to any other places of worship in this State of Pakistan. You may belong to any religion, caste or creed—that has nothing to do with the business of the state." Muhammad Ali Jinnah, Governor General Pakistan (Designate),  " I do not expect India of my dream to develop one religion, i.e., to be wholly Hindu, or wholly Christian, or wholly Musalman, but I want it to be wholly tolerant, with its religious working side by side with one another."  Mahatma Gandhi.
---
Support TwoCircles
---
Mr. Raza Ahmad Rumi, an eminent journalist, concluded his talk with the above quotations from the founding fathers of India and Pakistan. He was delivering the keynote address at the annual Sir Syed Memorial Lecture on the "Rise of extremism in India and Pakistan. What's the future of liberal democracy?" The event was organized by the Aligarh Alumni Association, Washington DC (AAA), on October 13th, 2018, at Bolger Center, Potomac, Maryland. Mr. Rumi is the Director of Park Center for Independent Media, Ithaca College, New York, and is a faculty member of the Cornell Institute for Public Affairs. He currently edits the Daily Times (Pakistan), and has authored fourbooks. His latest book 'Being Pakistani' was published in June 2018.
The AAA has been hosting the memorial lectures for more than 25 years as part of Sir Syed's birth anniversary celebrations. A number of distinguished scholars and dignitaries have delivered these lectures in the past, including Ambassador Hussain Haqqani, Dr. Akbar Ahmad, Dr. Salman Akhtar,Ambassador Ebrahim Rasool, Prof. Abdulaziz Sachedina, Dr. Hashima Hasan, Professor David Lelyveld, Professor Gopichand Narang, Mr. Shamsur Rehman Farooqi, and the CEO of Ethan Allen Mr. M. Farooq Kathwari.
Raza Rumi focused his talk on an urgent cotemporary problem, the worldwide resurgence of right-wing nationalism, that is driven in India by the astounding victory in 2014 general elections of the ultra-right Bhartiya Janata Party (BJP). Similarly, religious and sectarian conflicts have dominated the political landscape of Pakistan for several decades.
Recently, Pakistan's newly elected prime minister, Imran Khan, had to remove one of his most qualified economic advisors, Atif Mian, merely because he belonged to the Ahmadi community, prompting two other outstanding advisors to the Pakistan Government to resign in protest.
Mr. Rumi also brought up the rise of right-wing influence in the US, especially after the 2016 election of Donald Trump.  He advised the audience not to be misled by extremist rhetoric common in the media and provided information about some new electronic resources which are working to counter the extremist narratives.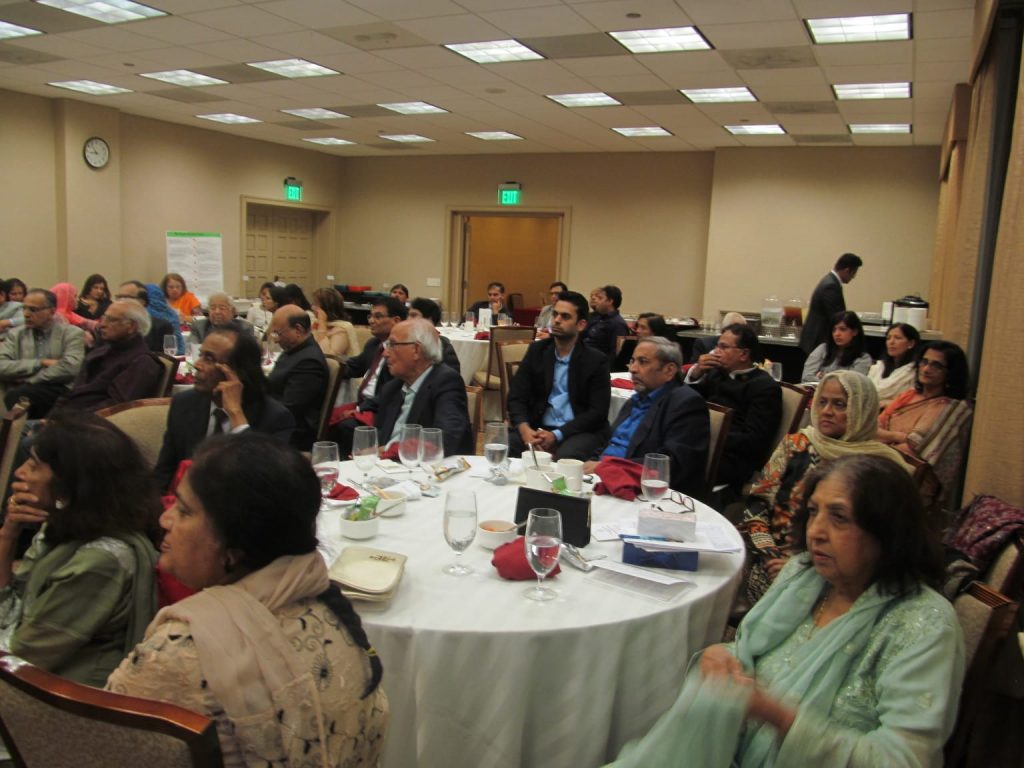 As has been the tradition, the event began with dinner, followed by the formal session. Welcoming the guests and speaker, Dr. Rafat Husain, president of the AAA, briefly described the activities of the Association, especially its signature scholarship program designed to help needy students in India.  Another initiative is the establishment of feeder institutions across India to prepare school level students for higher education. He also reminded the audience about the highly successful Mushairas the AAA has been staging since 1975. (The Mushaira for this year will be held on Sunday, November 11, 2018, at 2:00 pm, at Silver Spring Civic Building, Silver Spring, MD)
Mr. Raza Rumi was introduced by Dr. Syed Amir who is an occasional writer for the Daily Times (Pakistan).  The lecture was followed by a question and answer session moderated by Dr. Fazal Khan. Members of the audience asked a wide-range of questions and were impressed by his insightful answers. The speaker was honored with the Sir Syed Memorial Award in recognition of his services to the promotion of journalism independence, religious tolerance and international harmony. After a vote of thanks, the event concluded with Aligarh Tarana rendered by the Aligarh Alumni Association Tarana Team.
(The writer, Afzal Usmani  is the secretary, Aligarh Alumni Association, Washington, DC) 
Tonight: At the Aligarh association's annual dinner spoke about tolerance and pluralism, values that are vanishing from our region. "I do not expect India of my dreams to develop one religion that is to be wholly Hindu or wholly Christian or wholly Mussalman, but I want it to by wholly tolerant, with its religions working side by side with one another…" Gandhi "You are free; you are free to go to your temples. You are free to go to your mosques or to any other places of worship in this State of Pakistan. You may belong to any religion, caste or creed—that has nothing to do with the business of the state" ~ Jinnah

Geplaatst door Raza Rumi op Zaterdag 13 oktober 2018
SUPPORT TWOCIRCLES
HELP SUPPORT INDEPENDENT AND NON-PROFIT MEDIA. DONATE HERE