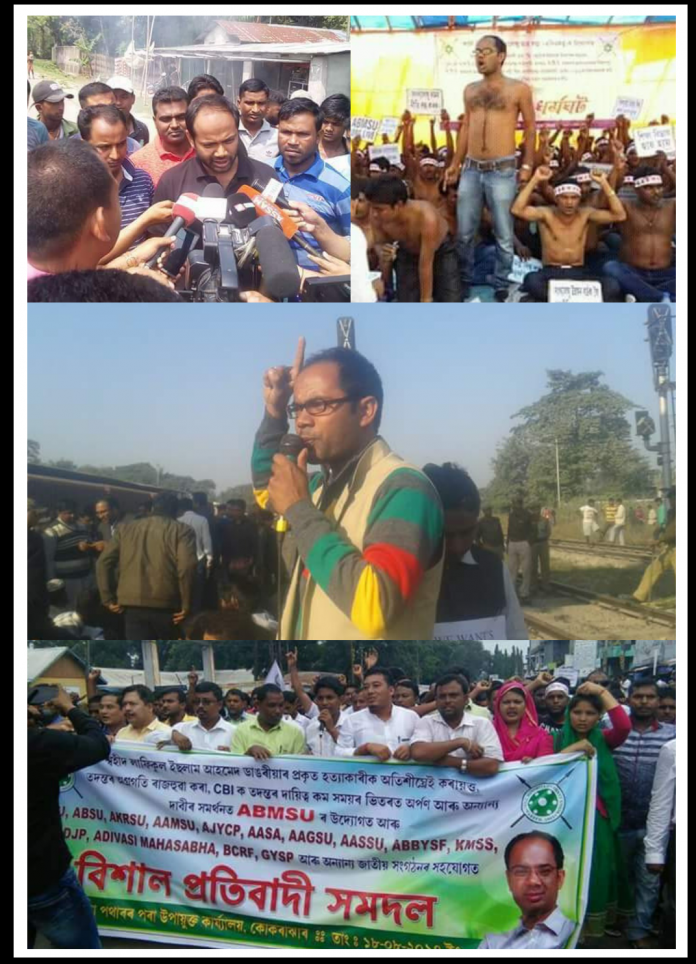 By Nikhat Fatima, TwoCircles.net
New Delhi: The All BTC Minority students Union (ABMSU) Assam, staged a protest at the Jantat Mantar, Delhi on October 12 to demand justice for the murder of Lafiqul Islam and address the irregularities in the upgradation of the NRC process.
---
Support TwoCircles
---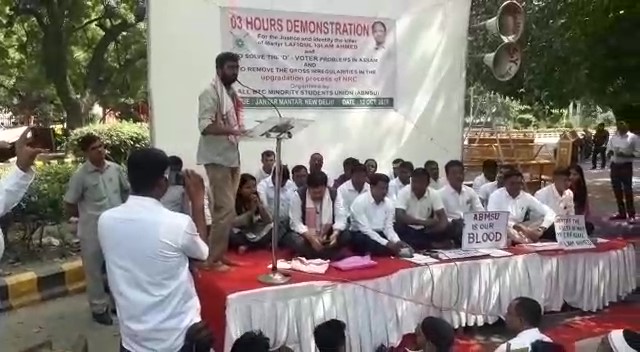 Lafiqul Islam, the president of the All BTC Minority students union, was gunned down by AK-47 rifle in broad daylight by two unknown assailants in Titaguri Market in Kokrajhar district of Assam. He was a powerful young student leader of the Bengali-speaking Muslims living in Bodoland Territorial Council (BTC) Area and spoke about their rights as citizens of India after they had migrated to India (Assam) before Independence. Lafiqul's killing created a major discord amongst the Bengali-speaking Muslims and even after a year, the murderers have not been brought to book.
The other demand made by the students was for a free and fair National Register of Citizens in Assam. They pointed out that a large number of people who have been left out of the NRC and 'declared foreigners' or descendants of declared foreigners, do not have their other family members' names listed in the same category. These irregularities need to be addressed and these persons who are actually listed in the 'D' (doubtful) category should be given explanation as to how they are categorised in the 'D' list.
Others not listed in the draft NRC were issued notices to appear before the authorities with proper documents but there were anomalies in these notices regarding the dates, place of hearing due to which the persons could not appear for the final draft of NRC, said the student.
The ABMSU submitted their memorandum to the President of India through an official, asking for his intervention to set up a fair and speedy enquiry into the murder of Lafiqul Islam and punish the guilty.
The other demand is to give a chance to the doubtful voters in the 'D' category to prove their citizenship as they are already eligible to be citizens under section 3 of the citizenship Act which says a person born in India after 26th January 1950 shall be a citizen of India by birth.
Mohidul Islam, the education secretary of ABMSU and also the brother of the martyred Lafiqul Islam said, "We are hoping the President will respond to our memorandum and intervene in these two important matters. I fear the murder case may be closed as it is more than a year and still there is not even a single clue as to who is behind this political murder."
"I want to keep alive the movement started by my brother who was a strong political figure and had a large following. He was involved in a lot of social work and I am now continuing his legacy by starting a trust under his name to provide education to the poor. More than anything today we need education in our place", he added during a conversation with TwoCircles.net.
More than 350 people attended the protest at Jantar Mantar and raised slogans holding posters of Lafiqul Islam lying in a pool of blood after being shot.
SUPPORT TWOCIRCLES
HELP SUPPORT INDEPENDENT AND NON-PROFIT MEDIA. DONATE HERE