By Saiyed Danish, TwoCircles.net
In the narrow bylanes of Uttam Nagar in West Delhi, two Rohingya youths-Sabin and Ali-run the office of the Rohingya Human Rights Initiative (RHRI), from the fourth floor of one of the poorly-constructed apartments.
---
Support TwoCircles
---
"This is both our house and office since we have a very limited budget. This is possible through the contributions of the people who understand our plight," says Sabir, who heads the organisation. "On one side of the house, I live with my wife and kids and on the other side, I run the office."
RHRI documents the atrocities currently faced by the Rohingya Muslims from the Arakan region of Myanmar and disseminates the information around the world asking the global community for help and support.
Sabir hails from the town of Buthidaung, which means 'the hill where gourd is grown.' Talking about his experiences, Sabir says, "I left Burma in 2003. Before that let me tell you that the violence in Burma started way back in 1942. After that, we saw much genocide between 1942 and 2012. We have had genocides at least 21 times in the past 75 years."
For the past few years, the RHRI has been trying to share some basic information regarding atrocities committed to Rohingya people with the world outside so that the international community could do something to help Burmese refugees with a political solution. But there hardly seems to be a light at the end of the tunnel.
On October 4, India deported seven Rohingya refugees to Myanmar. They had been living in Assam. Since 2012, this was the first time when an official decision was taken by the Indian government to deport the refugees back to their country.  Even the Supreme Court ruled against their stay saying they are living in India as illegal immigrants, thus giving a green light to their deportation. Even as this piece is being written, preparations are still afoot to deport 23 more Rohingyas from Assam back to Myanmar as being considered by the Home Ministry for two weeks. When TwoCircles.net spoke to RHRI convener Sabir about the latest developments he feared for their lives.
"Since 1942, our learned youths, scholars, politicians and businessmen have been targeted by the Burmese authorities. The army there could arrest or kill anyone on their whims. In 1978, over 3,00,000 refugees in Bangladesh were provided shelter by the United Nations Organization. We still have two camps from that settlement there accommodate roughly 20,000 refugees there."
Sabir recounts the arduous journey from Burma to India as a refugee. "I had to pay a good sum of money to border patrol at Burmese-Bangladeshi border. But that wasn't enough. Even the Bangladeshi soldiers asked us for money and we paid. Then we entered India through Kolkata after bribing BSF personnel."
Sabir came to India with his sister who lives with him in the same house. "I went to Mumbai in search of jobs. I worked as a waiter in restaurants and help in hotels and guest houses and also a travel agent," he smiles.
Sabir also worked as an interpreter for foreign tourists. "Initially I worked as a freelance interpreter for Burmese tourists. But soon I started working with UNHCR as an interpreter for Rohingya refugees when international media began covering us by the beginning of 2010."
It was Sabir's exposure as an interpreter that gave him enough confidence to start an initiative which would help Rohingya refugees. "I worked in the UNHCR before leaving to join the Rohingya Youth Union India as its director. My job was to reach out to people and administration to secure any kind of help possible for Rohingya. But the scope was limited there. I wanted to reach out to the world as I had always wanted. As a result, in 2017, the Rohingya Human Rights Initiative was established to achieve larger goals in the interest of Rohingya refugees."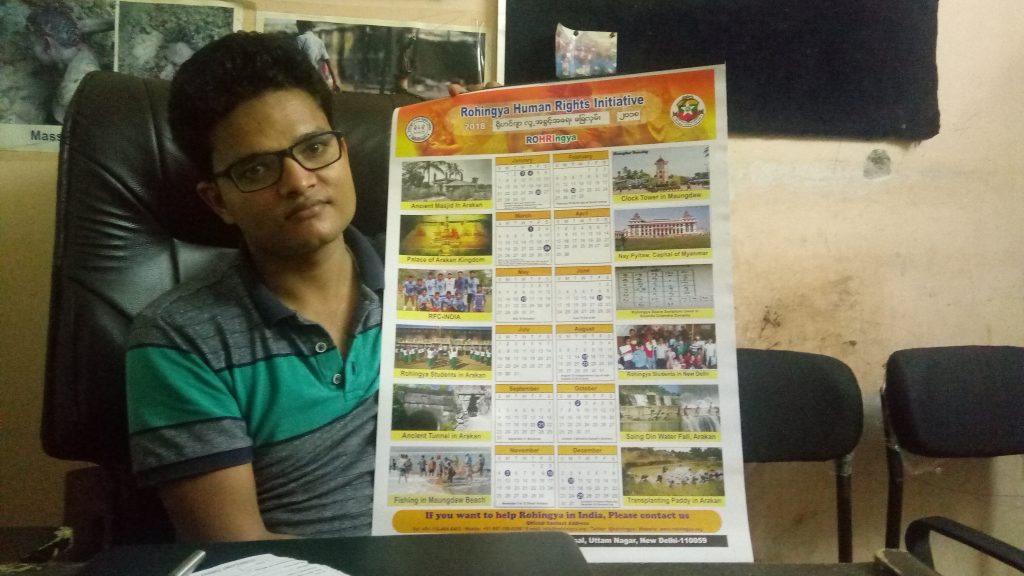 "Our prime goal is to be able to tell the world of the atrocities committed by the Myanmar government in order to wipe our community off. For this, we have organised seminars and conferences to represent the voice of the Rohingya community. We have also tied up with other human rights organisations like Salaam from Hyderabad."
"At RHRI, we have chalked out a roadmap to protect our culture and identities by letting the world know who we are. We have been living there for centuries. People do not even know that Arakan was a separate kingdom. We had our separate rule, flags, currency and emblem among other things distinguishing us from the rest of Burma. But gradually our culture was destroyed by Myanmar rulers by the mid-twentieth century. We have been suffering since that time. This is what we want the world to know through this platform.
"Through RHRI, we also confront the allegations of 'terrorism' and other misconceptions and disinformation propaganda against us by sharing with the world and the international media as much updates as possible to make them aware of the real situation at hand since media persons are not allowed to go there where people are still being mercilessly killed. So our goal here is to publish reports on all such developments and keep the international community informed. Apart from that, we aim to have ties with the Human Rights Law Network (HRLN) and other legal bodies to ensure the safe release of the Rohingya youths under detention in India," Sabir elaborates on the role of his organisation.
On the walls of his office, there is a poster of Aung San Suu Kyi quoting her with the words, "Please use your liberty to promote ours." Below that there is another quote by Rohingyas asking Suu Kyi to do her bit with the following words, "Now use your liberty to promote ours."
 "Earlier we supported Aug sang Suu Kyi in 2010 democratic elections hoping that she would finally speak on our behalf and take up our matter with the United Nations. But after she came to power she turns her back on us. We still hope that she raises our concerns on international platform someday but that hope is diminishing now."
Every time Sabir mentions the loss of Rohingya legacy in Myanmar, he points towards an informative calendar hanging in the office which has pictures of places, people and a dying script of their language. He passionately points out at each picture and briefs about them.
"When people ask who the Rohingyas are, I feel like showing them these places," he says while pointing at the picture of an ancient mosque. "Look how rich and vibrant our culture was which they are determined to leave no trace of. We have always had a great potential for tourism. Look at these places. Our elders had worked hard to contribute to the growth of Arakan region," he points at a picture of Maungdaw Beach, Saing Din waterfall, an ancient tunnel and paddy fields situated in Arakan.
Sabir also hints at discriminatory behaviour he received from the local police while trying to run his organisation. "They would enter my house and abuse me. They would call me to the police station often and apart from asking the usual questions, they would take the usual jibe at me. But as our work and my recognition progressed, their treatment has been less harsh towards us," he says.
His visiting book index has the name of several international journalists. Sabir is a known face among many national and international media organisations now. He along with his friend Ali has built the reputation of an organisation dedicated to the Rohingya cause and thus earned trust and support of eminent lawyers like Colin Gonsalvez and Prashant Bhushan. "Colin Sir has always been our pillar strength through our darkest times, besides aiding us on legal matters. If it hadn't been for people like him, we would have given up already," Sabir says with a smile.
Ali works with Sabir at the RHRI and looks after communication with the mainstream media on all issues regarding Rohingya crisis. His family hails from Maungdaw and Buthidaung.
"I was a high school student in Bangladesh when violence broke out in 2012 in Myanmar. I used to ride an e-rickshaw there. One day, some of the passengers started talking about the news of violence in Myanmar. Then the influx of refugees into Bangladesh increased so I came to Delhi to pursue higher studies and get away from the effects of violence," Ali recollects.
Even when he came to Delhi, Ali ran a hostel near Zakir Nagar for poor Rohingya children. He also ran a makeshift school for them in the Shaheen Bagh area of Delhi but had to close the school due to a scarcity of funds.
"Those children need someone who promises them a future of their own. The crisis can be solved by providing education to the refugee kids here. My dream is to ensure scholarships for 250 Rohingya kids so that they can afford school at a primary level. We have been able to collect some funds for that by crowdsourcing, which helps us to get the kids' school dresses and stationary but at the end of the day, those funds are not enough. If the international community genuinely wants to help us, they can do so by funding 250 kids for school. I don't think it will cost them a lot," says Ali.
Like Sabir, Ali is also optimistic about a political solution in the long run but feels that the international community is not doing enough to ensure a safe and dignified return of Rohingyas to Myanmar.
"The solution has to be a political one. We have been demanding foreign countries to cut their trade ties with my country's government so that at least the latter feels some international pressure and stop the genocide of Rohingyas."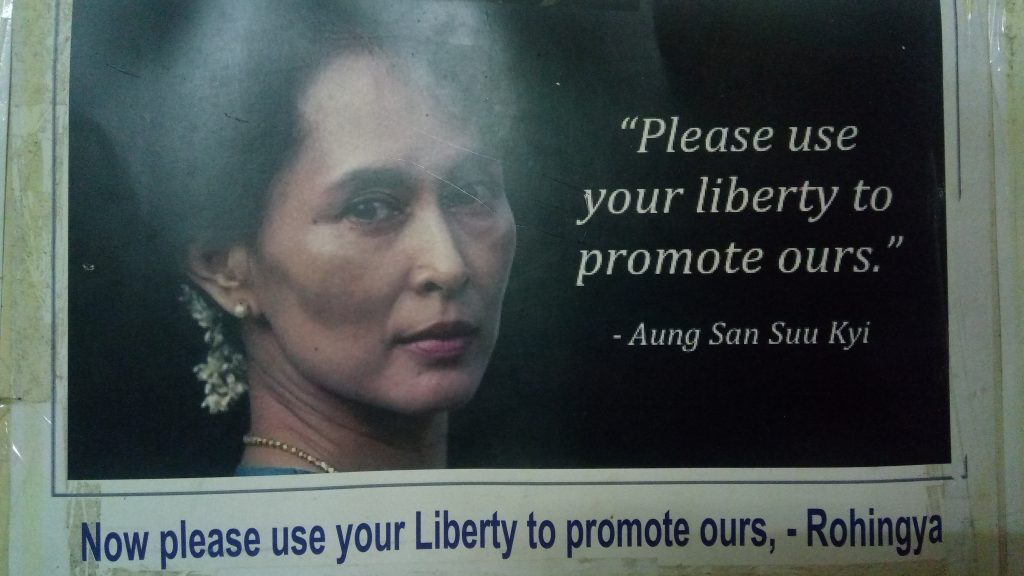 Despite the disappointments, both Sabir and Ali maintain that they keep finding rays of hope, for instance, the announcements by a few countries to cut off their ties with the Myanmar military as bold steps to force Myanmar to respectfully take back Rohingyas in the country. In September 2017, the UK suspended aid for Myanmar military and Maldives severed its ties with Myanmar. In October of the same year, EU announced severing its ties with Myanmar. In June 2018, Amnesty International urged the Australian government to cut off all trade relations with Myanmar military and to take steps towards trying 13 military generals of Myanmar at International Criminal Court for the alleged genocide of Rohingya people.
"Sometimes, little developments in the direction of our goals matter the most to us. I see these developments in this way," Sabir concludes with a hopeful grin on his face.
SUPPORT TWOCIRCLES
HELP SUPPORT INDEPENDENT AND NON-PROFIT MEDIA. DONATE HERE