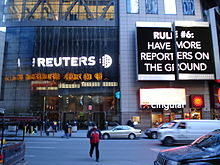 Yangon, Sep 3 (IANS) Two Reuters reporters were jailed on Monday for seven years for violating a state secrets act during their reporting of the Rohingya crisis, a court said, in the case that has drawn outrage for its attack on media freedom.
The two journalists were being tried since 2017 for breaching Myanmar's Official Secrets Act while investigating violence against Rohingya Muslims in the Rakhine state by the army, the BBC reported.
---
Support TwoCircles
---
Reporters Wa Lone and Kyaw Soe Oo were arrested on the night of December 12 after meeting with two police officers who, according to the defendants, handed them confidential documents, the Efe news reported.
Since then, both have been held without bail and have appeared 30 times before the court, which started a preliminary investigation on January 9 and formally filed charges on July 9.
The case has been widely seen as a test of press freedom in Myanmar.
They have maintained their innocence, saying they were set up by the police.
"Today is a sad day for Myanmar, Reuters journalists Wa Lone and Kyaw Soe Oo, and press freedom anywhere," said Reuters editor-in-chief Stephen Adler.
The verdict comes a year after the crisis in Rakhine state came to a head when a Rohingya militant group attacked several police posts. The military responded with a brutal crackdown against the Rohingya minority.
The UN has said leading army figures in Myanmar should be investigated and prosecuted for genocide.
Media access to Rakhine is strictly controlled by the government so it is difficult to get reliable news from the region.
SUPPORT TWOCIRCLES
HELP SUPPORT INDEPENDENT AND NON-PROFIT MEDIA. DONATE HERE