Text and images by Meher Ali, TwoCircles.net
Aligarh went to the polls on April 18, 2019 with almost a 60% voter turnout. Before it happened, we were bombarded with images and sound bytes of politicians, election gurus and journalists. Most were men. Many of these people argued that this election is about India's "soul". This photo essay is an attempt at understanding and sharing another narrative, that of women and specifically widows who live and work in Aligarh.
---
Support TwoCircles
---
For these women, this election was less about the idea of democracy and more about how it functions. It was about applications filled and identification cards denied, and at the core of it were their efforts to seek out two things: the right to vote and the right to a decent source of livelihood.
This reporter visited four of the poorest areas of Aligarh, though by no means the only ones and used the 2011 census to identify these communities using indicators of employment, education, historical marginalisation, and low-paying work.
School, not factory
Sunita Devi (40) ( featured in the image above) lost her husband, who worked in a barbershop, seven years ago. A year later, she applied for the widow's pension, yet only received the money a month back: Rs. 1500 for three months.
On election day, she walked for half an hour in the afternoon heat to cast her vote.
She lives in Palaholi Chowk, which falls in Gambhirpura ward that has 22,751 people who do not know how to read or write, the highest in Aligarh, as per the census. Sunita Devi says that she too has never been to school and can neither read nor write.
She works in a hardware factory where she does khulai ka kaam. Her job is to clean metal products, such as door latches and bolts, in acid water. Her son works in another hardware factory, where he operates a power machine. Though both earn about Rs. 8000 a month, more than a third of it goes towards rent. This means that she can only afford to send only one of her children, her youngest daughter, to school.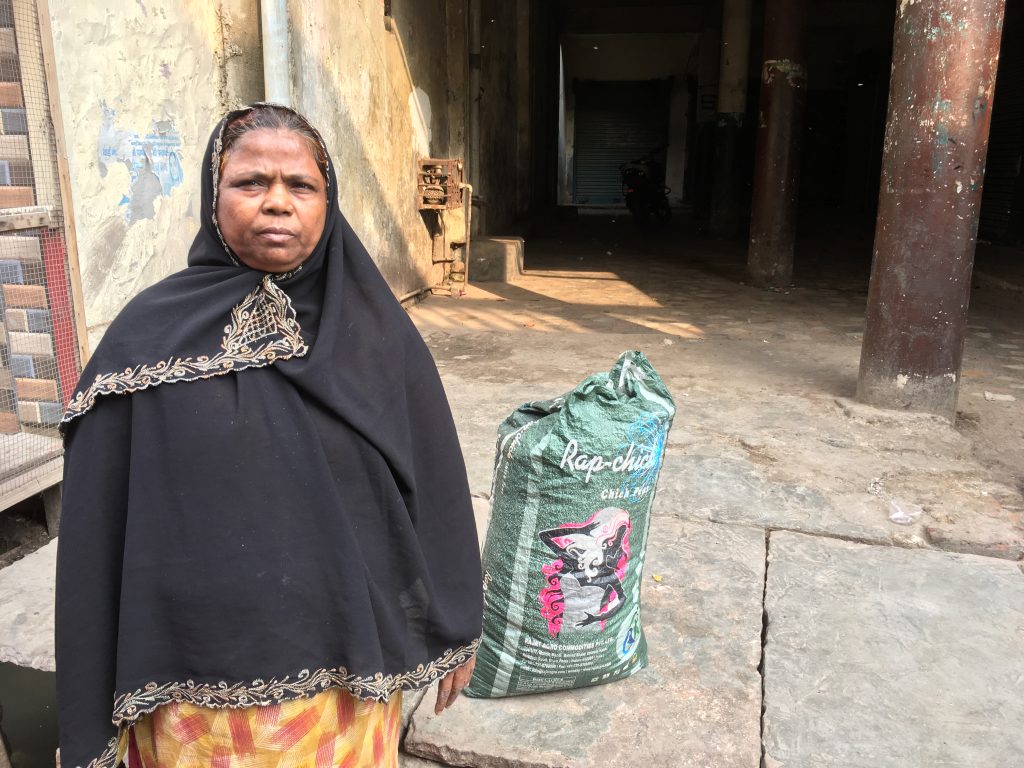 A 'No' to vote
Sufiya Begum (50) lost her husband, who owned a provisions store, five years ago. Like Sunita Devi, she too does not receive widow's pension, despite applying for it four months after his passing.
She lives in Jeevangarh, where more than 300 people, the highest number in Aligarh, work as household industry workers "manufacturing, processing, servicing, and repairing goods." Her son, who financially supports her, is also one.
Election day was not a good one for her. She ran from pillar to post with her voter ID and Aadhar Card to cast her vote but was unable to do so.
The reason? She claims that her stepdaughter-in-law told the block level officer (BLO), who runs a school in her house, to cut Sufiya Begum's name from the electoral register. When I went to meet the BLO with Sufiya Begum, she claimed that the reason was that Sufiya Begum had shifted. This meant that her residential area, notified as part number in the electoral roll, had changed. But Sufiya Begum interrupted the BLO, saying that she had shifted 15 years ago.
I asked the BLO whether she had sought Sufiya Begum's permission before doing this. She said that she had spoken to her husband, now gone for five years, and then said that it was her stepdaughter-in-law who had told her.
She also claimed that she had applied for a new voter ID on behalf of Sufiya Begum but that it had not come through from the tehsil. As we were about to leave, an election official offered to give Sufiya Begum someone else's voter slip who hadn't shown up, so that she could vote but she said: "Ghalat kaam nahi karoongee–I won't do anything illegal."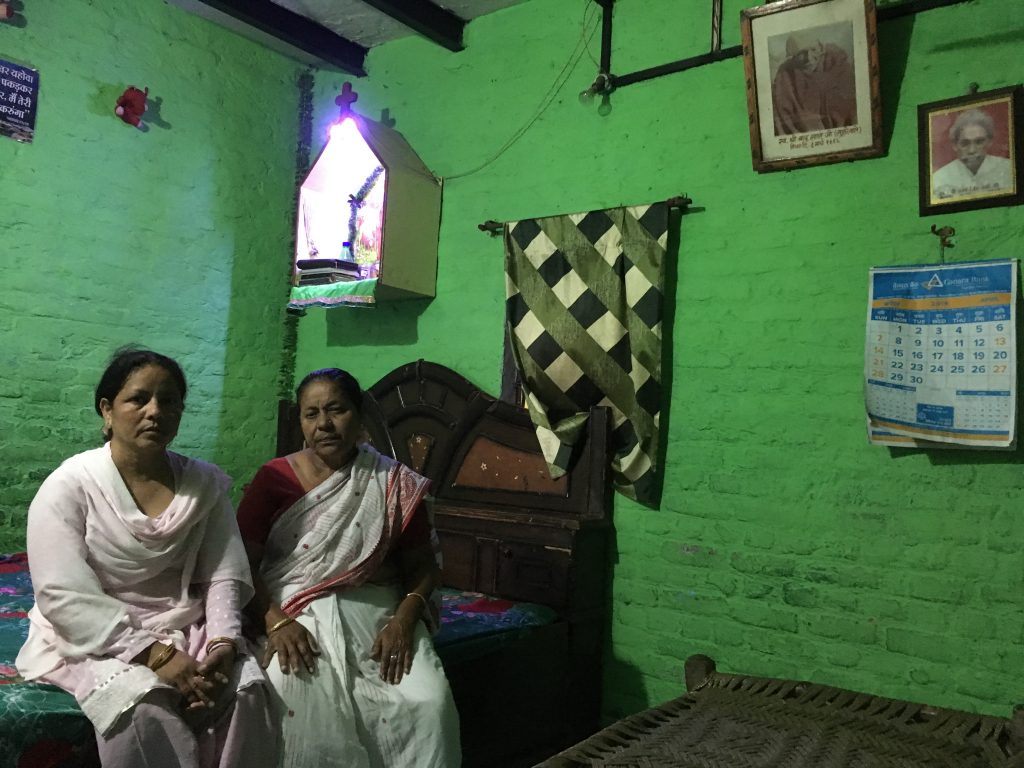 Three widows, no pension
Shakuntala Singh (64), right, lost her husband, who was a farmer, six years ago to dengue.
On election day, the person ahead of her pressed the elephant symbol for the Bahujan Samaj Party but saw the Bharatiya Janata Party's lotus sign come up on screen. She says that he got into an argument with the police about it, so she stepped in and suggested to the BLO that the machine should be removed, which it was, and the voting resumed.
She lives in Nagla Kalar, which, according to the census, has the highest Scheduled Caste population at 9,772 people. Singh herself is a Dalit Christian.
Three years after her husband's death, her younger daughter's husband also passed away and she came to live with Singh. Poonam Paul, her elder daughter (left), became a widow two months ago. Neither of her daughters receives a pension though both have applied. Singh received old age pension but that stopped when Yogi Adityanath became Chief Minister, she says. Now, Paul's two sons support the family as does her sister who works as a cook in people's homes.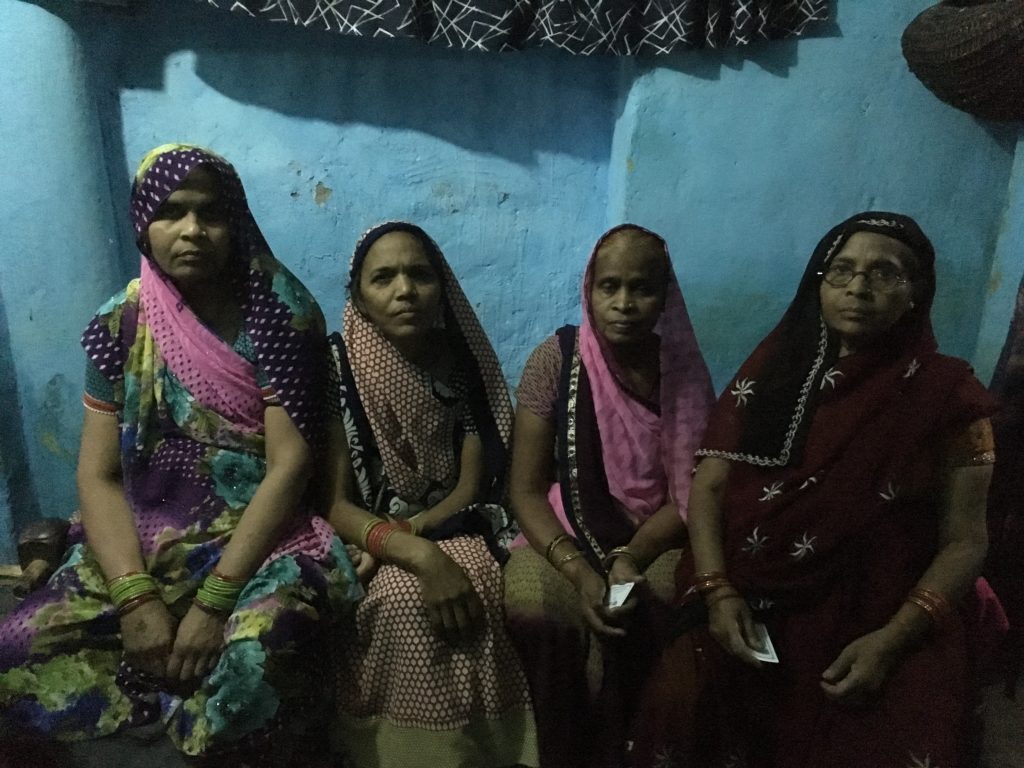 Work among "non-workers"
From left to right, Pushpa (35), Kishan Pyari (40), Shanti Devi (65), and Roopvati (55), are all widows. But only Kishan Pyari and Pushpa received widow's pension, and that too Rs. 1500 last month, though both their husbands passed away one and five years ago respectively.
They all voted and say that the biggest problem that they face is a lack of better employment opportunities. "Koi kaam hona chahiye–there should be some work," says Roopvati, who support her family of five, by working as a tailor. Her two daughters, both of whom are college graduates, have not found formal employment, though they work as tailors alongside their mother.
All of them live in Upar Kot in Aligarh's old city, specifically in Kaba ki Sarai that, has the highest number of "non-workers" at 14,965 people.
Pushpa, Kishan Pyari, and Shanti Devi work temporary jobs at people's weddings making pooris. They leave in the morning and come back as late as 3 am, earning Rs. 200 per day. Pushpa says that they roll a quintal worth of flour into pooris every day.
But this is seasonal work and in all of their homes, at least one, if not more, of their children is also working. In Pushpa's case, her two sons, both in their 20s, passed away, one in an unfortunate accident and the other from an illness that doctors failed to diagnose. She has two other teenaged sons. When I ask her if they go to school, she says: "School jayenge to khaane ko kaise aayega–if they go to school, where will we get the money to eat?" Both of them work in a locks workshop, like their father before them.
Meher Ali is an independent journalist based in Aligarh. She reports on refugees and human-rights related issues. You can also read her blog on the culture and heritage of Aligarh and western Uttar Pradesh here. Follow her on Twitter @aashi310 .
SUPPORT TWOCIRCLES
HELP SUPPORT INDEPENDENT AND NON-PROFIT MEDIA. DONATE HERE