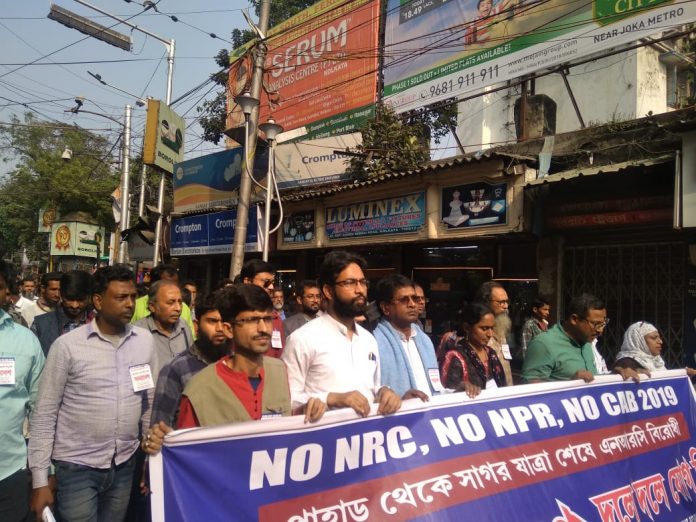 By Mirza Mosaraf Hossain, TwoCircles.net
The streets of Kolkata witnessed a massive protest march against the Centre's move on the Citizenship Amendment Bill (CAB) 2019, the launch of National Population Register (NPR) and the talks over a nationwide-National Registry of Citizens. 
---
Support TwoCircles
---
The protests saw calls for starting a 'non-cooperation movement' in every corner of the State if the Centre implemented the task of NRC through its first step of NPR which is supposed to start from December 16 this year. Some others also termed the move as Hindu racism against the Muslims of the country and an attempt to execute Savarkar's years' old dream of making India a Hindu Rastra.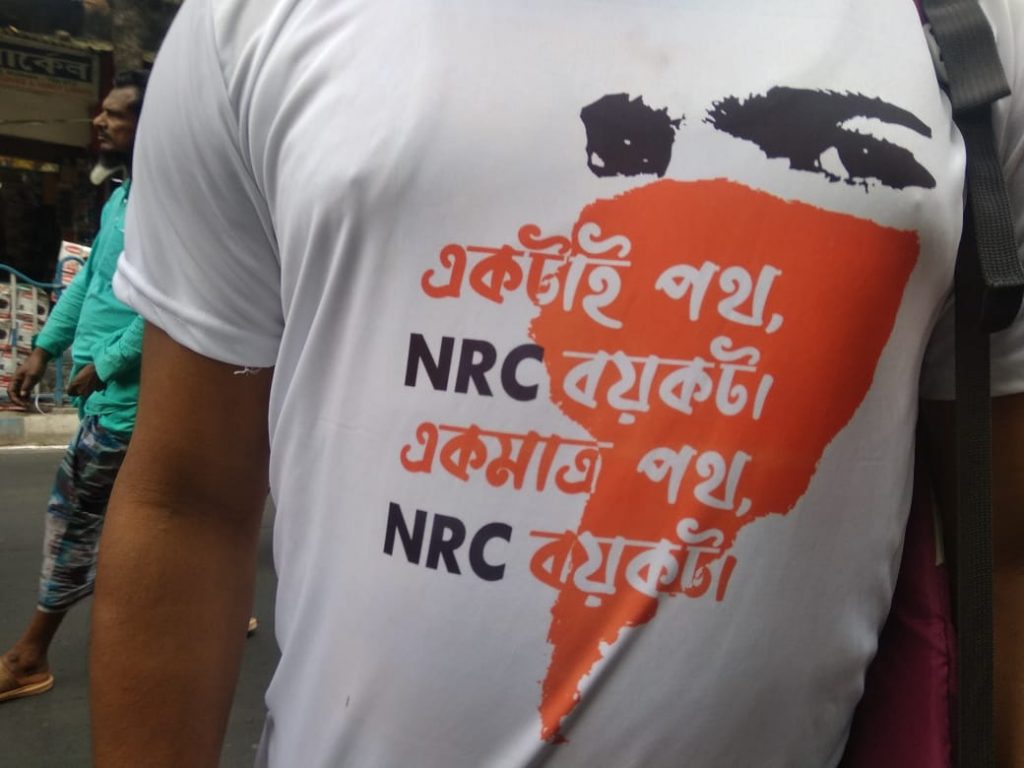 The rally started from Subodh Mullick Square (Wellington) and ended at Rani Rashmoni Avenue, Dharmatala with a public meeting. Hundreds of citizens participated in this procession with the slogans, "No NRC, No NPR, No CAB 2019''.
Kavita Krishnan from All India Progressive Women's Association, Kanhaiya Kumar from CPI and Kannan Gopinathan, who recently quit his job as an I.A.S officer, were the chief speakers in the public meeting.
The rally was organised by Prasenjit Bose, convenor, Joint Forum against NRC; Imtiaz Ahmed Molla, the President of Bengal-based Democratic Nationalist Party (DNP) and Ali Imran Ramz, MLA, Chakulia constituency in Bengal's Uttar Dinajpur district. They were accompanied by more than 50 political and non-political organizations for the joint venture.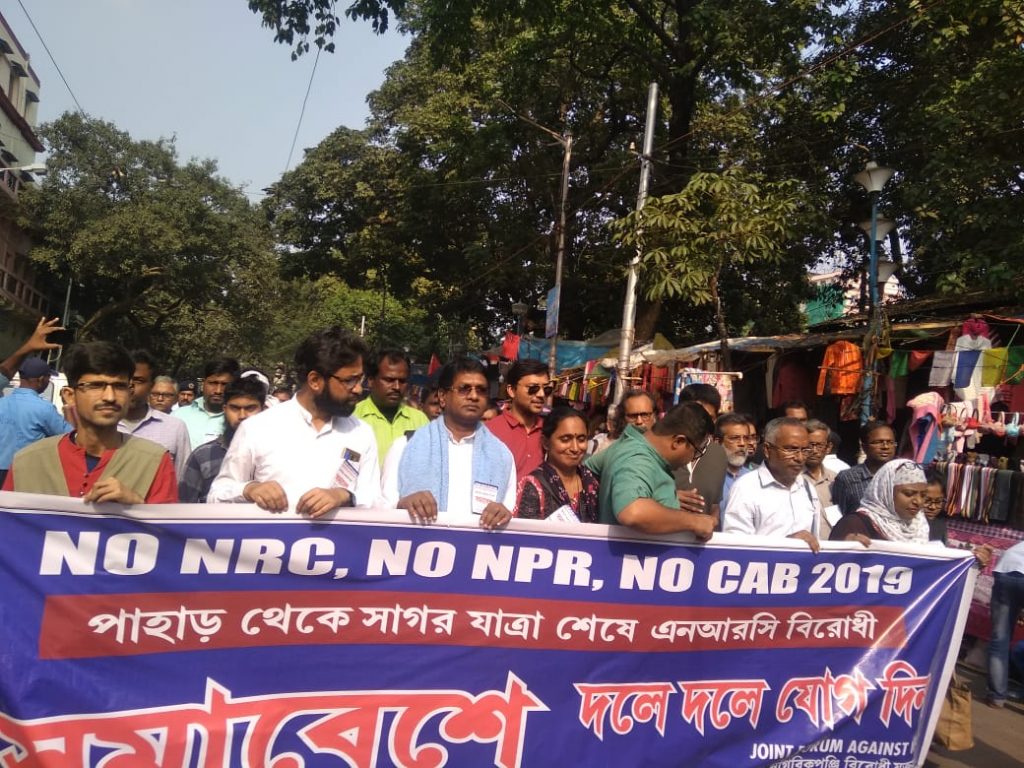 This procession was the culmination of a protest march against the introduction of NRC, NPR, and CAB which completed 2,500 km across 12 districts of Bengal in 24 days starting from the Punding-Lalkheni forest village of Kurseong, Darjeeling on November 15 with the slogan, "Hills to the Bay: Yatra against NRC".   
The demands raised in the rally, as pointed out by Malay Tiwari, a leader of All India People's Forum, include:
Immediate Granting of Citizenship to all the people of Assam who have been excluded from the NRC list. 
Cancellation of NPR, NRC, and CAB.
Shutting down of all detention camps. 
Cancellation of Citizenship Amendment, 2003.  
Suman Sengupto, an Associate Professor at Raja Bazar Science College, told TwoCircles.net, "We will start a 'non-cooperation movement' against NPR, NRC. We are not abiding by the CAB as it is unconstitutional. If it is implemented forcefully, we will boycott it by not giving any details to NPR and will burn copies of CAB in every neighbourhood with the help of the locals." 
Samirul Islam, the assistant Professor of a Howrah based govt. college and the President of Bangla Sanskriti Mancha, said, "We urge all to come together to stand up against the implementation of NPR, NRC and CAB. We Bengalis have traditions to protect our country in times of crisis. This time too we would be organizing all district level protest campaigns to save our beloved country from evil forces that are ruining our peaceful co-existence."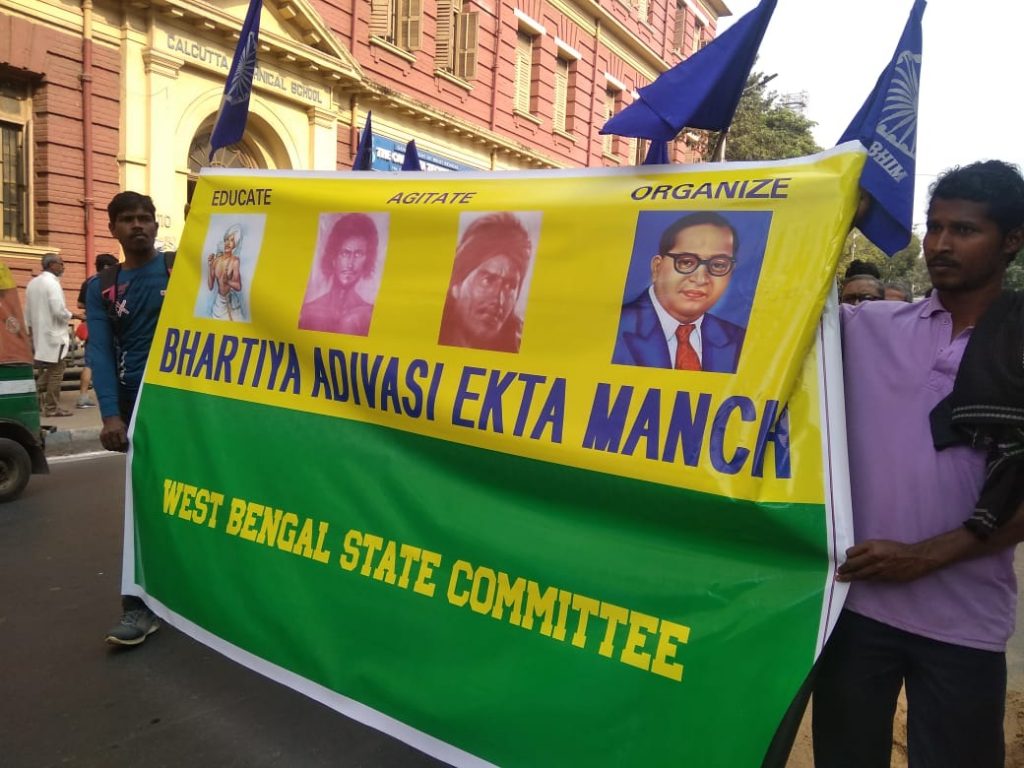 Among the other groups who participated in today's rally include All India Youth Federation, Jai Bhim Jai Network, All India People's Forum, Association for Protection of Democratic Rights (APDR), Bharatiya Adivasi Ekta Manch, Sohomon, and Bangla Sanskriti Manch.
SUPPORT TWOCIRCLES
HELP SUPPORT INDEPENDENT AND NON-PROFIT MEDIA. DONATE HERE