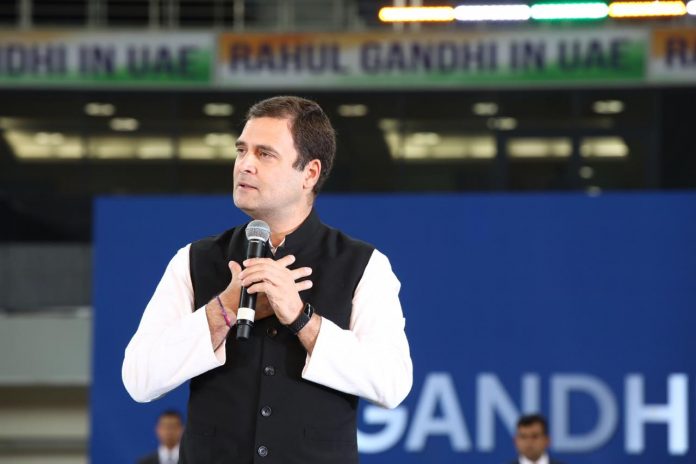 By TCN News
Rahul Gandhi, President of the Indian National Congress (INC), was given a huge welcome at the airport on Thursday evening. And on Friday 11th January he first had a meeting with the Indian workers at Mujamel Workers Accommodation in Industrial area at Jebel Ali, Dubai in which he acknowledged their hard work and their sacrifice staying away from home. Rahul Gandhi said the labourers in Dubai have, through their sweat and toil, contributed to this nation-making here and that their fellow Indians back home proud of them. He assured them of his support.
---
Support TwoCircles
---
The former chief minister of Kerala Oommen Chandy and Sam Pitroda, President of Indian Overseas Congress were at the dais with Rahul Gandhi.
Gandhi then had a meeting with Indian business leaders and professionals in which he discussed the Indian economy and ways to improve which innovation.
In the evening,  he had a meeting with Sheikh Mohammed bin Rashid Al Maktoum, the Vice President and Prime Minister of the United Arab Emirates, and the Ruler of the Emirate of Dubai.
This evening I had an excellent meeting with the Vice President & Prime Minister of UAE, @HHShkMohd, the architect of modern Dubai. The bonds between India & the UAE have stood the test of time. I am committed to helping build an even stronger relationship between our countries. pic.twitter.com/RsvCGSM521

— Rahul Gandhi (@RahulGandhi) January 11, 2019
Meanwhile the Dubai International Cricket Stadium began filling up from early evening onwards and was packed with tens of thousands of people eager to hear Rahul Gandhi. A cultural show was organised for the gathering.
And when Rahul Gandhi arrived there were chants of ' Rahul! Rahul!' from the excited crowd.
Rahul Gandhi addressed the crowd by first thanking the Prime Minister of the Emirates. He asserted  that the ruler is a humble person and this is what struck him most. He remarked that while in Emirates, this was the year of tolerance, while back home it has been 4 and a half years of intolerance.
He appreciated the audience for their hard work and commitment for contributing for the growth of Dubai. He said, " I feel proud that you have played your part with dignity, togetherness and tolerance".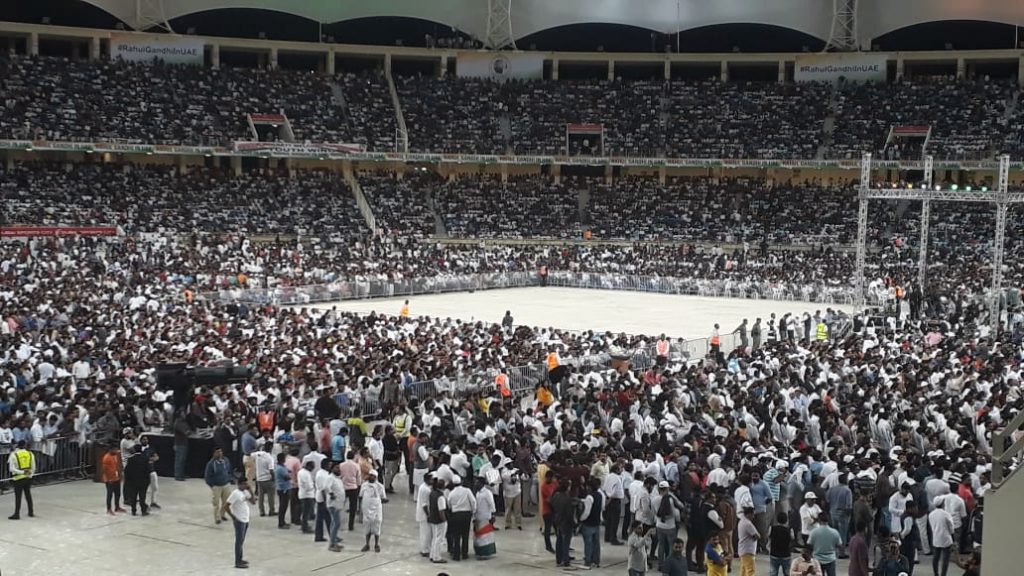 Talking about the "Idea of India" Gandhi said, India is all about tolerance and nonviolence. India cannot run on one particular idea or belief which is assumed to be correct while all others' ideas and beliefs are wrong, which is what is happening today.
He spoke to the gathering of unemployment in India which is a major problem and one that needs to be tackled head on. He further remarked on the other problem as that of farmers which he felt should again be resolved through a new "green revolution".
Rahul Gandhi assured the NRIs that his party is preparing a manifesto that is not the voice of just his party but the expression of billions of Indians. He restated that the expression of the NRIs will also be a part of the manifesto because every voice needs to be heard.
The NRIs feel they want a representation in Indian politics and the congress will make sure they are heard through the party manifesto.
And one woman from the gathering asked for the special status for Andhra Pradesh. And he promised that as soon as the Indian National Congress is elected to power the first thing He (Rahul) will make sure that Andhra Pradesh will be accorded the special status that is being demanded from a long time.
He asked the large gathering to support him and the INC to make India one strong nation.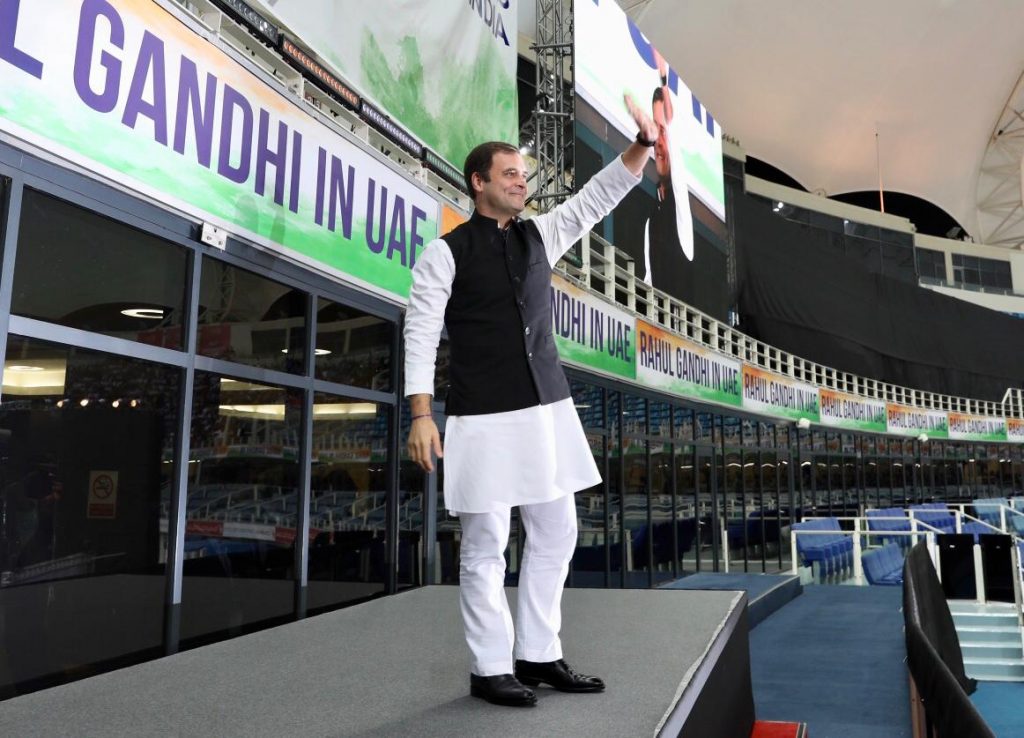 In conclusion he said, " I want to tell you that till the day I die, my doors, my ears and my heart will always be open for you".
The maiden visit of Rahul Gandhi seemed to be a huge success with not just a stadium full of people cheering for him but about another 15,000 who could not be accommodated standing outside the stadium and watching him on the large TV screens with nearly 50,000 people inside the stadium.
SUPPORT TWOCIRCLES
HELP SUPPORT INDEPENDENT AND NON-PROFIT MEDIA. DONATE HERE