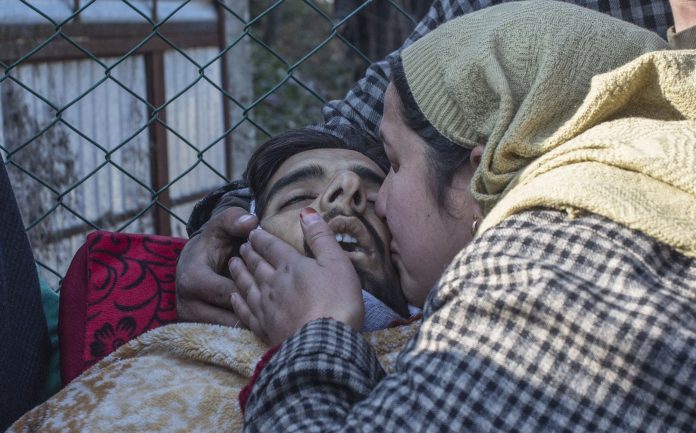 What are many Indian teenager's biggest concerns when they are 15 years old? Homework? Upcoming exams? Family pressures? We do not need an expert to tell us that teenagers are subject to extreme social pressures. Now, imagine all these issues and place it in the context of a conflict that has been raging in your region for as long as you can remember; for as long as your parents can remember.
No one has an easy life in Kashmir, but can we even begin to imagine the kind of pressure, anger, disbelief, frustration and general helplessness that a school student in Kashmir undergoes? A student in a district like Shopian, for example, might consider himself lucky just to be alive: they have seen their friends being shot, injured, and arrested. As a Kashmiri teenager, what do you do? Not protest against the occupation? That might still get you caught in a crossfire. Keep quiet and focus on your studies? How do you do that when there is an encounter happening right next to your house? Or when tear gas shells land inside your house?
---
Support TwoCircles
---
In December, two teenagers–Saqib Majeed and Mudassir Paray–became another statistic in Kashmir. They were killed in an encounter with security forces and Indian media barely noticed the fact that the two 'militants' were 17 and 14 years old It made no difference. What forces a 14-year-old to pick up a gun? What forces a 12-year-old to pick a stone to hurl at security forces? What makes a 17-year-old believe that death at the hands of Indian forces is a better option that living a 'normal' life?
In this 6-part series, TwoCircles.net's Kashmir correspondent Auqib Javeed looks at all the aspects of being a teenager in Kashmir: a militant, a protester, a mere bystander and a victim. If you pick a gun, you will be labelled a militant and shot; if you pick a stone, you will be labelled 'anti-India' and arrested and put in juvenile homes. If you are lucky, you will only be beaten up a little; if you are not, you will end up with bruises that will never leave you. And if you do neither, you still stand a very high chance of ending up being arrested or killed.
In the first of the six-part series, Javeed visits Kareemabad in Pulwama, where 7seven civilians were killed at the hands of the security forces after an encounter had been completed. Some were alleged to have pelted stones at the forces during and after the encounter, while some just happened to be at the wrong place at the wrong time. In the case of Owais Yousuf Najjar, he seemingly committed the biggest crime of them all as a young Kashmiri boy; he stood outside his house. And only seconds later, a bullet went right through his skull. Najjar was not a militant, he was not hurling stones, but that has been of little comfort to his family. On just one day-December 15- four more minors, Aqib Ahmed Bhat (13), Liyaqat Majeed Dar (16), Amir Yousuf Pala (16) and Sohail Ahmad Dar (16) were shot by Indian security forces. The death of five minors in one day at the hands of security forces in any other part of India would have sent shockwaves. In Kashmir, it merely becomes another bloody, and soon to be forgotten, page in the never-ending book of dead.
In subsequent parts, we look at the lives of Saqib and Mudassir, two minors who were killed in an encounter. We also look at the condition of the teenagers in Kashmir's juvenile homes and finally, speak to a legal expert who portrays the extremely grim picture of juvenile justice in Kashmir.
The night of December 14, 2018 seemed like any other in Kareemabad, a village in Pulwama district of Kashmir. It was bitterly cold but that was not unexpected. Around midnight, however, the tranquility within the village was shattered when the combined teams of the Rashtriya Rifles of the Indian Army, the Jammu and Kashmir Police and the Central Reserve Police Force (CRPF) started approaching from Sirnoo, a neighbouring village, and established a "tight" cordon (encircling the area where the militants were hiding). They had been tipped about the presence of three militants in a local orchard. One of the militants in that orchard was Zahoor Ahmad Thoker, who until July 2018, was part of the Indian Territorial Army(ITA). The ITA is a second line of defence after the regular Indian Army. It is not a full-time profession and in fact meant for those people who already have a civil profession/self employed. On the night of July 5, 2018, Thoker is said to have deserted his post in Baramulla and ran away with an AK 47 to join militant ranks. Thoker, 30, then came back to his village where he had been hiding with three other people. He was less than half a km from his home, where his family and younger brother, a police constable, live. The fact that his village has the posters of the slain 'Shaheed' and a 'decorated' grave, even while his family refuses to talk to the media, shows how the conflict is tearing up families too in Kashmir.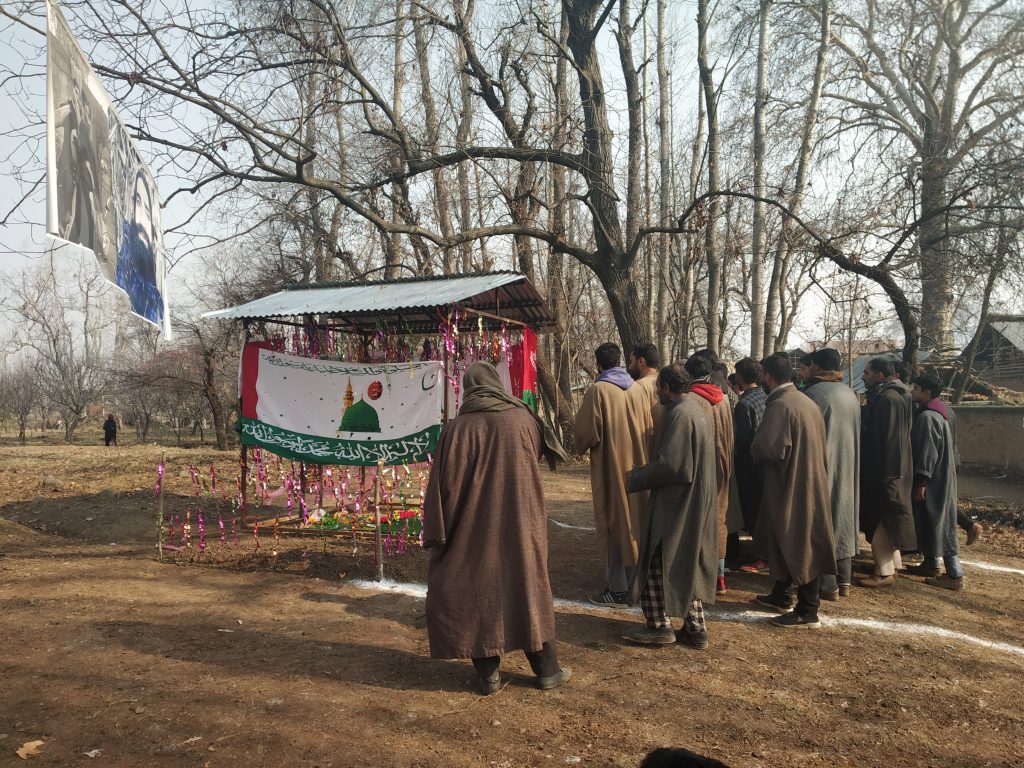 As mentioned earlier, by the morning of December 15, security forces had arrived in armoured vehicles along with light and heavy ammunition including IED's and laid a multi-layer cordon (several layers of police, soldiers or guards preventing access to or from an area or building around the orchard, in the end of village.
Mohammad Yousuf Najjar, whose house is about 500 metres from the encounter site, could hear vehicles arriving but didn't knew for what purpose they were coming. As dawn broke, Najjar, a carpenter by profession heard the first gunshots. Najjar assumed that something was wrong and cautioned his family not to venture out.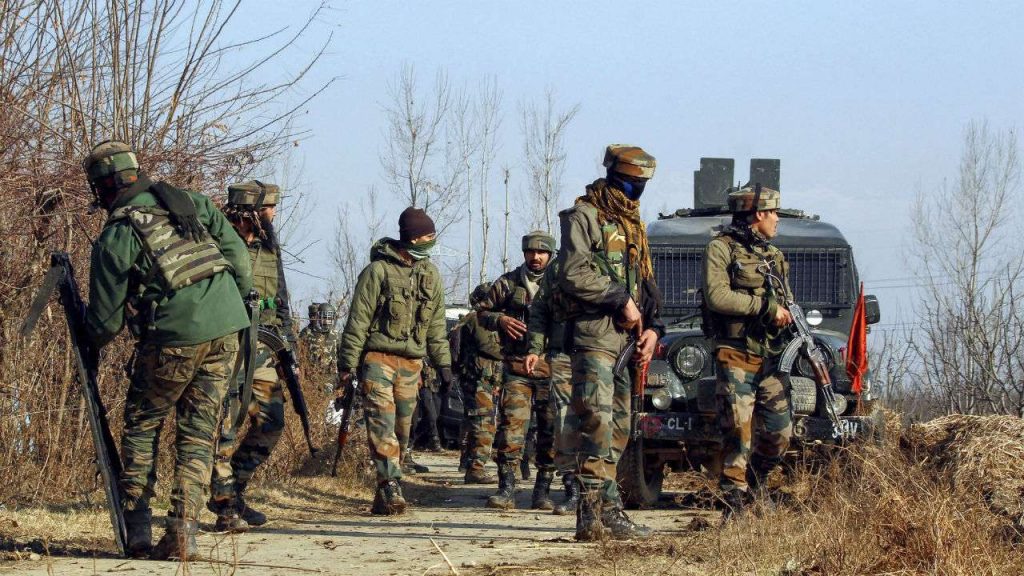 "I peeped through the window and saw hundreds of Army and Police men running towards the orchard along with weapons, after sometime news came that three militants are believed to be trapped," Najjar told TwoCircles.net during a conversation.
By 8 am on December 15, as news about Thoker being trapped in an encounter spread, people from different areas started thronging the encounter site. Thoker after all, was a local 'trapped' in his own village and staring at the face of death. But before they could disrupt the operation, government forces managed to kill the militants.
"It took the security forces around 15 minutes to kill the militants because they were not trapped in a concrete building. The militants had dug a small trench in the orchard where they used to hide, but no one, including the owner of the orchard, knew about it," a local youth told TwoCircles.net.
"The forces encircled the place at midnight when the militants were in a deep sleep inside the pit. The security forces waited for dawn before they opened fire because they knew that the militants can flee in the dark," the local added.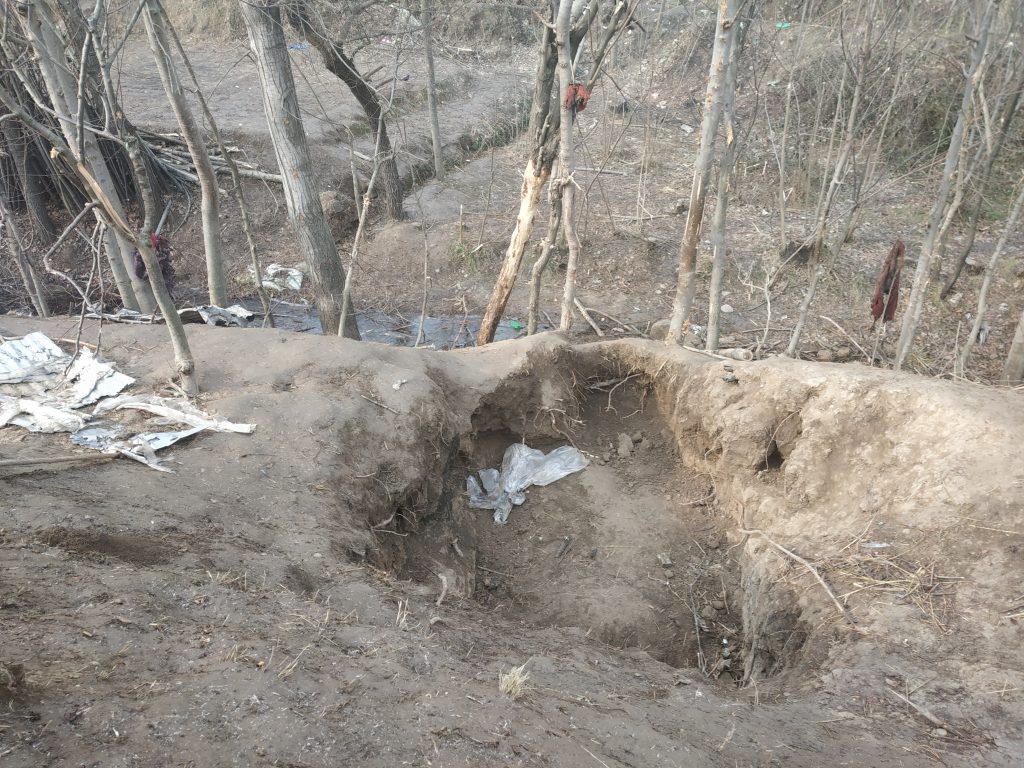 "It was a brief encounter," said a police official who wished not to be named adding that "militants tried to flee but we had laid a tight cordon and the trio were killed within minutes."
The pit was covered with wooden logs and grass. Locals allege four persons were picked up from their houses early morning and were used as "human shields" by the Army.
Abdul Khaliq, father of the two youth who were picked up from their home and used as human shields, said the Army barged into their house at early morning and told him to that they need male members of his family to accompany them and assured they will be released after 30 minutes. "I told my sons, Firdous Ahmad and Showkat Ahmad to go with the Army since we were helpless and couldn't do anything. After few minutes we head loud bangs and gunshots, and the female members of the family start beating their chests as we thought the Army killed them," he recalled.
"But after the encounter, they told us that they were used as human shield and were forced to go near the pit and to check whether the militants are there," said Khaliq.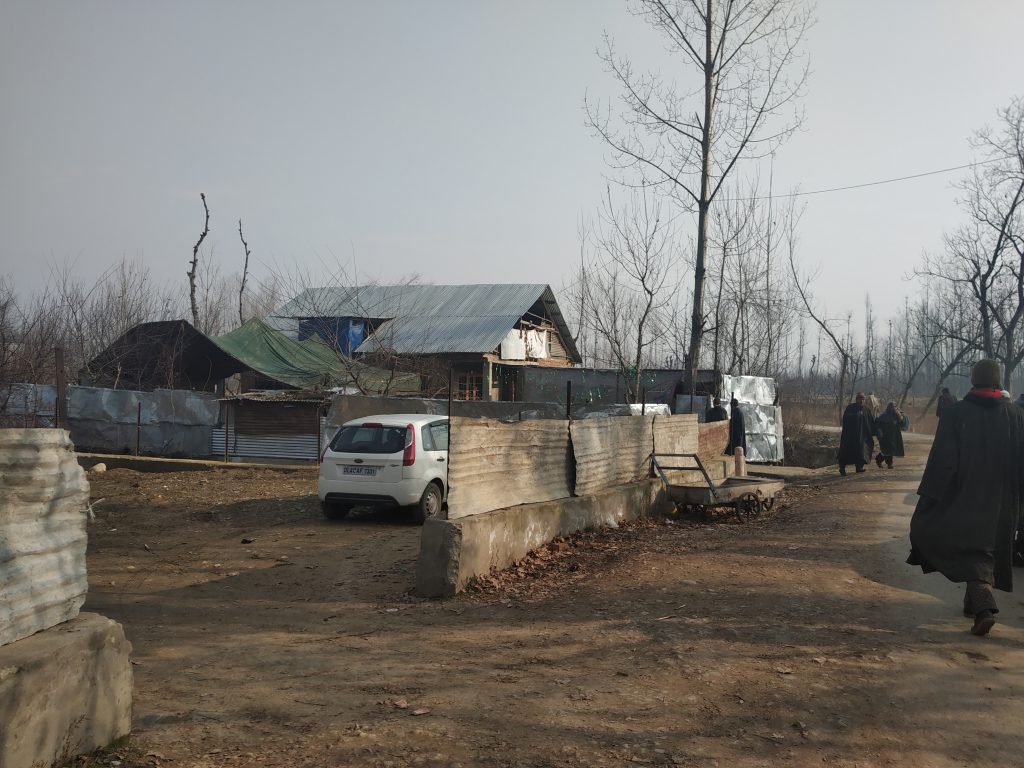 As soon as Showkat and his brother crawled their way to the hideout, the forces fired a series of bullets towards the pit. The duo crawled back towards the army somehow and saved their own lives. "It was a miracle," says their father.
According to Police sources, the militants tried to come out from the pit and fired back, managing to kill a soldier and injuring another one. However, all the three militants were "neutralised within few minutes," the police official added. But what followed the encounter left the locals stunned and mourning for their losses. To understand this, however, we need to understand how an encounter is conducted.
Anatomy of an "Encounter"
A top Police officer who has participated in many encounters in South Kashmir, while talking to TwoCircles.net said after security forces are informed about the presence of militants, J&K Police, CRPF, and the Indian Army jointly cordon-off the particular area and the house.
"During the search," said the officer who wished to remain anonymous, "if we find militants present inside the house, our first job is to evacuate the civilians and then we give militants an opportunity to surrender. Usually, we retaliate only if they start firing. It depends upon the strength and capability of the militants…sometimes it can take us 2-3 hours to neutralise them," he added.
A new factor these days, he added, was that locals start moving towards the site and pelt stones towards the forces in order to disrupt the operation. This is why the Jammu and Kashmir Police and CRPF are called to engage with the civilians because they carry "crowd disperse weapons." like tear gas.
There are higher chances of civilian casualty if the Army comes in direct contact with people so the Army is protected by a layer of Police from the stone pelters. "Many a times, the locals come into contact with the Army, who have they don't have any option except to fire directly resulting in higher casualty," adding that "the Army doesn't carry non-lethal weapons."
After the operation is over, the in charge officers decide the route they have to take, where there would be fewer chances of contact with civilians.
In Pulwama that day, after the encounter the forces killed 7 civilians and injured over 50, many of them have bullet injuries and are currently being treated in Maharaja Hari Singh Hospital in Srinagar. The locals say Army fired directly and their "intention was to kill."
"Civilians who were killed or injured were hit in the upper part of their bodies, and most of them were killed miles away from the encounter site. The Army did so out of frustration as there was an internal fight between Army and special commandos," said Abdul Khaliq.
The end of encounter hardly meant the return of normalcy in the region.
Post the encounter in Pulwama, things got worse. While speaking on the Pulwama encounter, the anonymous Police officer added that after wrapping up at the encounter site, an army Casper, a mine-resistant ambush protected vehicle, got trapped in a small drain and "miscreants" attacked the vehicle, which was carrying around 10 soldiers, with petrol bombs.
"Since they were carrying only lethal weapons they fired all-around to save themselves, resulting  the casualties," the Police officer added.
When asked the kind of weapon they use during the encounter, the policeman said "Generally we use AK-47, Light machine gun (LMG), IED's, hand grenades and when we have to burn a structure down we use Agnivarsha (flamethrower).
These details and intricacies mean little to Yousuf Najjar, who lost his 16-year-old son that day. Owais Yousuf Najjar was a Class 12 student in Pulwama. Besides studying, he was working as a mechanic to support his poor family. His family says forces violated the standard operating procedures (SOPs) during the encounter. "My son was standing on the gate of his house, when the forces were on the way back to their bases, after wrapping from the encounter site. As they saw him, they pointed their guns towards him and shot him in his head," said Yousuf Najjar.
"The Indian soldiers are more ruthless than the Israeli forces; they have made the life of a common Kashmiri a hell," he added.
The villagers are demanding an International agency investigate the civilian killings saying that "they don't have faith on Indian judicial system."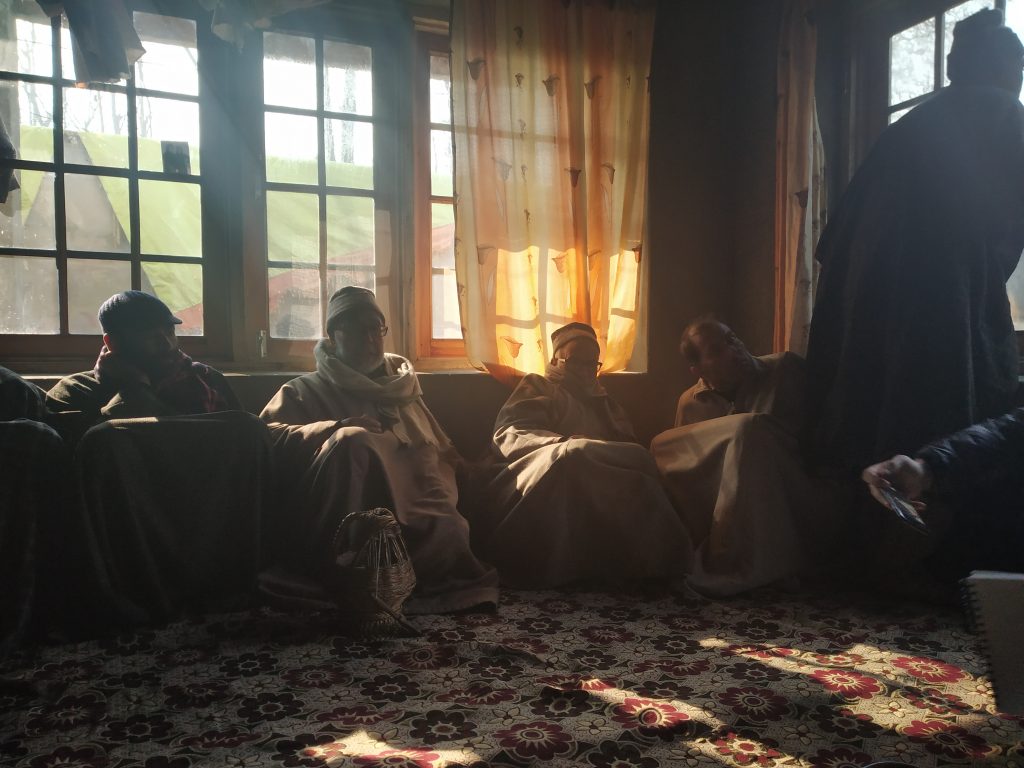 The death of teenagers at the hands of security forces has become such a 'mundane' affair in Kashmir that news like this barely have a shelf life of a week. Five days before the death of four teenagers in Pulwama, two more teenagers were shot in an encounter. The only difference being: unlike these civilians, the other two teenagers had actually picked up guns. But why? This is what we investigate in the second and the third part of the series, where we speak to the families of two teenagers, Saqib and Muddasir, to understand what pushed two boys to take the extreme step of becoming a militant.
SUPPORT TWOCIRCLES
HELP SUPPORT INDEPENDENT AND NON-PROFIT MEDIA. DONATE HERE