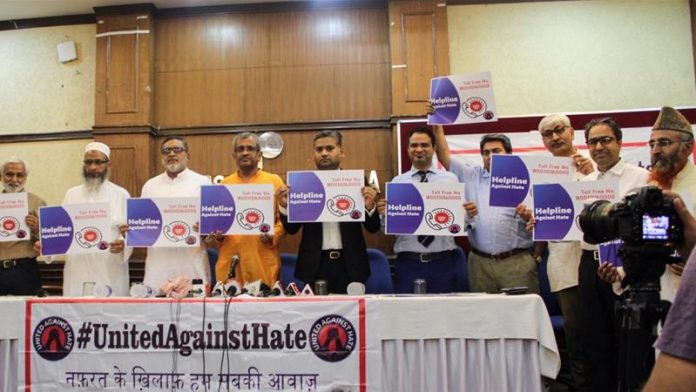 TCN News
On behalf of #UnitedAgainstHate,a toll free number was launched in Delhi Press Club yesterday evening, against mob lynching and other hate crimes.
---
Support TwoCircles
---
Famous lawyers, social workers, professors and senior journalists from the country spoke about this launch program and appreciated this toll free helpline service. Introducing this helpline service, Nadeem Khan of United Against Hate said that "We are launching a toll free helpline in view of rising cases of mob attacks and hate crimes in the country. We will try to help the victims of such assaults and help them get them justice in the courts.
The aim of the Helpline Center is to help in the speedy justice to the victims of mob lynching, by reporting the incidents right away in media, documenting them and providing judicial help, and also to prepare a document of such attacks and build phased movement around it.
The helpline will be functional in 100 cities across India to help the victims of Hate crimes.
TwoCircles.net spoke with Shariq Ansar who is actively associated with UnitedAgainstHate to find out how it works. " So far we have managed to have the reach of the helpline in about 60 cities where it is fully functional. We have many organisations that have come forward to work with us on this help line. As soon as we get a call on the toll free number we will direct it to our partners to that city where the call has come from. And they will immediately contact the police, media, the legal team and reach the spot to prevent the incident and provide all help required to the victim" he explained.
They are in the process of collecting the data of all the organisations who have volunteered in different cities. Shariq said, that many people from different organsiations have come forward to be part of this movement to end hate crimes.
The state and central governments have only made statements on such incidents. Despite all the claims of the government, the incidents are not halted.
Father Michael Villemy, Founder President, Minority Christian Forum said that this is a good endeavor. Christians were also being targeted and there have been many incidents across the country. Everyone needs to come forward to save this constitution. India has to move ahead by creating an atmosphere of love and brotherhood.
Professor of Delhi University, Apoorvanand said, "The reality of India is that such incidents are happening everyday. There is constant violence on Muslims, Christians and Dalits".
Professor Ratan Lal said that there is no dearth of events since Rohit Vemula. People are constantly being attacked. This should be stopped soon."
Dr. Kafeel, while criticising the RSS, said that these people are working to sow seeds of hatred. Mr. Yogi and Mr. Modi have unitedly carried this agenda of forward. It is deplorable to kill people in the name of religion.
Senior advocate Sanjay Hegde of Supreme Court said that being an Indian, I understand that it is necessary to ensure justice in the country.
Ravi Nair, said that the governments have failed to eliminate hatred and violence in the country.
Maulana Hakeemuddin Saheb Jameet Ulema Hind, insisted that we need to stand unitedly against oppression. We do not have to let ourselves down or disappoint people. Together we will make the country educated, accountable and better India.
Senior journalist Urmilesh said that there is a need to make a concerted effort to prevent violence against anyone. All should work together to ensure justice and peace.
Supreme Court Advocate Ehtesham Hashmi said the helpline is in dire need in rural and remote areas. We will always be prepared to ensure justice.
Increasing incidents of Mob Lynching and hate violence is a matter of concern said national secretaries, Jamaat-e-Islami Hind Malik Mohtasim Khan. We have to work together to change the mindset of society. The government has the responsibility of protecting lives and goods. The government will have to take concrete steps in this regard.
The Supreme Court's senior advocate Fujail Ayubi said that the guidelines issued by the Supreme Court on this are very important. The Supreme Court's Guidelines are not to be implemented till now.
Maulana Abdur Rajik Saheb said It is not enough to give only the prime minister's statement on this issue, there is a need to take concrete steps to prevent it.
JNU professor Gazala Jamil said that this attempt to ensure justice in this atmosphere of despair is commendable.
Toll Free number 1800-3133-60000 was released by all people at the end of the program
SUPPORT TWOCIRCLES
HELP SUPPORT INDEPENDENT AND NON-PROFIT MEDIA. DONATE HERE