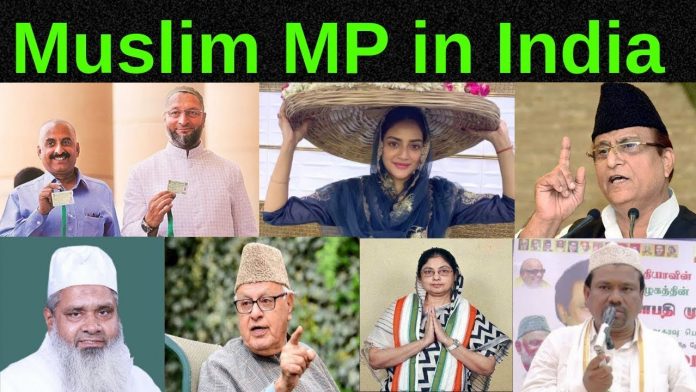 By Mirza Mosaraf Hossain, TwoCircles.net
After Owaisi, the BJP representatives in the lower house continued their chanting 'Jai Sri Ram' and 'Vande Mataram' when Abu Taher Khan, the newly elected Member of the Parliament in West Bengal's Murshidabad constituency and former Congress M.L.A in the State legislative Assembly approached for oath-taking. But ignoring the chanting, Khan started his oath-taking with 'Bismillahi-ar-rahman- ar-rahim' (in the name of God, the merciful and compassionate.) and concluded it by saying 'Insha Allah, Jai Hind, Jai Bangla, khoda Hafeez, Allah hu Akbar'.
---
Support TwoCircles
---
Khan was four times MLA from Murshidabad's Noada constituency. When the wave of shifting parties from Congress, CPIM, BJP to TMC was at its peak last year, he joined TMC. This year he was chosen as the MP candidate of Murshidabad constituency in the 17th Lok Sabha election by the All India Trinamool Congress party and he won with a margin of 2,26,417 votes.
Another newly elected businessman-turned TMC-backed first-time parliamentarian, Khalilur Rahaman, from Murshidabad's Jangipur constituency also faced the same chanting when he concluded his oath-taking by saying 'In sha Allah' and later added 'Jai Hind, Jai Bangla, Khoda Hafeez when the chanting became louder.
This has raised a mixed response among the community people. Whereas, some from the left-liberal, secular front fear that their secularism is at stake, some others are praising the move.
As Mohammad Reyaz, a journalist as well as an Assistant Professor of a State-run University in West Bengal, wrote in his Face book post, "That is (Owaisi's stand) an Indian Muslim Today, unapologetic and equally assertive, unlike old Sarkari Muslaman. Kudos Barrister Sahib."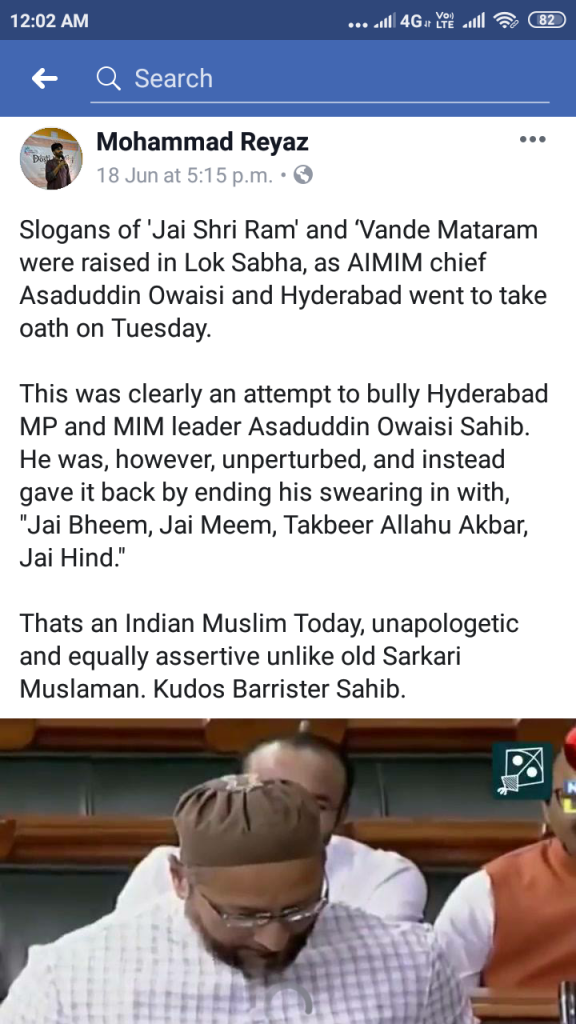 While this year the Parliament witnessed the extent of existing hatred towards the Muslims of the country by the right-wing representatives of the common populace, it also witnessed a new form of consciousness about the identity of the Muslim politicians that might have been erased from their conscience under the pressure of maintaining their secularism before the liberal, secular comrades.
And the impromptu attempt to rejoinder against the chanting by saying 'Allah hu Akbar' or 'Khoda Hafeez' clearly attests their stand on accentuating the fact that they too bear Indianess and Muslim-nes within themselves at the same time, just like other politicians with different religious backgrounds.
Though they are less in number against the fascist forces who tried to communalize the highest democratic place of the country, the Muslim MPs tried to uphold their identity. Their stands can be taken as new community awareness for dismantling the stereotypical notion of Sarkari Musalman. Owaisi, Khalilur or Khan may be paving the way for the 26 elected Indian Muslim representatives in the highest democracy and also to the Muslim community as to how they should represent themselves in a hostile communal environment.
SUPPORT TWOCIRCLES
HELP SUPPORT INDEPENDENT AND NON-PROFIT MEDIA. DONATE HERE