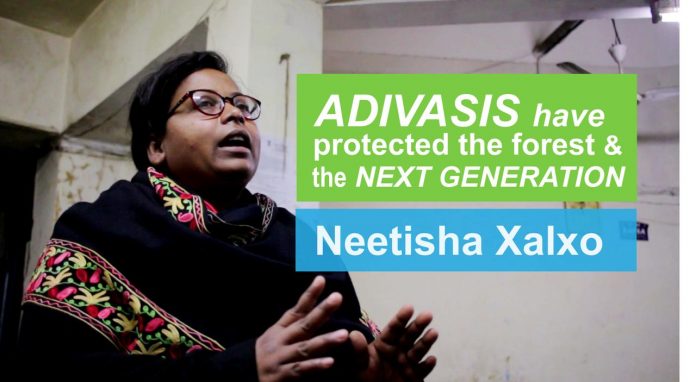 Text and video by Atul Anand, TwoCircles.net
On February 28, 2019, Birsa Ambedkar Phule Student's Association (BAPSA) at Jawaharlal Nehru University, New Delhi organized a talk following the recent Supreme Court order which rejected more than 20 lakh land claims by Adivasi families. The court asked different states to evict them from their land. Around one crore Adivasis are feared to be affected by this decision. The talk "Implications of Forest Rights Act and Recent Supreme Court Judgement: Beyond Settler Time" had activist & scholar Abhay Flavian Xaxa and Delhi University faculty Neetisha Xalxo as speakers.
---
Support TwoCircles
---
Neetisha Xalxo has done work on Jharkhand's folk songs. During her talk, Ms. Xalxo brings Adivasi literary traditions from Jharkhand to discuss the issue. She said that through her work she wanted to explore whether Adivasi women had different issues than mainstream women issues or are there are any similarities. She found that Hindi literature had different aesthetics than Adivasi folk traditions. She says, "Hindi literature sees women as weak and emphasizes their physical attributes. There is an Adivasi folk song that portrays women as strong as wild boar". She particularly talked about Adivasi folk songs that mention the forest. "Another folk song from Jharkhand sings about Adivasis being stopped by a new administration from picking up Mahua in the forest". She pointed out that Mahua is picked up and not plucked from its tree by the Adivasis. "So, the accusation against the Adivasis that they have caused destruction to the forest is baseless", she said. She also added that Adivasis in India can't be identified as a homogenized identity.
Elaborating environmental and sustainability issues Ms. Xalxo said, "Adivasis not only strive to protect the forest but also the next generation of people. The people in the cities are already buying drinking water. If we wish to carry oxygen cylinders with us then in the name of modernity and development we could accept de-forestation." Ms. Xalxo also mentioned other kinds of attacks on the Adivasis such as the 13-point roster system which hasn't been taken back yet. She pointed out that there are new notifications for recruitment from Indian universities which have no reserved seats for the Scheduled Tribe.
Neetisha Xalxo appealed that people, irrespective of their background, should come together to fight against these issues. "We shouldn't think that this is an issue only limited to the Adivasis and the forest dwellers and wouldn't affect the rest of us," she said. Joint Adivasi Yuva Forum, Bhartiya Adivasi Manch and various other organizations had called for a protest march in New Delhi on Saturday, March 2, 2019. There is a call for a nation-wide strike on March 5, 2019, for demanding actions on the issue of Forest Rights, the 13-point roster system and different issues concerning the people of the country.
SUPPORT TWOCIRCLES
HELP SUPPORT INDEPENDENT AND NON-PROFIT MEDIA. DONATE HERE