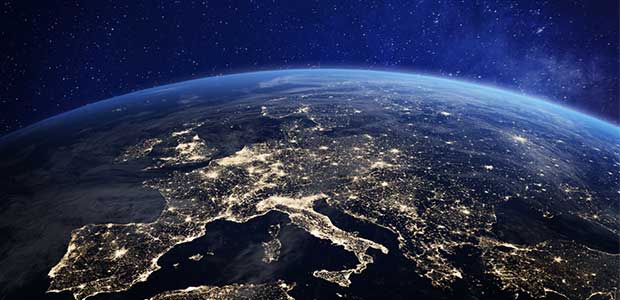 By Anwar Khursheed and Zoony Zainab, TwoCircles.net
The human race takes it upon itself to perform the dual role of both the destroyer and the preserver of the earth. We live believing that we can exploit the resources of our unique planet to advance our "supreme" species; and also that when the time comes we will again with our "supreme" abilities be able to restore our planet and "Save Earth."
---
Support TwoCircles
---
The coronavirus pandemic and global lockdown is proving to be a major historical occurrence of unprecedented magnitude that would once again begin a process of reassessment of our so-called "supreme" abilities. The pandemic has shaken this world enough by now and; unfortunately, to what end and with what amount of damage it will continue to, is still unknown.
Despite this looming hopelessness, the supremacy of our species has urged an urgent scramble among researchers, political analysts and economists alike to speculate possible changes in social interaction and economic exchange once coronavirus has subsided. A silver lining has begun to appear globally as individuals and organizations are pitching solutions to the issues of mankind which were our major concern before the virus became our problem number one – environmental degradation. Before the pandemic, this ecological degradation, facilitated by ozone depletion, pollution, water resource crisis and climate change were amongst the top concerns of global political discourse.
However, this is not the first time of paradigm shift. History keeps repeating. One cannot forget the Black Death, a pandemic that reduced the population of England itself to one third and around 40 million causalities globally. It had economic consequences in the form of sharp decline in the prices of food and land values to nearly half between 1350 and 1400, but the demand of working class increased. The resulting familiarity with death caused thinkers to dwell more on reality, rather than on spirituality and the afterlife. Peter Temin of MIT wrote that high wages and low power costs produced the Industrial Revolution in the 18th century, partly due to the Black Death and the European marriage pattern. The crossover to economic development suggests that demography affects destiny even today, as it did in the past.
While there is no dearth of theories and speculations on sustainability of human life, population growth and environment conservation, what often goes ignored in these is the behaviour of nature itself. The information processed by humans in their premise on environment conservation is extremely short sighted with respect to the billions years of earth's life, of which humans have been inhabiting the planet for a period constituting a cosmological blink of an eye for the earth (and even shorter for the universe).
The silver lining here is, the global lockdown for Coronavirus has forced us to take into consideration the ability of earth to heal itself; an aspect which if not disregarded, have definitely been taken for granted by humans. More than half the world has suddenly and drastically turned into an experiment itself, which is already revealing surprising data in such a short time and would definitely continue to do so in the long run as well. There are without doubt numerous problems with the lockdown for both human existence and behaviour, yet the unconfirmed and unevaluated changes and experiences being recorded around the world in terms of environmental restoration have shown interesting precedents coming into place. The two most readily observable aspects have been recorded in the context of air and water pollution for the reasons recorded below:
eLearning: Although many activities are altogether stopped due to lockdown, some activities have stepped up, for instance, online education, online health care, online businesses. For the first time online education is being considered as a viable option. Some instantly visible benefits are convenience and flexibility to study at any hour of the day, to undertake training in a number of courses simultaneously, easy networking with professors and students all across the world – ultimately cutting down on costs of transportation, and saving the environment too. Digital education was already flourishing however present immovability provides it a huge opportunity.
Post Corona pandemic, the demand for education won't be curbed by economic growth because the number of people in middle income brackets is expected to increase almost 10 times to 475 million by 2030, thereby demanding more affordable education. India has one of the largest education systems in the world and more than half of the country's 1.3 billion population falls in the target market for education and related services. Looking at the demand it is impossible for the public and private sector in India to cater to the requirements of such a huge demand trough conventional mode of education. It is only the online education sector, which can achieve this wonder and corona lockdown has proved it that on such a large scale with minimal infrastructure available, education for all can be guaranteed. It is expected that the facilities would also be boosted with the expansion of this sector.
It is not so that the entire education sector would be transformed but it would definitely experience major transformation. The conventional component of the education would confine to experimental or laboratory work, research protocols, viva-voce, presentations, theatres etc., which may account for less than 25-30% infrastructure. The only prerequisite is robust internet facilities. The consequential financial savings would greatly reduce the cost of education.
Effect on Vehicular Traffic: The most visible change observed during lockdown when schools and colleges were closed and offices were partially closed was a 50% reduction in the on road vehicular traffic. Approximately 1.35 million people die in road accidents each year, which is, on an average 3,700 people losing their lives every day on the roads. An additional 20-50 million suffer non-fatal injuries, often resulting in long-term disabilities.
The rate of road fatalities in India is 26.1/100000 inhabitants, while the global calculated road fatalities were 155.8/100000 motor vehicles. Around 414 deaths occur daily in India due to road accidents, a number which has now become negligible during lockdown. Once the lockdown is over, it is expected that traffic will be appreciably reduced as a major share of education and partly, share of office work will be shifted to online mode. Even an ordinary citizen knows that traffic congestion increases vehicle emissions and degrades ambient air quality resulting in up to 4-, 3- and 2-fold increases in CO, HC and NOx emissions, respectively, compared to uncongested conditions, and excess morbidity and mortalities.
Air and Water pollution levels: Air pollution levels which governments across the world seemed unable to control despite a plethora of efforts has automatically gone down as a result of the lockdown. The PM10 and PM2.5 levels have recorded their lowest statistics, making lockdown a legitimate measure in case of severe smog. The probability of the Ozone layer restoring itself has increased, primarily because of the drastic reduction of vehicular traffic both on the road and air borne travel. In USA alone, transportation accounted for the largest portion (29%) of total Greenhouse gases (GHG) emissions in 2017. Vehicular mode accounts for 82% and any reduction in it would result in a major decrease in GHG emissions, as is already being recorded under the lockdown.
The second most significant area of rapid pollution and need for control is related to Water resources. The clearing of the Venetian canals was captured by the global media with a spark of hope in an otherwise doomed condition of Corona pandemic. In India as well, authorities and citizens both have observed a reduction in pollution levels of Ganga and Yamuna rivers in the northern part of the country. The dissolved oxygen level in Ganga was recorded to be around 8.3 mg/litre, significantly above the level of 7 mg/litre which constitutes the beginning range for healthy water. Rivers seemed to be cleaning themselves, without any effort despite the fact that municipal sewage load has not reduced. However, the drastic reduction in industrial pollution and the actions of religious devotees, which are two of the major causes of river water putrefaction, is proving sufficient for the rivers to restore themselves.
Moreover, there has also been a surprising reduction in the number of funeral activities as reported by various crematoriums which has also led to decrease in load on the rivers. The number of dead bodies coming to Delhi's Nigambodh Ghat (Hindu crematorium) situated on the banks of Yamuna has come down by 25-30 %. Similarly, Varanasi Ghats are receiving just one third to one fourth of average corpses for cremation. Situation is almost same in similar places of other religions.
These changes are bound to have a massive impact on the ecological footprint. While the above are some silver linings about COVID19, the gloomy present only shows that it would leave a lasting impact on our lives, and most definitely a negative one. Only time will reveal the quantum of human sacrifice and economic setback that we may suffer because of it. Ironically, the only certainty about Coronavirus is its uncertainty.
However, one more thing is certain in these times, that the world is going to witness an age of drastic change – not just in the environment around us and our interaction with nature and issues of climate change, sustainability, water resource management, and pollution control both air and water borne; but also in the field of education, health care, hygiene maintenance, work and employment models, economic setup, consumption patterns and the overall behaviour and psychology of the human race. And the least we can do is to condole the deaths of all those human beings who sacrificed their life to bring this change, though of course unknowingly. May their souls rest in peace.
SUPPORT TWOCIRCLES
HELP SUPPORT INDEPENDENT AND NON-PROFIT MEDIA. DONATE HERE